Surftech And PrAna Unveil Their Women-Specific Paddle Board Line
Surftech and prAna announce their collaboration as they release a unique line of women's-specific paddle boards, paddles, and leashes.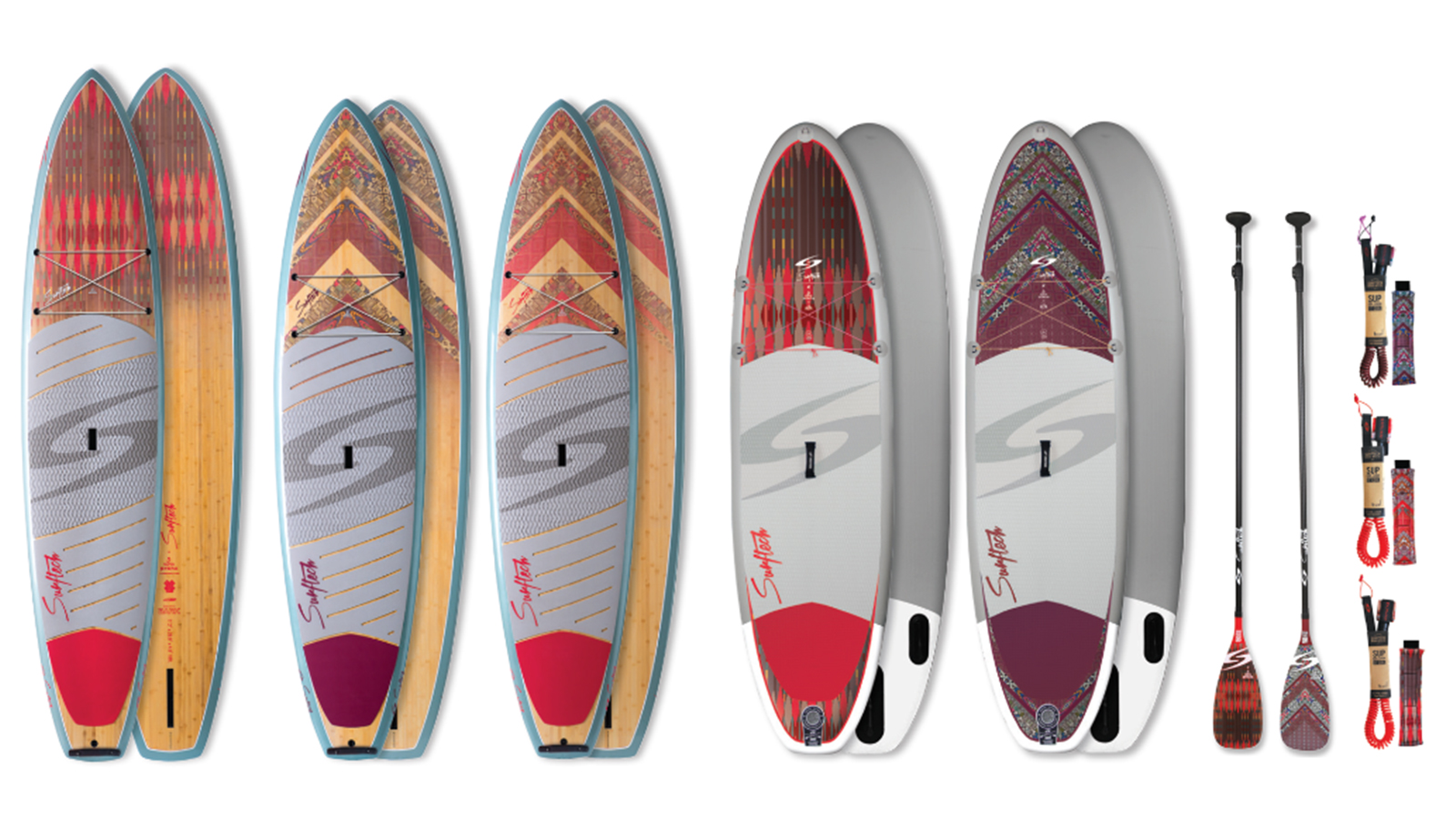 Press Release: San Diego based brands, Surftech and prAna, together have created the ultimate line of women's-specific stand-up paddle boards (SUPs), paddles, and accessories. With prAna's outdoor experience and Surftech's art of technology, the brands are proudly introducing a collection to the paddle sports community featuring amazing design, proprietary construction, and groundbreaking sustainable features.
This exciting product launch consists of 3 composite SUPs (Aleka), 2 Inflatable SUPs (Alta), 2 adjustable carbon paddles, and 3 coil leashes. All products feature either the Marrakesh or Desert Geo prints from the prAna spring/summer 2018 swim collection. They carry the Sustainable Surf's "ECOBOARD" validation for the use of alternative materials, bio resins, and Bloom Algae-based deck pads.
Product Offering:
ALEKA: composite boards with gloss finish, prAna printed deck and bottom and are shaped by world renowned shaper Joe Bark which was specifically designed for the female paddler.
ALTA Inflatable: features prAna printed decks, constructed with a dual-layer dropstitch material. BONUS: this is the only Bloom eco-Algae deck pad available on an inflatable SUP board.
ADJUSTABLE PADDLES: prAna printed blades made with lightweight full carbon construction, 26mm adjustable shaft, padded handle, and ABS protective sidewall.
COIL LEASHES: 11ft x 7mm coil leashes feature prAna printed neoprene comfort cuffs, stainless steel double swivels, rail savers, and key pocket.
"We are a premium brand so we need to boldly identify features and looks that separate us from the competition. Well aware that prAna had beautiful product assortments in many of our retailers, we immediately knew their prints and patterns would look great on Surftech boards," says Ryan Guay, VP of Sales, Surftech. "It's been a great process and the prAna team has been great to work with. prAna's sustainability stance was critical to the design process to make sure these products held up to their brand standards."
"We're excited about this collaboration with Surftech. It's great to collaborate with a local brand with a great heritage in water sports to deliver a collection of product that empowers our audience to be active and adventurous and look great doing it. Whether you want to SUP, surf, swim, or just chill out in our swimwear, the product will make favorite activities even more enjoyable," says prAna VP of Sales Sasha Dietschi-Cooper. "Surftech's team shares the same goals and vision for our customers, our products, and our sustainable clothing movement as our team here at prAna. This collaboration represents our shared effort to help our audiences get out and enjoy the activities they love, in style."