Women In Board And Action Sports Postpone 2017 Conference
The 2017 Women in Board Sports Conference has been postponed this year following a successful conference in 2016 in the city of Barcelona, Spain. The conference is a great opportunity for women in the industry and board sports enthusiasts to network, grow ideas and have fun all together. The team at Women In Board And Action Sports are taking a year out to regroup before launching the event again in 2018. 
Press Release: Women in Board Sports Conference 2017 has been postponed for this year and it is with a heavy heart that we share this news with you.
Last year Alba hosted WIB in her beautiful home city of Barcelona and the feedback we received from our attendees was amazing. We are so grateful for your love and support over the last few years. This is why we are taking a step back to collate, regroup, gather feedback before moving forward.
However all is not lost, we have a few projects and success stories we would like to celebrate.
WOMEN'S ACTION SPORT NETWORK
Emma our WIB creative director and driving force behind the campaign Board of Media has a new project up her sleeve and she needs your help to gain a little feedback. The super simple survey monkey form will only take 2 minutes and will definitely get you excited about what she has in store.
And another thing when you complete the survey (button below) you will be entered into a prize draw to win a Snooks Tee. What's not to love?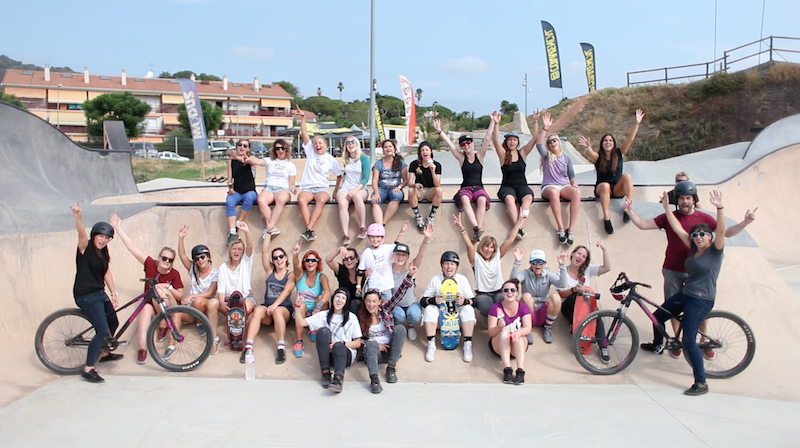 SNOOKS
Susie and Sophie are both incredible entrepreneurs with bags full of energy. They sure got the WIB audience hooked when they showcased their very first range of snowboard and ski outerwear dedicated solely to women. Their mission is simple: provide exceptional outerwear for female snowboarders and skiers who know the struggle is real!
You can follow their journey here and even better help fund the next stage of their project on their Kickstarter page.
BOUNDLESS BETTY
We met Jenny Tröber back in 2016 in Barcelona when she joined us to present her idea for an all female action sports travel company called Boundless Betty. We have seen Jenny go from strength to strength since launching this year and are very proud to have had her as one of our project presentations.
Jenny describes Boundless Betty as a kick ass community of adventure seekers, explorers and big dreamers, who live for the outdoors. She has some amazing package deals on her website so click here to discover your next getaway.