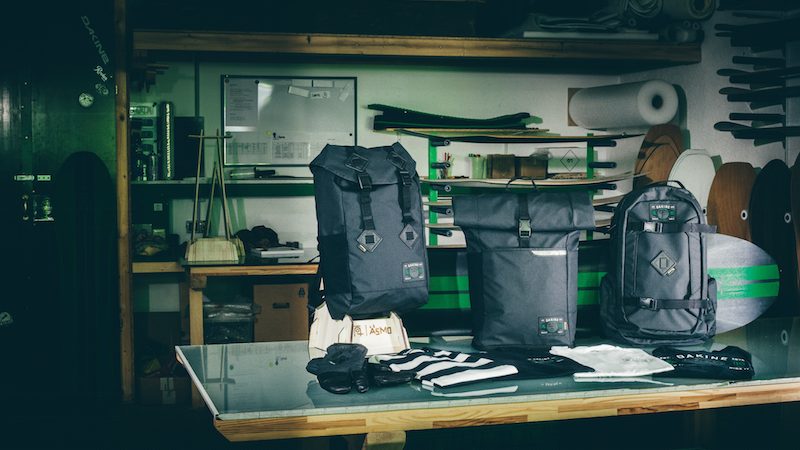 Dakine Collaborates With Wolle Nyvelt's Äsmo
Dakine has teamed up with long time DK rider and Äsmo founder, Wolle Nyvelt, to develop a special edition collection of backpacks, gloves and apparel. Fusing form and function from snowboarding, skateboarding and surfing, the Dakine x Äsmo Collection blends the vision of the veteran Dakine rider and his invention of the Äsmo powsurf noboard, into a capsule collection of packs and accessories that support all three sport categories. To celebrate the launch of the collection, Dakine and Äsmo's friends and family gathered in Munich for a party. 
Press Release: Dakine rider, Wolle Nyvelt, designed and built the first powsurf Aesmo noboards in a garage with little more than a sander, two hands, and a radical idea free of any notion of how a board should look or ride. A decade later, Aesmo has evolved to bring together technology, art, and fun in a completely new way of riding the mountain. Fusing elements and style from snowboarding, surfing and skateboarding, the binding-less boards draw inspiration from the basic principles of each.
With a heritage immersed in surf, snow and skate, Dakine collaborated with Wolle to create a collection of products that celebrates his dedication to craftsmanship, standing sideways, and building products that help make the most unexpected days the best days.
This versatile pack collection includes the Aesmo Trek II 26L Pack (RRP £65) for seeking the perfect skate spot, the surf-inspired Aesmo Section Wet/Dry 28L Pack (RRP £65) and the Aesmo Mission 25L Pack (RRP £78) that supports both backcountry missions and urban adventures. Each pack is constructed using a 305 denier Cordura® HP coated ripstop for exceptional durability and resistance to tears, scuffs and abrasions.
The Aesmo Collection is available at speciality retailers and online at dakine.com.