Swiss Market Intel September 2017
Spring-summer, two words that mean a challenge for most stores involved in the Swiss boardsports market. While winter is clearly oriented towards one sport, product offerings during the summer season vary greatly depending on the type of store and where it is situated. Retailers must constantly rethink their product mix because trends change quickly and there aren't any "cash cow" products like there are in winter (if we can still put snowboards in that category). The two big hardgood categories are still skateboarding and water sports. To keep it simple, in general we can see a rather strong skateboard presence in urban areas, while aquatic sports are more developed in proximity to Switzerland's lakes and rivers. It's important to note that a large part of stores that are active in the winter boardsport sector aren't at all in summer. Of course, I'm speaking about retailers located in mountain resorts that are either closed or sell mountain bike products instead.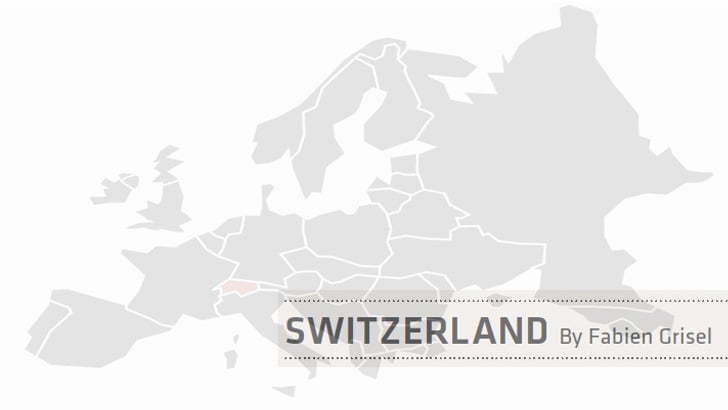 Since the weather has played in our favour, we've seen good sales figures for the months of May and June, which have often been higher compared to the volume from last year. That's the case for Balazs Bodonyi from Surfmachine in Bulle who is satisfied with his sales this year. Yan Bosson from SB Sport, Sandro Joss from Tip To Tail in Bern and Gerald Zimmermann from Breakpoint in Visp seem to agree as well. The skateboard business is still strong, with sales of street boards holding steady despite being very affected by online sales. Wooden cruiser boards are selling well, but as was the case last year the longboard market is getting tougher and tougher.
Obviously, the other boardsport that continues to expand is stand up paddleboarding. Very conspicuous on many Swiss lakes and some rivers, this product attracts lots of people. The combination of the "taking a relaxing stroll" and "getting a workout" sides of it, added to the aquatic aspect has definitely seemed to be a winning trifecta for the last few years. As a result, we're seeing little SUP rental shacks popping up all along our riverbanks and lakeshores, with a steady flow of customers. Accordingly, sales and rentals are going well, even in stores that don't have direct access to a waterfront, which is the case for Tip To Tail in Bern, Sb Sport in Gland (although it's not very far from the lake) and Hot Tension in Monthey.
Speaking of Hot Tension in Monthey and its owner Jean Claude Aebi, the summer season is very important and becoming so more and more. He's overjoyed to see his sales figures go up every year at this time of year. He even admitted to us that his summer sales have recently surpassed his store's winter sales figures, which is a fairly rare case in our sector in Switzerland. This is a direct result of his passion for kiteboarding, windsurfing and SUP, three sports in which he is now considered a specialist in French-speaking Switzerland. According to him, the sector is healthier than skiing or snowboarding and people who do those sports are passionate about them, making it much easier to sell them equipment. North has positioned itself as the clear leader in kiteboarding, and he works a lot with Fanatic and Red Paddle Co. in the SUP sector. If you believe Jean Claude, it appears as if windsurfing sales are even picking up, but here we're talking about mostly inexpensive, entry level products, more so than high performance gear. This timid comeback is most likely thanks to the growth of SUP and people's desire to explore aquatic environments on some form of board. On the other hand, freaks prefer to foil!
We'll finish with news from the front with a follow up on the implantation of the Austrian giant, Blue Tomato in our Swiss cities. After Zurich, two more cities are directly concerned, Lucerne, which opened this spring and Bern with an opening soon. Are other locations planned and what sort of success will we see in the three stores cited above? It's still a mystery.