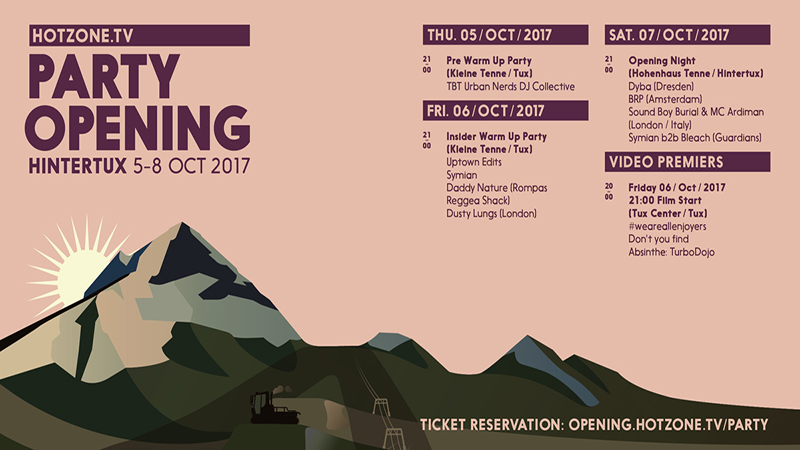 Betterpark Hintertux Prepares For Opening This Weekend
This Friday the winter season starts and Betterpark Hintertux is ready to open. 
Press release: The Betterpark Hintertux, from hotzone.tv is opening this weekend, october 5th-8th. Hotzone have continued to grow from a small shop in 1995 to a company that can now host what hopes to be the best snow park of the season.
32 hits in total, including 8 jumps and 24 jbis reports head shaper Wille Kaufmann said: "That means for the first time ever we already have the full setup at the opening that was planned for rest of Autumn. And not just scrambled together, but with optimum dimensions in terms of radius and heights."
And the condition of the 31 kilometers of slopes all the way down to the Tuxer Fernerhaus are great as well. All visitors to the hotzone.tv Park Opening can look forward to an amazing weekend of testing in perfect conditions!
To round things off, there are a couple of party highlights to report – all the other side activities like the Kids Shred, Session of the Dudes, Alarm Clock Battle, snowboarderMBM Cash 4 Trix and the Aftershred Session as well as the Video Premieren are hopefully noted already.
Music-wise they are kicking the weekend off with the Urban Nerds DJ Collective
on Thursday
.
Friday
continues with finest tunes from London, amongst others by Daddy Nature and Dusty Lungs, while the Opening Night in the Hohenhaus Tenne
on Saturday
will be even more international with DJs and MCs from Dresden, Amsterdam, London and Italy! Get ready to rock out with DYBA, BRP, Sound Boy Burial, MC Ardiman and Symian b2b Bleach!