RVCA True Stories Launch Event In Paris Recap
To celebrate the launch of the new book from artist Benjamin Jeanjean, as part of RVCA's 'True Stories' initiative, an event was held in Paris designed to bring together artists, those from the skate community and other creative types. This looks to be only the start for the movement as RVCA and Jeanjean both express sentiments to grow worldwide year on year. 
Press Release: Launching the third edition of 'TRUE STORIES' and first book release from the growing project, RVCA was proud to gather a community of artists, skaters, creatives and amateurs  at CLASSIC book store in Paris this past Friday. In presence of artist and project initiator Benjamin Jeanjean, a longtime global ANP artist, the Paris happening allowed for a nice mix of profiles, personalities and authentic art amateurs.
"It's pretty impressive and encouraging to see people come and learn about the project," Jeanjean said. "These artworks and book are just the start of something way bigger I believe, as the refugee topic pretty much exists everywhere around the globe. Hopefully, we take this beyond and I hope we can bring in tens of artists to join and deliver their own take on the topic to make it a big-scale group show in the short term."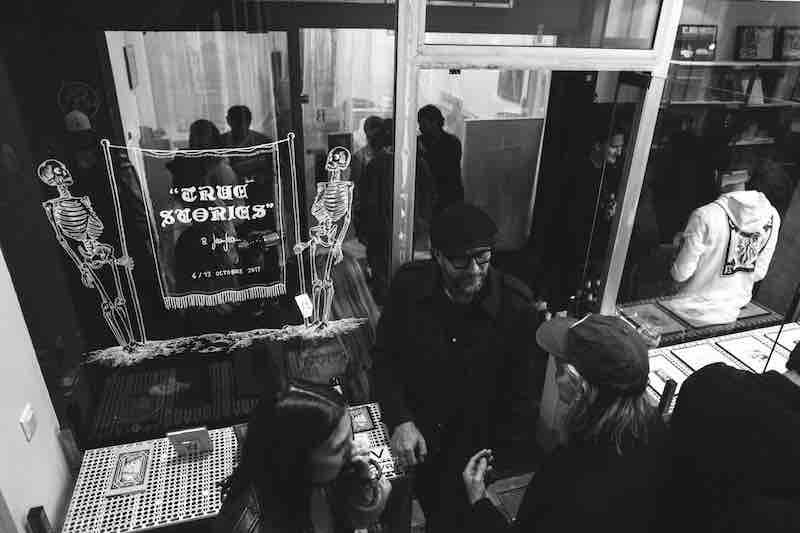 The initiative started in Vienna (AUT), after Jeanjean spent over a month living and learning with various refugees to deeply understand their experiences and translate it all into refined, detailed custom illustrations. That first moment naturally took the artist to add work and artworks to the first chapter and hit Bordeaux (FRA), before producing a first book 'TRUE STORIES : Vol. I ALI' that was launched in Paris Friday.
"A book is always a great item to gather both stories and illustrations, to really take the time to transcribe those experiences and have something that stays on your hands," RVCA Marketing's Greg Puget said. "We are really proud to support Benjamin's work and vision, and RVCA really is that unique brand that allows to commit to such beautiful, committed deep art projects. Definitely looking at the next stages on how we help the artist reach a wider audience because his project deserves more."
A first happening in a long time in Paris, it was a great re-launch for the brand in the French capital, a project that naturally calls in for some soon-to-come new moments for the community.