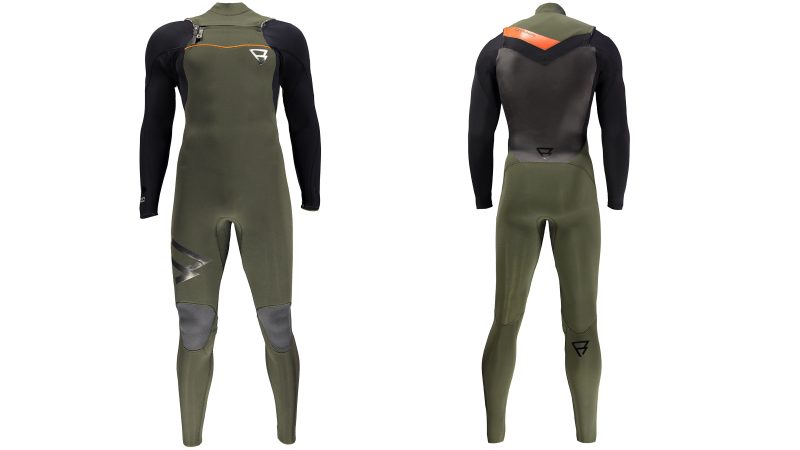 Brunotti SS18 Wetsuits Preview
Retail Buyers Guide: Wetsuits SS18
CATEGORY: WETSUITS
BRAND: BRUNOTTI
INTERVIEWEE: HANS SCHAAP (PRODUCT DESIGNER)
Firstly, can you tell us about how your spring/summer wetsuits line is evolving compared to your traditional fall/winter one?
First of all we reduced the weight of all wetsuits by using a new foam liner inside the neoprene. Also the stretch is maximized to make sure you have all the freedom of movement in the water. This is a new development of the biggest neoprene factory in the wetsuit market. We are happy to use all these kind of benefits within our new range of neoprene.
Regarding neoprene material, tell us about the characteristics and specific objectives of a summer wetsuit.
Of course thickness is the main difference between a winter and summer wetsuit. Most of our new summer neoprene is 2 to 3mm thick. This creates a very flexible and comfortable product.
How do you make sure it's strong enough to last?
It all starts by a smart seam position. We make sure the seams are in the right position to avoid tension on the seams and rash to the skin. Also we use a strong stitching technique specialized for wetsuits. All seams are first glued and then stitched halfway to the foam to make sure the wetsuit doesn't leak. All these details combine to make sure the wetsuit is strong and durable.
Design-wise, how is the panel construction designed for comfort? How are you working to make sure your seams are resistant and stretchy?
Same as answer above – It all starts by a smart seam position.
What's the role of the lining in your wetsuits? What are its most important features during the summer?
The most important feature is strength and weight! Of course flexibility is important but now these days all brands have flexible wetsuits. But the weight is also a big issue. The lighter your wetsuit, the better your performance (we believe). Also we find it important that if you buy a piece of neoprene it will stay durable for a longer time of use.
In terms of style, which colours and patterns are the most popular for SS18?
All our downtone earth colours are doing quite well. We see a trend in less is more. Decent looks and no overkill in logo use.
In terms of price, which demographics/levels do you address here?
Mid to high end price range.
Tell us a bit more about the unique benefits and high-end details of your wetsuits.
We use quite a lot of key features such as the latest Quickdry fabrics, magnetic zip closures, zipless construction, closed cell (lightweight) foam use and fused cuffs.
What are your 3 key products in this category for SS18?
Bravo wetsuit series / B-zipfree wetsuit / Defence Womens wetsuit.
How do you make your business more eco-friendly?
We now have a few wetsuits using (tropicflex lining) it's a recycled liner based on fabrics that are wasted in the factory. They made a really nice soft-touch neoprene fabric out of this.
In the future we want to do more with ECO friendly fabrics but it will need to be 100%! We now see a lot of competition using the word 'ECO' but in the end the product isn't. If we do this it needs to be a fair story to the consumer…