L1 Premium Goods Unveil New Website And Introduce Their 2018 Collection
The guys at L1 Premium Goods have released their 2018 Collection via their brand new website. To mark the unveiling of the new website they have released a new video edit titled 'AMERICKA' which details the travels Dominik Wagner, Marc Swoboda, and Simon Gschaider as they travel an uncharted area in Eastern Europe on their snowboards.  
Press Release: Interview with Dominik Wagner and Alex Pfeffer.
How did this trip come about?
Dominik Wagner: I was riding my home resort Absolute Park at the end of January when my good buddy Wojtek Pawlusiak hit me up and told me about this amazing city in the Czech Republic called Liberec that had recently received a massive amount of snow. He asked if I wanted to put a crew together and join him, so I figured I just hit up the homies and make this trip happen.
The crew was Simon Gschaider, Marc Swoboda, Wojtek Pawlusiak, Alex Pfeffer (filmer) and myself. We stayed there for a little over a week and got a surprise visit from our good friend Gido Gföllner!
Alex Pfeffer: Rohrbacher was there shooting photos as well.
Has anyone ever gone to Liberec to snowboard before?
Dominik: Wojtek went there with the Isenseven crew a couple years ago but I think that was about it.
Alex: there are a lot of motivated locals who are out in the streets and keeping it real! (killdeathsnowboards) So I think they enjoyed the Liberec streets. Also, the Vans guys were filming a part of their Landline project there at the same time.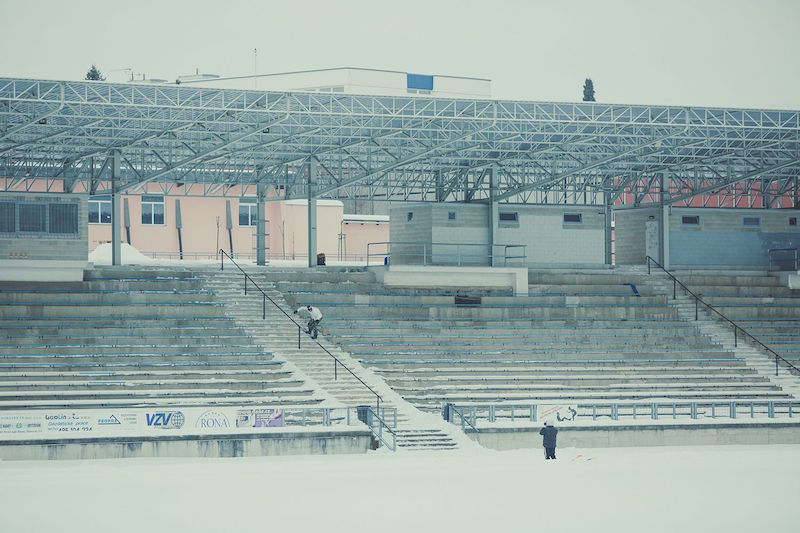 How was the bust factor, did you get kicked out of a lot of spots?
Dominik: We got kicked out once at this multi kinked rail, but we were cutting down bushes and it was next to a big bus stop, so we had a feeling that there was a big bust potential.
Some guy called the Police, they showed up, talked to us, realized we were just snowboarding and took off… classic scenario.
What was the weather like?
Alex: it was foggy and windy the hole time, although the weather forecast was good for that week, on one day we left Liberec for a spot more outside from the city. Suddenly the weather was good, there are certain weather conditions in the city because of the big mountain near the city.
How many spots did you guys hit?
Dominik: We were there for a week and hit at least a spot per day so I would say approximately 8?!
Anything funny happen while filming for AMERICKA?
Simon Gschaider … HAHA
Dominik: This was Simon Gschaider´s first filming trip so he was just hyped all the time and soaking in every single bit of it ! no matter if it was about snowboarding during the day or going to the bar … he was going ALL IN !
Alex: One day there was rain and it freezes immediately, so the hole city was covered in ice that night, although a lot of accidents happened we had a good time ice skating that city.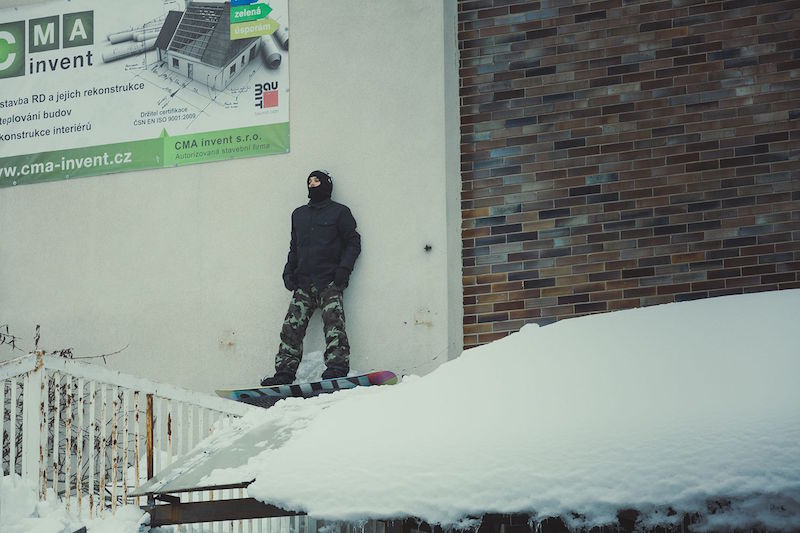 Where does the name AMERICKA come from?
Alex: My idea was to establish the Video to the first L1 Movie I saw (Americana) I really liked it. At one spot I was standing on a roof filming and that bus appeared with end destination Americka on it and I think that was a sign.
What was your go to set-up while filming?
Dominik: The Alpha Taxwood Jacket and the Americana overall in black or Camouflage .
What camera was ALEX using while filming this project?
Alex: I used a HD camcorder for the action shots and a old 8mm film camera for everything else, I used a specific film to catch that eastern Europe vibe, I hope you like it.
How much did beer cost?
Dominik: I was sober during the winter so Alex has to answer this question 😉
Alex: The beer was very cheap and so was the food, the only expensive thing was Absinthe :p
IF you could go back and film again would you?
Dominik: Definitely