686 Welcomes New Riders To The Team
Joining an already impressive roster of snowboarders on the 686 global pro team is French pro snowboarder Victor Daviet. As versatile as he is talented, Daviet is a wizard in the pow and has a real passion for backcountry exploration. 686 will be his new outerwear sponsor. 686 also welcomes Swiss backcountry skier, Laurent De Martin, to the team making him the first European professional skier sponsored by the brand.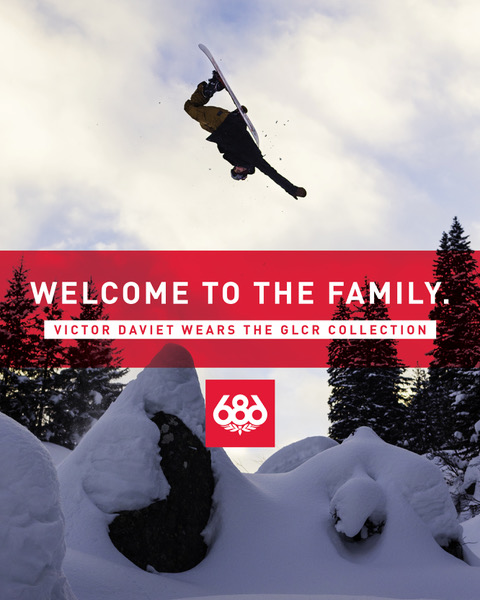 Press Release: After some of speculation, 686 Technical Apparel formally announced the addition of Victor Daviet to their global pro team. Victor had been seen wearing 686 this summer on the glaciers in France and more recently at the 686 booth during the High Five Festival in Annecy, France.
Victor will represent the GLCR Project (https://www.686.com/collections/mens-glcr-collection) collection of technical outerwear, inspired by backcountry exploration. He joins current 2x back-to-back Freeride World Tour champ Sammy Luebke, Canadian backcountry freestyle powerhouse Matt Belzile, professional skiers Parker White and Laurent de Martin, global explorers Sean and Mollie Busby and more. See below for reactions from the 686 crew.
"The last jacket I bought when I was 13 year's old was a yellow 686 one. I remember being super hyped on the technicality of the gear (mainly because there was a thermometer inside). Joining that talented family today is more than an honour and wearing their technical products again makes me want to go ride some deep powder far away in the backcountry." – Victor Daviet
"I'm stoked to have Victor joining the team. I think he'll bring some great European backcountry flavour to the table and hopefully bring some of his country's wine on 686 trips." – Matt Belzile, 686 Global Pro Snowboarder
"Victor's style and grace on a snowboard are very rare and a sight to behold. He has a refined ability to make simple tricks look amazing and pushes the level of snowboarding year after year with his amazing parts in Transworld. It's an honour to welcome Victor Daviet to the Global Pro Team here at 686" – Patrick McCarthy, 686 Global Team Manager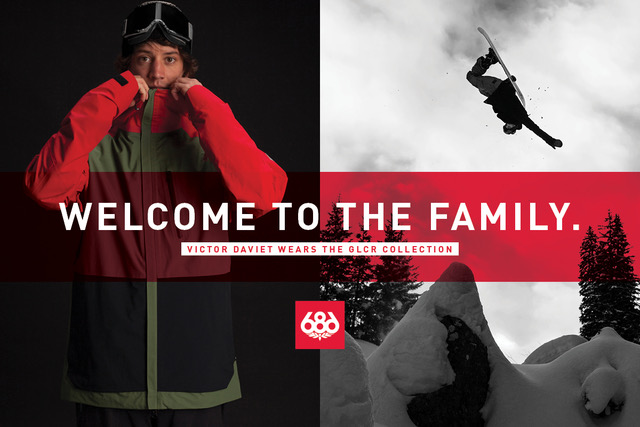 "Victor Daviet, is just the perfect addition into the 686 global team. We share the same passion and vision about snowboarding and the outdoors. He's part of this new multi talent snowboarders generation, who can ride and play in any environment. Welcome to the Family Vic!" – Pacome Allouis, 686 European Marketing Manager
"Victor isn't just another snowboarder. He's also an adventurer, a photographer and a generally creative and kind person all around. His spirit fits perfectly with 686 and we are pleased to welcome him to the family with wide open arms." – Michael Akira West, 686 Founder and Creative Director