Billabong Reports Positive Outlook At AGM, Shares Jump 20%
November 21, 2017 – Billabong International Limited made major announcements today at the company's Annual General Meeting in Queensland, Australia. The main take-away: Strategic efforts are showing results and the brand conglomerate – home to iconic labels Billabong, RVCA, Element, Von Zipper, Honolua Surf Company, Kustom, Palmers Surf, and Xcel – continues to recover despite a challenging economy.
For the fiscal year 2017, Billabong had set out to continue turnaround in the Americas, expand gross margins in all regions, reduce cost of doing business and deliver improved EBITDA.
"In the face of some challenging conditions in the retail sector, I am pleased to say that we achieved all of those goals," said Chairman of the Board Ian Pollard. As the main driver, CEO Neil Fiske identified the value of the company's brands: "Our big three brands, Billabong, Element, and RVCA, now comprise 91 percent of our external wholesale sales."
After today's announcements, Billabong's stock price (BBG:AU) increased by over 20% in trading to A$ 0.74 per share.
The numbers
Billabong's EBITDA for the year 2017 was A$51.1 million, up 2.8% on a constant currency basis. Billabong's Operating cash flow improved by $31 million year-on-year. The Company reported a Net Loss Before Tax of A$8.4 million, excluding significant items and discontinued businesses.
Let's look at market regions. Starting with Billabong's European business, the positive trend continues after 2017 marked a turnaround for the company. After a soft first half of 2017, the region achieved 8.9% EBITDA growth in constant currency. E-commerce performed strongly in Europe, growing 27.5% and now accounts for 4% of total sales.
"This was the fourth consecutive year of EBITDA improvement in Europe, and the region is forecasting to record a fifth year of improvement in FY18," said Chairman of the Board Ian Pollard.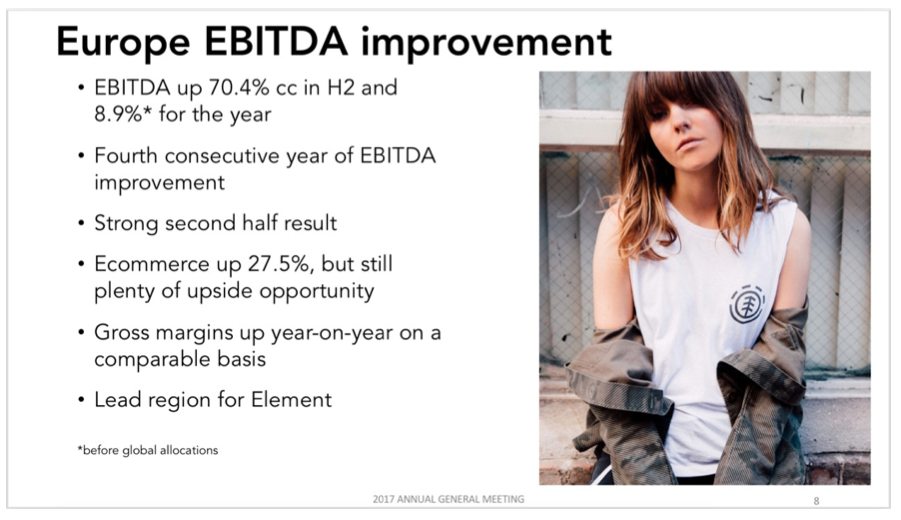 Results are also encouraging in the Americas, where Billabong reported full year EBITDA up 46.9% before global allocations and e-commerce also grew in the mid-20s at 25% (now almost 7.5% of total sales).
"We are confident that this improvement is not an isolated result but part of a sustained turnaround in a region that has been described as our greatest opportunity," said Ian Pollard.
Australia is currently working through a challenging economic environment, especially in retail, which reflects in Billabong's numbers with EBITDA down 28% on last year.
"It is worth repeating: two of our three regions performed well last year – the Americas and Europe. APAC fell short, some of it due to macro conditions and some of it from our own execution issues, which we are correcting," said Billabong CEO Neil Fiske
Staying the course
Chairman Ian Pollard attributes the positive numbers to the company's diligent pursuit of the turnaround strategy. "Over the past three years we have faced significant headwinds with currency movements, and changing and challenging retail markets; however, we have demonstrated the soundness of our transformation strategy."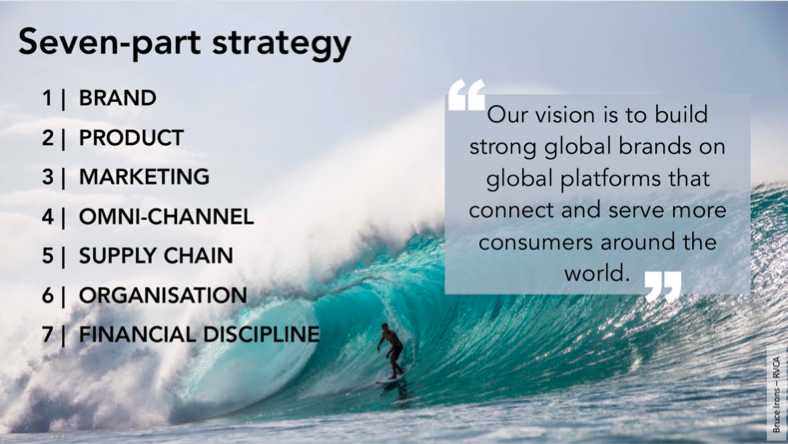 Billabong has been following a seven-point turnaround strategy announced in December 2013. The main goal has been getting back to profitability and focusing resources on building the profile of core brands. This also included the sale of brands and assets such as longboard company Sector 9, women's swimwear brand Tigerlily and e-commerce website Surfstitch.
"The Group is now a far more efficient, focused and forward-looking operation. We have reduced the cost of doing business, we have in the last year improved our gross margins (and continue to do so), we have simplified the brand portfolio, and we have grown social media followership for our brands, athletes and ambassadors to more than 36 million."
Speaking of social media, Billabong is among the brands who recognize the importance of social following for brand equity. In each of the Group's recent reports, social media statistics are shared with shareholders, and numbers are looking good as global social media followership increased 42% year-on-year.
Brand power
As stated above, the strength of the business rests on Billabong's big three brands: Billabong, RVCA and Element:
Billabong counts 18 million social media followers and was named Women's Surf Brand of the Year in the US and Australia. It opened nine new company stores and grew e-commerce sales by 28 percent. According to Action Watch, the brand now commands 18.6% market share in US core specialty surf apparel, a steep climb from 8.8% in 2008. "Brand Billabong now has twice the share of its nearest competitor in this important channel," said CEO Neil Fiske.
RVCA has enormous growth potential and could double or triple in size in the near future, said the brand. Their social following increased by 48% and now includes 6.5 million followers, while the brand opened new stores in Tokyo, Bali and SoCal.
Element continues to perform best in Europe and grew global social followers by 38% to 12.4 million. The company believes that Element – having recently celebrated its 25th anniversary – can grow its presence in the US, while it is currently rebounding in Australia.
Looking ahead
"In conclusion, 2017 was an important milestone year in your Company's transformation," said Ian Pollard. The group expects FY18 EBITDA (excluding significant items) to exceed FY17 EBITDA of $51.1 million, subject to reasonable trading conditions and currency markets remaining relatively stable.
"For the Billabong Group, our character is in our brands, our people, our culture. It's is in our passion, our authenticity, our drive to be the very best at what we do," said CEO Neil Fiske.
Quotes taken from Billabong's official press release.