Sophie Everard From Mad To Live Presents Mad To Rave Charity Event In London
Sophie Everard, founder of boardsports and fitness blog Mad To Live and Mad To Live Retreats, is hosting an event this December, 2017. Featuring a screening of short movie 'Mad To Live', a gallery exhibition, live art installations, live music and a charity partner raffle with The Wave Project. Invite only.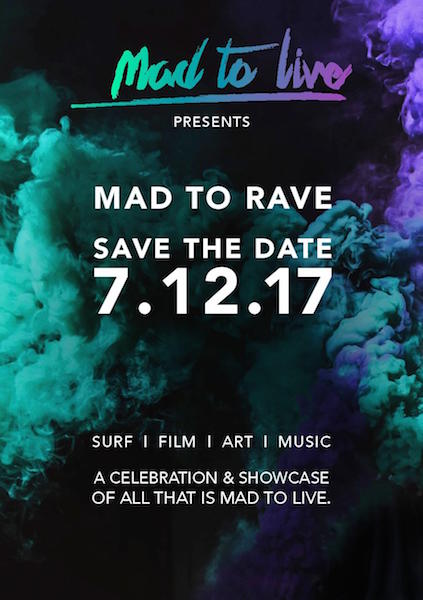 CHARITY PARTNER/RAFFLE: The Wave Project, a UK based charity who do amazing work helping physically and mentally disabled kids to surf though a raffle including a signed Tony Alva skate deck
DATE: 7th December 2017
TIMINGS: 8pm – 2am
VENUE: Kreative Hous 
PROGRAMME:
SURF Gallery space showcasing Mad To Live imagery over the last 2 years, SURF/FITNESS/ADVENTURE/RADNESS/TRAVEL/WOMEN
FILM Short Movie screening of Mad To Live by the Psychic Visions Collective 
ART Live installations with artist Harvey Saunders, live mural
Many years of traveling and board riding waves, mountains and city streets have seen Harvey Saunders cultivate an eclectic understanding of contemporary culture in turn cultivating a fresh individual style which is clear in his work. Harvey's Polyspherical series of artworks are created using collage, painting and digital techniques and processes. He is driven to approach his work with a constant focus on innovative progress, connecting the transcendental and the superficial, the organic and the digital, the evanescent and the eternal. Inspired by cubist, dadaist and surrealist art, ancient civilisations, crystalline structures, sacred geometry, and cyber culture. His works present a coalescence of imagery and depict many layers (similar to that of a *mandala) creating a meditative environment which can in turn be recreated within the minds eye, giving us an opportunity to enter into a new perception of our reality."
MUSIC DJS Georgie Rogers (Beats/6 Music/Virgin/Secret Garden Party) and TBy1 (Prodigy/Snowbombing) and more TBC

CHARITY
Mad To Live our proud to partner with The Wave Project, a UK based charity who help young people to reduce anxiety and improve confidence through surfing with a raffle including a signed Vans Tony Alva skate deck, goodies from Roxy, SeaFolly and more!