The Wavegarden Cove: Family Wave Session
The Wavegarden Cove surf facility recently opened its private R&D Demo Centre in the Basque Country to a lot more than the usual pro surfers and elite athletes with a popular 'Family Surf Session.'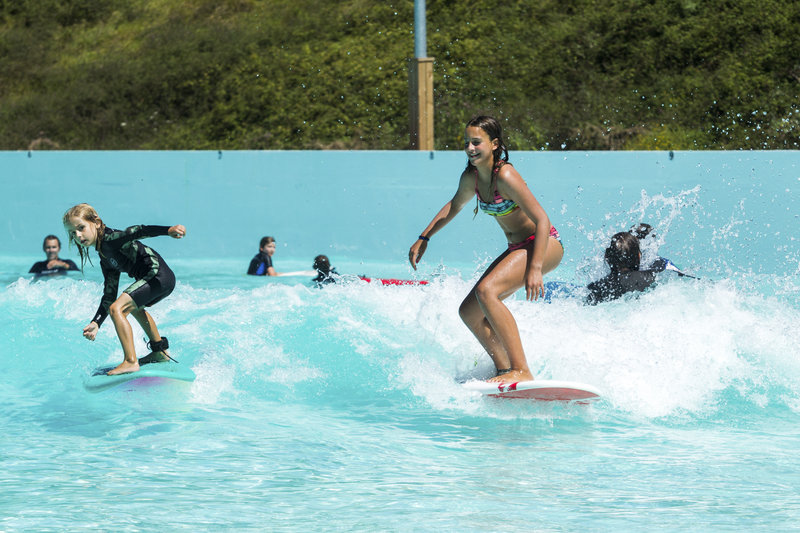 Press Release: The Wavegarden Cove has been tested by many of the world's top ranked professional surfers, although its versatility extends beyond making great waves for the elite. With the emphasis on fun and learning, a "Family Surf Session" was organised at Wavegarden's private R&D demo center in the Basque country with some families with varying degrees of experience.
The creators of Wavegarden have always aspired to democratize the sport by making surfing accessible and secure for everyone regardless of age, skill level or geographic location. This objective is achieved with the latest technological breakthrough – the Wavegarden Cove – that makes waves that are suitable for all user types. There are 40 different wave types ranging in size from 50cm through to 2.4m. With a push of a button, waves can be modified in an instant to match users. In the demo center, large conditions for experienced surfers can be toned down in a matter of seconds to small knee high waves suitable for young children and beginners. Larger commercial facilities that will soon be open to the public around the world will have multiple surfing areas, so surfers of all levels can use the facility simultaneously.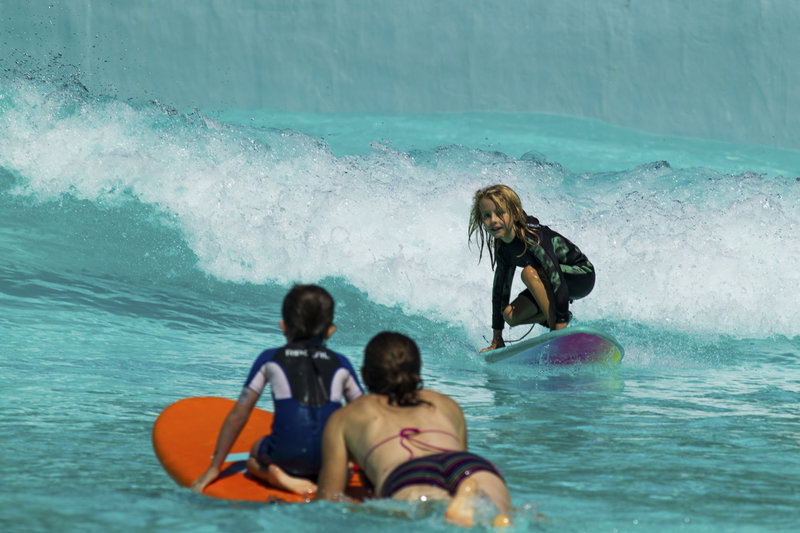 The Wavegarden Cove is a modern day aquatic sports complex that opens up new possibilities – especially for people who live far away from the ocean. Customers are able to safely learn about ocean conditions, and quickly advance from one level to another as their skills and confidence develop. People with no experience can master the basic techniques in their first session. This level of progression is near impossible in the ocean, where the unpredictability of wave size, currents, tides, crowds, etc… makes it slow to improve. The sense of satisfaction that comes from learning is key to keeping surfers motivated and keen to return for more sessions.
User safety is considered in all design aspects of the Cove. In beginner areas, the water level varies between knee to waist high, so newcomers are never out of their depth. The surface of the floor is smooth and safe equipment is used. Further, the Cove provides a wide range of community benefits including school educational programs linked to surfing, swimming, water safety and lifesaving.
The feedback from the participants in the Family Day Session was very positive. "I don't surf and I was just feeling very secure and safe to try to catch a wave," said Dr Priscilla Mailman, who was testing the waves along with her husband and 2 children. "The progress is unreal. In the ocean (the kids) can get pretty scared because of the strong currents, but here not one drop of fear. And it's perfect having this family interaction in the water – playing together, having fun, pure fun."