Tony Hawk Joins The Triple Eight Team To Wear The Certified Sweatsaver
Triple Eight have launched their 'holy grail of helmets' – THE Certified Sweatsaver. The helmet combines the best of high impact absorbing EPS Foam with thick dual density soft foam and plush Sweatsaver fabric, to deliver the ultimate in comfort with dual certified protection.
Skateboarding icon Tony Hawk is fully committed to the new model as you can see from this recent edit announcing his addition to the Triple Eight Team.
Press Release: Triple Eight has spent years on a quest to develop the "Holy Grail of Helmets" a certified helmet with the comfort and fit of our famous Sweatsaver.  We worked with our top team riders to make happen, and went through dozens of prototypes and endless rounds of testing to figure it out.
When we finally got it done, we stopped by Tony's ramp.  He put it on, agreed that it was a true game changer, and joined the team.  A couple days later Tony shot this video.  Check it out and hear from the Birdman in his own words.
We're always stoked when a top athlete joins the team because of a new product that we've developed – but it's even better when that skater is Tony Hawk!
"Helmets have always compromised between comfort and protection. This helmet has the best of both, and looks good too."
–Tony Hawk
Still not sure?  Hear from the whole Team:
"I'm super stoked on this helmet.  The first certified helmet that fits just like a Sweatsaver. "
–Elliot Sloan pro skateboarder
"I'm already used to wearing Certified Helmets, and now there's one that fits like a Sweatsaver, it's perfect."
–-Jeremy Malott pro BMX
"Finally a certified helmet with the comfort and fit of the traditional helmet I've been wearing my whole career.  It's awesome to feel safer without compromising the fit!"
—Pierre Luc Gagnon 'PLG' pro skateboarder
"This is the bridge the action sports industry has been waiting for. This helmet is the perfect balance of premium comfort meeting premium protection and it's never looked so good! TRIPLE EIGHT NAILED IT!"
—Mike Fede pro BMX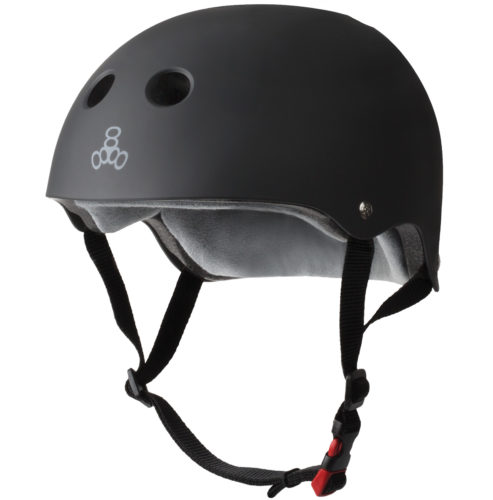 "When I first put the helmet on my head, I knew it was a winner.  You won't find another certified helmet as comfortable as this one."
–Paul Luc Ronchetti pro skateboarder
"I don't want to think about my helmet—just know it's there when I need it.  I forget I'm wearing this one."
–Mitchie Brusco pro skateboarder
"I tried it on, and that's all I needed to finally switch over to a Certified Helmet."
––Trey Wood  pro skateboarder
"It took a long time, but Triple Eight finally did it.  The most comfortable helmet I've ever worn."
–Evan Doherty  pro skateboarder
"This is the helmet we've all been waiting for.  This is the future.  Nobody else has it, which makes Triple Eight the only helmet brand that matters."
–Mike Vallely pro skateboarder