Vans Announces 2018 Hi-Standard Snow Series World Tour Dates
Vans have revealed the dates of their 2018 Hi-Standard Series – the annual international snowboard jam where "Style is Everything"! The focus is on fun and creativity with judging being based on individual style. The tour will stop all over the world in including Canada, South Korea, China and much more. 
Press Release: Vans is thrilled to announce the return of the 2018 Vans Hi-Standard Series, Vans' annual international snowboard event. Kicking off a sprawling world tour in Ontario, the tour will visit Canada, China, South Korea, Finland, and the US, bringing this all-ages snow series around the world to invite riders to showcase creative expression in a fun open-jam format. Featuring a big air session where participants are judged solely on their individual style with no inverts or spins over 720 allowed, regional MVPs will win an all-expenses paid trip to the grand finale show at Sierra-at-Tahoe for a chance to snowboard with the Vans snow team and battle it out for the 2018 Vans Hi-Standard Series MVP series title.
Beginning its 2018 world tour journey on January 13 in Mount St. Louis, Ontario Canada, Vans Hi-Standard Series will provide free registration, lift tickets and lunch vouchers to all participants. With more than $50K in cash and prizes up for grabs, this all-inclusive snowboard event challenges riders to push the limits with creative tricks while keeping in mind that "style is everything." The "Van Doren Rail Best Trick" will handout cash on the spot for most innovative maneuvers while Vans rewards the "Most Improved Rider," "Worst Bail," and crowns an MVP on each stop of the tour. With no rotations over a 720 permitted, only the most creative competitor with pure style and originality will be awarded with the MVP title.
"The Vans Hi-Standard Series is an epic combination of young and old, trickery and style," states Vans global snow team rider Pat Moore. "Everyone is stoked to be here; the prizes are just a bonus."
In addition to the snowboard jam, Vans amplifies the spectator experience with a pop-up House of Vans workshop for non-competitors and family members. First ten registrants will receive a pair of their very own Vans to customize alongside an artist from each city. Competitors and fans will have the opportunity to witness their favorite riders from the global Vans Snow team on each stop of the tour, and also a chance to catch a premiere of Vans Snow's first full-length film, LANDLINE. starting in Beijing, China. Now is your chance to make your mark—style is everything!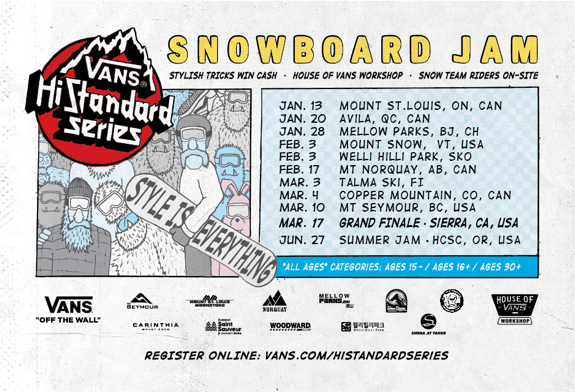 2018 VANS HI-STANDARD SERIES OFFICIAL DATES
January 13 – Mount St. Louis, Ontario, Canada
January 20 – Mont Avila, Quebec Canada
January 28 – Nashan Mellow Parks, Beijing, China
February 3 – Mount Snow, Vermont, United States
February 3 – Welli Hilli Park, South Korea
February 17 – Mount Norquay, Alberta, Canada
March 3 – Talma Ski, Finland
March 4 – Copper Mountain, Colorado, United States
March 10 – Mt. Seymour, British Columbia, Canada
March 17 – GRAND FINALE – Sierra-at-Tahoe, California, United States
SUMMER JAM DATES
June 27, Session #2 – HCSC at Timberline, Oregon, United States
Summer 2018 – TBC, Argentina