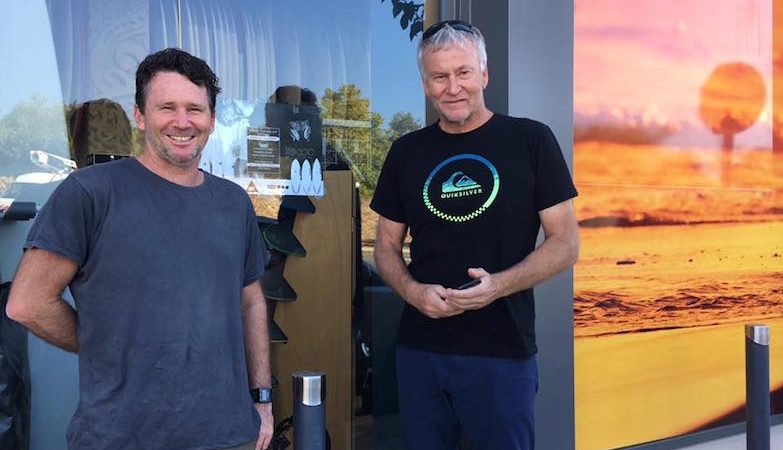 Simon Anderson And Luke Short Visit Glassing Monkey, Portugal
An exciting time was had recently at the Glassing Monkey shaping factory in Portugal when shapers Simon Anderson and Luke Short joined Nuno to work together on custom orders and to develop new shaping techniques and materials.
It was with a lot of expectation from both parts that Nuno from Glassing Monkey and Simon Anderson (the father of the tri-fin) joined Luke Short from LSD (shaper for the likes of Julian Wilson, Matt Banting and Noah Dean).
Everything began in Portugal and after a crazy week of surf and meetings with Portuguese store players the shapers started their adventure with the Glassing Monkey factory in Sevilla.
Making some custom orders, watching the development of the factory and checking new machine cuts was one of the main reasons of this visit.
"We want to guarantee our quality and Glassing Monkey is one very important component for my image in Europe", said Simon Anderson. Luke also said, "Glassing Monkey is important for my image in Europe and Nuno is responsible for my brand in the continent. I want to secure a situation with Nuno and Jesus so that we have a team ready to produce and sell with my quality and that they follow with care the path that i've been able to develop."
Testing the new blanks from Bennett Australia and using new materials to improve the quality was one of the main activities in the factory. The company SEAWINGS, who have a strong partnership with the GM factory, are one of the main reasons that Bennet Foam was brought to Europe and to GM.
GM also closed the year with a very strong development in the EPS surfboard range with SOUL, presenting also the new resident Shaper Matt Penn, one of the shapers of Insight Surfboards and also a co-worker of Simon in Australia.