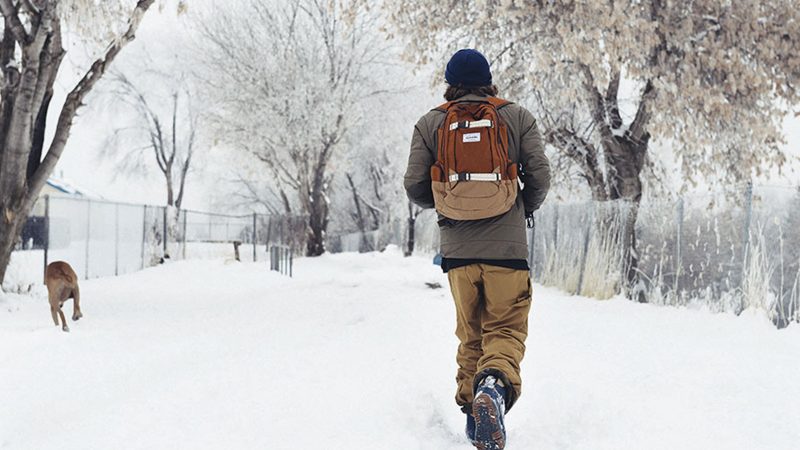 Dakine Technical Packs 18/19 Preview
Retail Buyers Guide: Technical Packs FW18/19
Catagory: Technical Packs
Brand: Dakine
Interviewee: Pj Rueda, Sports Marketing & Communication Manager.
What are your main price points for next season?
Dakine has the widest range of technical backpacks. From quick park sessions to backcountry expeditions, we cover all snowboarders needs. With prices ranging from £60 to £200, we adjust to all snowboarders' budgets.
How are you segmenting your technical backpack collection?
Easy!
Poacher – Heli – Mission.
The Poacher series is our most technical line of backpacks. All sizes are available with or without compatibility with the Removable Airbag System by Mammut. Seven backpacks from 14 to 42 litres capacity and a vest; demanding snowboarders will find exactly what they need with the Poacher's series.
The Heli series is the most iconic line. Rooted in Dakine history, it made snowboarding history by opening the minimal technical backpack category with the creation of the Heli Pack in 96. The Heli family has grown a lot since then.
Finally, the Mission series is our most versatile line. Park session, university day, weekend mission: the Mission series has you covered. The line is specially designed with snowboarders in mind, including Louif Paradis, Elias Elhardt and Leanne Pelosi Signature models.
Poacher, Heli and Mission lines also include Women's specific versions, specially fitted to women's morphology.
What general trends are you noticing?
Backpacks are getting more and more technical but consumers do not want that technicity to be visible. Snowboarders do not want to look like mountain climbers! Colours are simple, bold and match outerwear. Airbags are becoming a standard feature, even for riders spending less than 100 days on snow.
What do customers expect from their technical snow backpacks?
Customers want to be able to carry what they need, keeping it dry and safe. They want the backpack to be so anatomically perfect that they forget about it while riding. They want the price to be fair, so they can spend more on lift tickets.
What is your collection theme and which stories are you telling to get customers stoked on functional snow performance backpacks?
Dakine is making quality backpacks, so there is no story to make up here, we just tell the authentic story of our bags. Our athletes love their technical backpacks and showcase them in the best videos in Europe and around the world. Many non-Dakine pro riders also use our bags during the season, that's maybe the best quality testimony we could imagine!
What makes this product category important to your brand and what are your USPs?
Minimal technical backpacks for snowboarding were first produced by Dakine and is the heart of what we do. Our range is wide and deep, so any consumer can find exactly the backpack he or she needs, at a fair price. In the end, our proposition is simple: "If you want the perfect backpack for snowboarding, get a Dakine one."
How are you helping retailers sell these packs and educate customers (POS displays, etc.)?
Retailers are our main access to the market, they are at the heart of our efforts, we do our best to support them. We have a full program of hangtags explaining the technical features of our backpacks, POS displays, dedicated furniture to show the range in store and a program of full window customization for our best partners. We have the best Trade Marketing Manager on the market: Julie Baguenard.
Which technical features are you most proud of?
Our new Roll Top airbag compartment takes the "Less is More" philosophy to the next level through a simplified bag deployment design that is faster, more reliable, and re-useable. By eliminating the weakness created by a standard zipper, we've created a Poacher RAS pack that is simpler, easier to use, and longer lasting. Patent Pending.
Please name and describe your 3 highlight pieces and items that retailers should definitely order.
Poacher RAS 26L: Simply the perfect RAS Backpack, in its most versatile size. This pack has it all: Removable Airbag System 3.0 by Mammut® compatible with RollTop closure, vertical snowboard carry, diagonal & A-frame ski carry, back panel zippered main access, deployable helmet carry, two-way radio handset or insulated hydration compatible, snow tool/shovel pocket, quick draw ice axe loop… and much more!
Poacher 14L: this new backpack is one of the most compact, technical backpacks on the market, with a sleek design. The RAS version is 18L only, for those who like to ride light.
Mission Elias Elhardt Signature: a great bag, and the best way to support one of the best European backcountry riders. By the way, the matching Elias Elhardt Baron mitts are fire too.