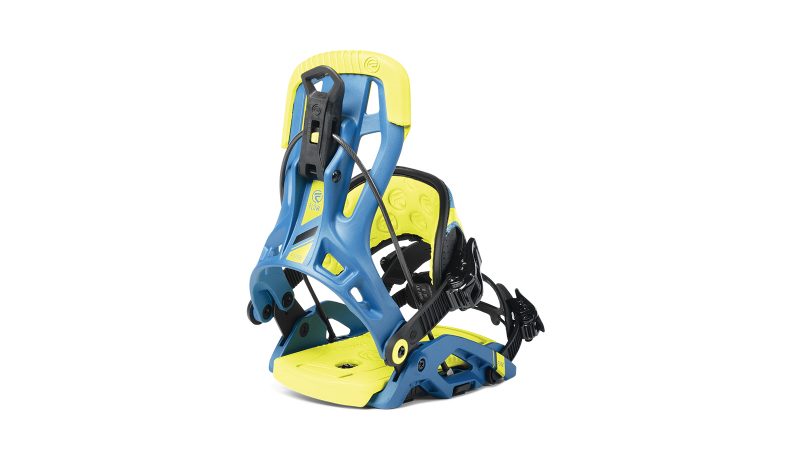 Flow Snowboard Bindings Preview FW18/19
Retail Buyers Guide: Staff Sales Handbook: Snowboard Bindings 2018/19
Category: Bindings
Brand: Flow
Interviewee: Lucien Vink – Product Manager and Designer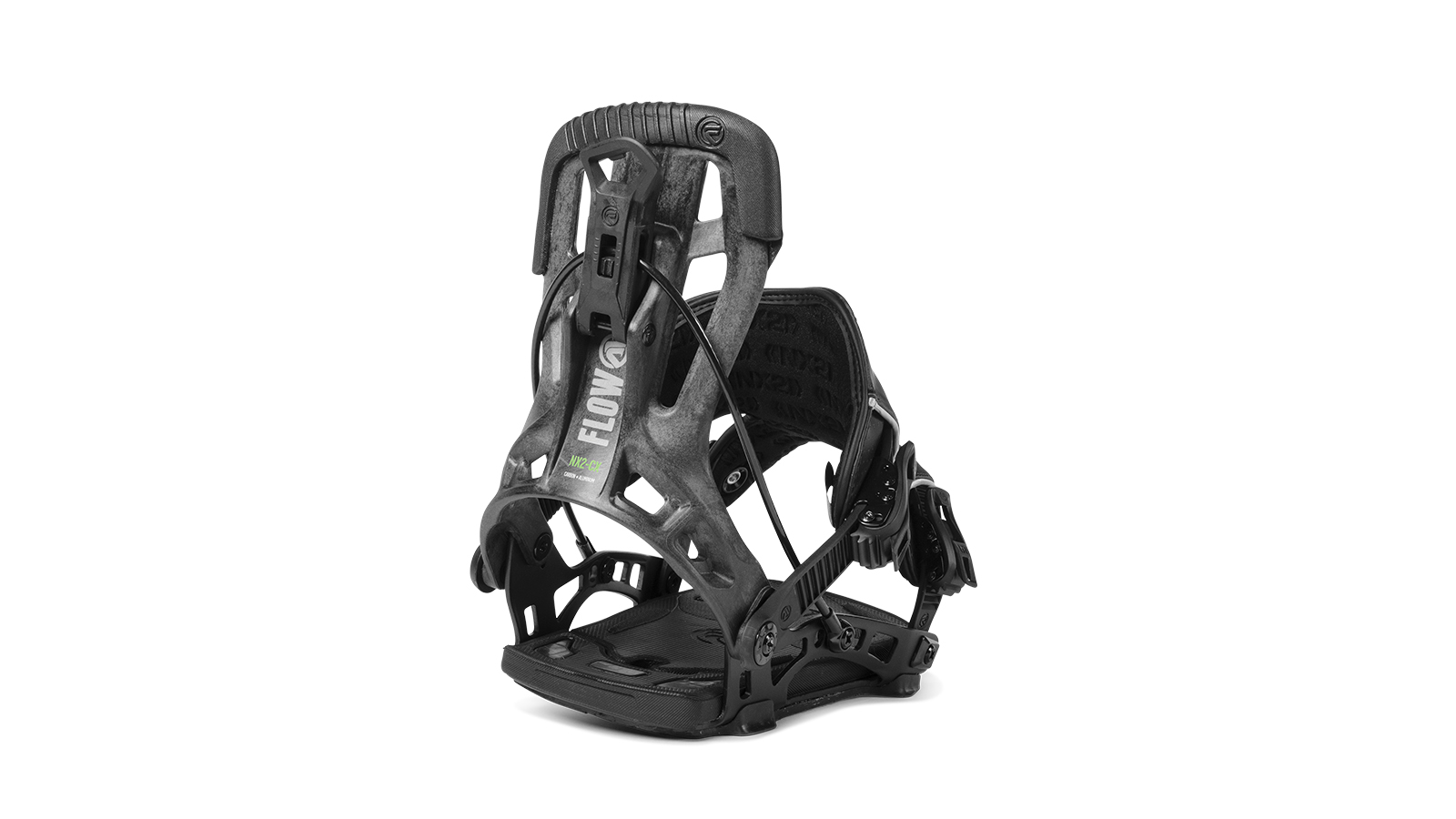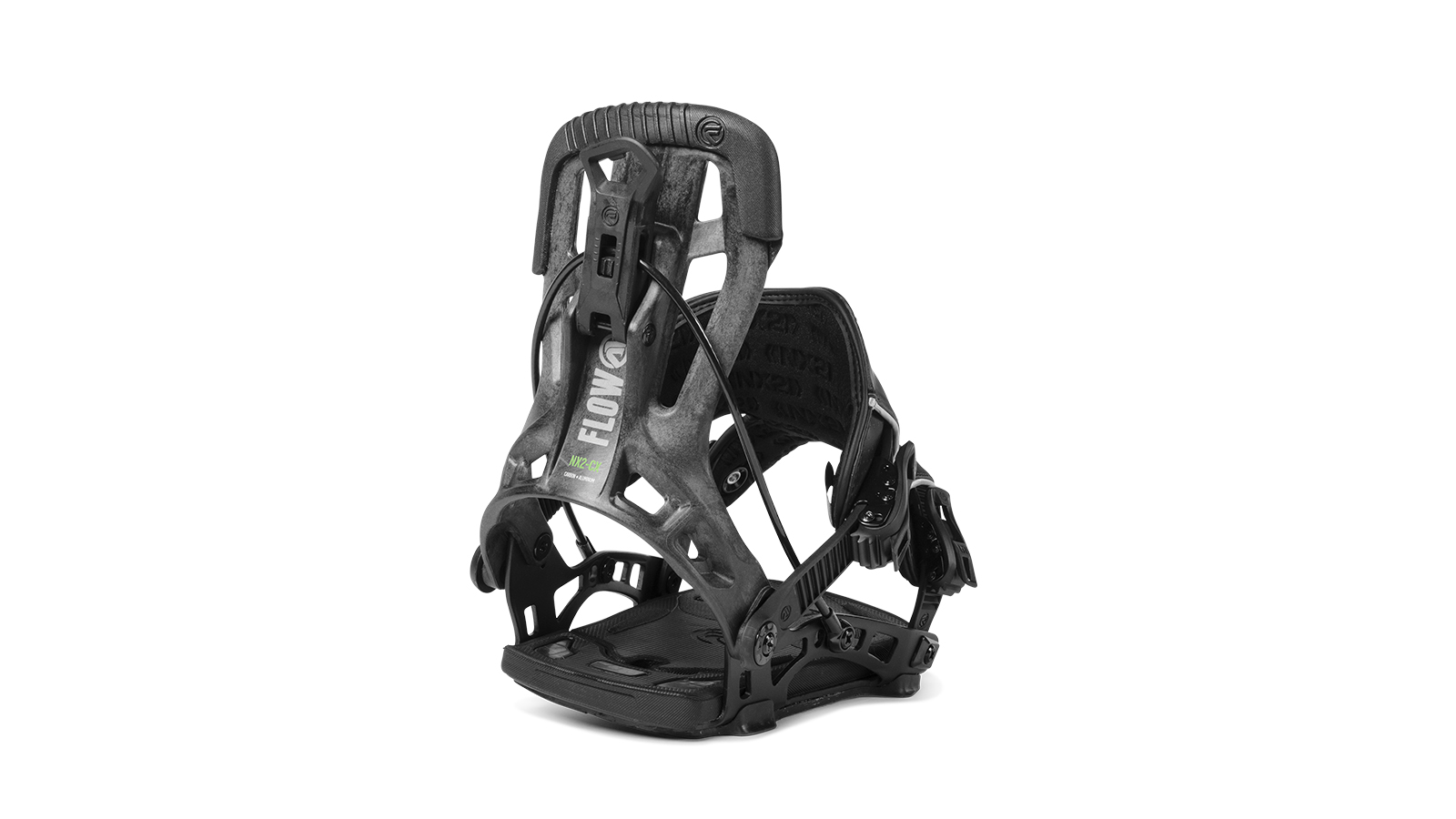 KEY PRODUCT FOCUS: What are the top three most important products of next year's line, and why? Please tell us about them, and what makes them the highlights.
The NX2-CX is an all-new model that uses the ideal strength-to-weight ratio of high-performance materials like Aluminum for the baseplate and Carbon-infused Nylon for the new Asymmetrical 1-piece Highback. This super responsive and light-weight binding is perfectly suited to riders looking for a stiff and no-frills connection to their board.
We lowered the price on our Fuse (and women's Omni) models, allowing us to bring Active Strap Technology down into the Flow product line-up. The Fuse and Omni now feature our all-new lighter weight and Asymmetrical 1-piece glass-filled Nylon highback, giving these models premier performance bindings at a very sharp price!
The Five (and women's Minx) models have been a long-term staple and riders' favorite, and we upgraded them with improved quality foot straps and all-new 2.5º canted BankBeds for more comfort and performance.
Which new materials are you using in your bindings?
For most components, we rely on our tried and tested materials, specifically engineered for the uniqueness of Flow bindings. But we are excited about the new Carbon-infused Nylon material on the highback of our NX2-CX model, as it really complements the responsiveness of the Aluminum baseplate and transmits every bit of energy directly to your board.
Please tell us about the dominant colour themes in next year's binding line?
The dominant colour is black, simply because it sells. Mostly subtle and tonal, or with some tasteful details in bright pops. But we have some cool highlights too, like the Fuse Neon and Minx Grey/Aqua with their trippy holographic foot strap materials, and the deep matte-metallic show-car painting effects on the NX2 Green.
Prices: Where is your brand going? Higher? Lower?
We have simplified the product-line and pricing structure with equal jumps between price-points, and clear feature/benefit up-sells. Most importantly we are now offering the Fuse and womens Omni models at a significantly lower price-point, which makes our Active Strap Technology (NASTY) available at the lowest price yet!
Any new ideas in buckles, straps, highbacks, bases (or baseless)?
When Flow joined the Nidecker Group, the whole design team did a deep-dive in asymmetrical and anatomical sporting-goods designs, as we believe this is the future especially for snowboard boot designs. And with Flow boots now being offered under the Nidecker brand-name, we wanted to ensure a continuous excellent fit and performance between the two products (FlowFit). So when we started to design the all-new asymmetrical highback for the Fuse, Omni and NX2-CX bindings, we made sure the new highback aligned with the new asymmetrical Nidecker boot designs. And we took it one step further, and adjusted all other Flow models' EVA-pads and SupportPanels to follow this new concept of asymmetrical matching gear, for optimized comfort and performance across our Flow and Nidecker product ranges.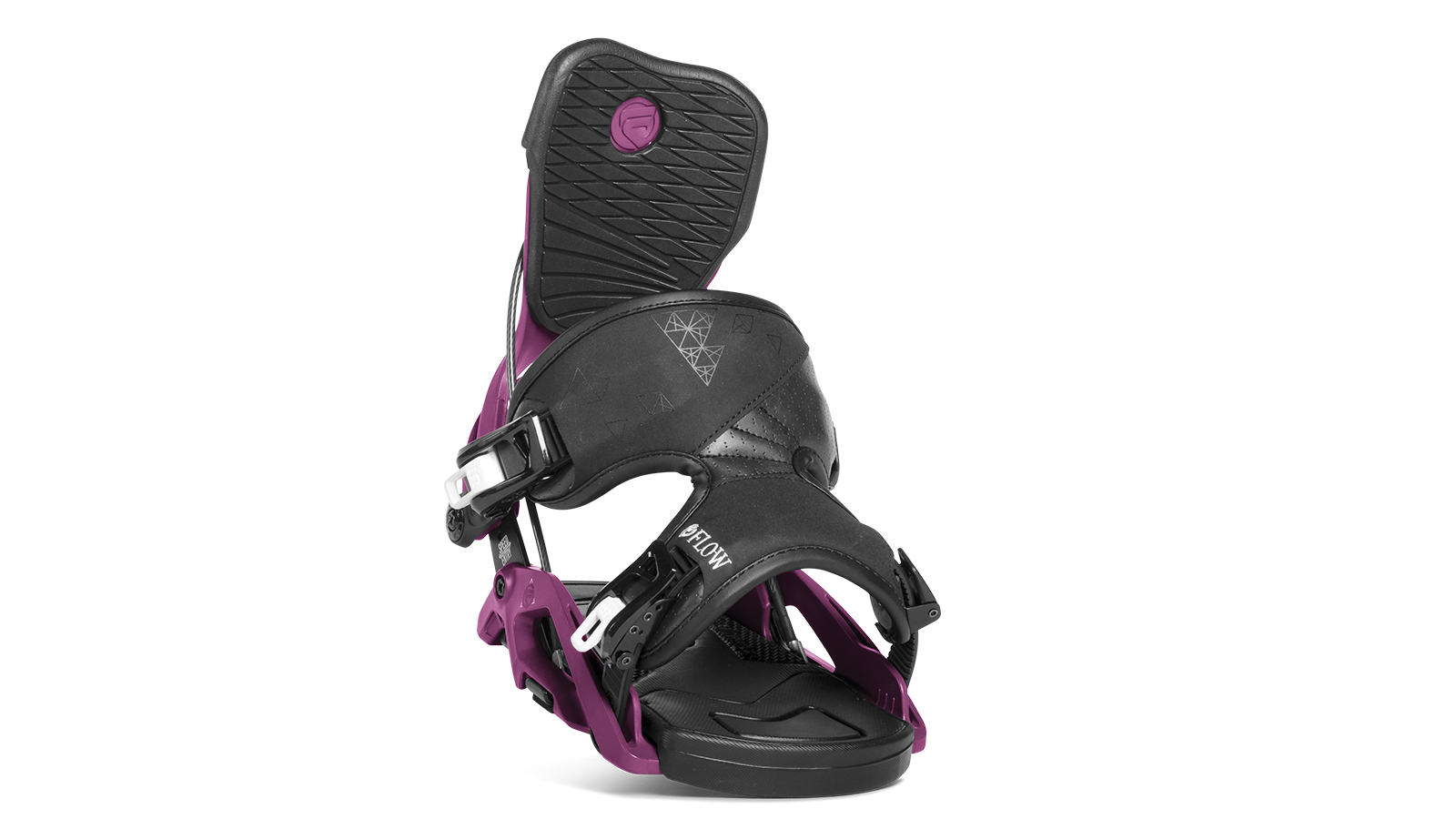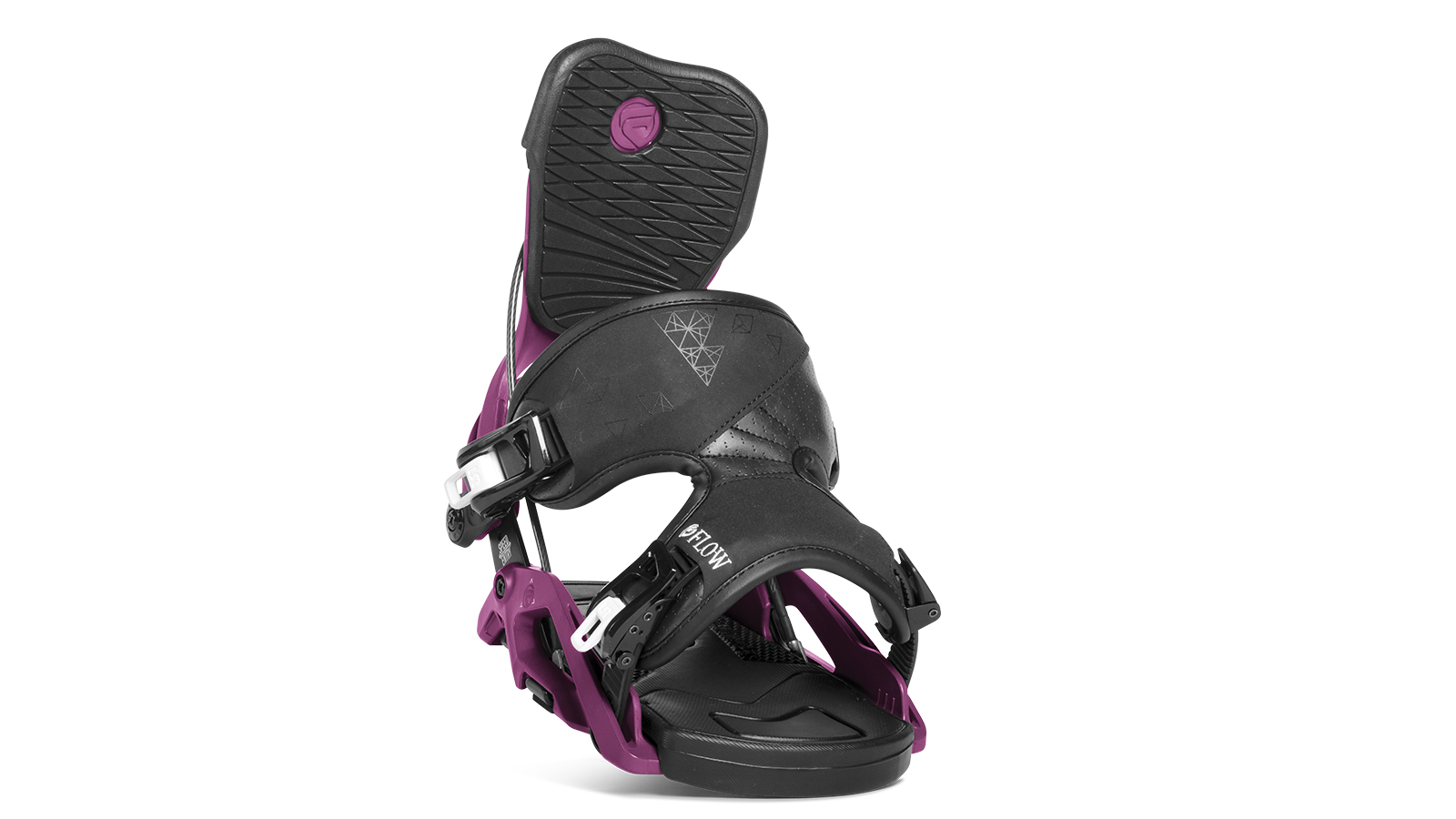 Going for an easy-in, easy-out solution next year? If so, are you licensing or developing it yourself?
Flow is basically the inventor and market-leader of the modern-day easy-in easy-out binding solution. Our SpeedEntry system has the perfect mix of convenience, comfort and performance to suit everybody's needs, whether it's a customer who is new to snowboarding, or a long-time rider who loves powder, park, groomers and/or everything in-between.
It's important the binding fits the snowboard boot correctly. What do you do to make sure the fit is OK?
One of the main advantages of Flow bindings compared to step-in/on systems, is that our bindings are compatible with the majority of snowboard boots on the market. So you choose a boot that fits your foot perfectly without being restricted by a proprietary binding-boot ecosystem, and we offer multiple adjustment solutions in our bindings to create a great fit between the two. To name a few of these featured customization options; highback position adjustment, ladder strap position adjustment, medial buckle-adjustment, lateral full-size ratchets for adjustment and fine-tuning of fit even while riding, footbed adjustments, highback SupportPanel adjustment, tool-less forward-lean adjustment.
Which factories do you use for production, what country? Where do you do the assembly?
All Flow bindings are made and assembled in China, by a team that we have a long-standing relationship with. In addition, we employ our own QC personnel, who monitor the full production process, to ensure that we offer the best and most consistent product quality.
What are your top marketing stories for next season? This will help us to put some focus in the right place.
SpeedEntry: Flow bindings are convenient to use, easy-in easy-out, without sacrificing comfort or performance. In fact, because of the energy transmission of the steel PowerTriangle cable, and the energy transmission and comfort of our boot-hugging and pressure-relieving PowerStrap foot straps, even if you were to not use the reclining highback feature, Flow bindings are arguably the most comfortable and performance oriented bindings on the market!
Set-it and Forget-it: Adjust your Flow bindings to your boot once, and then enjoy the simple easy-in and easy-out convenience of the reclining highback.
Versatility: Flow bindings fit almost all boots on the market, are offered in 2 types of straps to suit your personal preference (a boot-hugging 1-piece Fusion PowerStrap or a toe-gripping cap-strap in our Hybrid PowerStrap), and feature full-sized Locking Slap Ratchets for the option to get in and out of your bindings through the easy-in easy-out reclining highback or use the ratchets to get in&out through the side by opening the foot strap. The options are limitless!