German Market Intel: Early Season 17/18
Editor's Note: This market intelligence report was written mid-late November for Issue 89, released late December. Stay tuned for our annual market intelligence report from each region.
The Federal Statistical Office announced with a first estimate, that in 2017 the German economy is heading for its biggest growth in six years. On the other hand the private consumption in the third quarter is pretty much the same as in the second quarter of the year. Consumers are still in buying mood thanks to the historic situation in the job market and interest dropped. This is also noticed by the skate, surf, and snowboard dealers. By Jochen Bauer.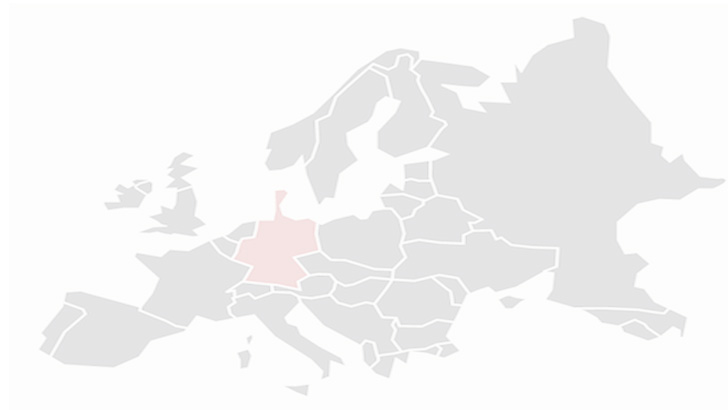 Adrenalin Regensburg's pre-orders in the winter line were placed more carefully with the last few seasons in mind. But their involvement in snowboard workshops and tours still stays the same. Giso Merkl, who expects an ongoing decline in the snowboard section, thinks that time will tell if "it's getting worse or levels out on a certain level." He wants a more intense cooperation with brands for things like better warranty exchanges. A lot of the labels he sells already offer this and only "with cooperation it works!" says Giso, who celebrated his 25th shop anniversary this October. Congratulations!
A lot of retailers try to battle against the recession in the business. They reinvent themselves and move into new shops in better locations. Stefan Zeibig from Switch Boardershop in the east of Bavarian just renovated his shop completely. Fancy with a simple style is the trend, which is the opposite to the 90's look. Some shop owners are still in this time capsule and just don't seem to understand why the number of customers is decreasing or entirely vanishing.
"The skateboard market is under pressure – especially the deck section. Trucks and wheels always sell well", says Jörg Ludewig from Urban Supplies distribution. "Although the attention is on a few brands: Indy, Venture, Thunder Trucks, Spitfire and Bones. Also in the shoe section where it's all about Vans, adidas and Nike." On the other hand Nina Kreiner from Attitude in Bremen is trying to change up her brand selection by vying for small brands – just like SHRN in Munich or Lobby in Hamburg. Because the next Titus shop is right across the street and Blue Tomato also has a shop in her city.
"Decks and completes did extremely well – hardware in general," says Johannes Beck from skatedeluxe.com. The longboard sector is still in crisis. Therefore a retro trend in skateboarding is visible – from Thrasher Hoodies to Indy shirts, from Nike Dunks to Levi's 501's. The wheel is not reinvented, but materials partially get better.
Marc Hausen (Boardjunkies) isn't best pleased, when trending brands sell their products directly to customers. But taking them out of his offering isn't an option. "Some people still like to try on shoes in a shop," says Marc. That's the people he wants to attract with his new shop in the town centre.
However he thinks it's a bummer that the sales for shoes concentrates on a few brands and the "real" skate shoe labels fall behind and lose importance in the scene. The big brands definitely did their homework. Some of the traditional ones missed the transition when the big players went through the roof.
TX-Sports increased their skate sales by around 30% this summer. After the longboard and cruiser hype has passed, it's finally the turn of the skateboard. Hardware sales are on a good level again. Of course premium boards don't sell as good as cheap decks, but at the moment there are fans for every price range and this whole spectrum should be represented in your store. You can't just concentrate on the three big distributors any more, but have to buy from a lot of the small ones with their small brands. The buyer's effort increase and become more difficult in general to adapt in the fragmented landscape.
Tobias Hammer is also bitter that many windsurf shops give big discounts on SUPs. For this reason the Riders Heaven owner tries to work only with brands "that like his shop, want to work together with him "and don't put extra pressure on retailers with new rules and high pre-order minimums. This is the only way our business will work well again! It is a give-and-take basis and as a retailer I have to buy goods to sell them in order to make a living. There are also goods that don't sell very well, but it's great if brands or distributors offer an exchange in this case. We have to talk to each other – this is what a lot of companies forget from time to time."
"The brands who communicate and cooperate are usually the ones that sell well in the shop. Demo days and board tests – this is what matters today and this is what guarantees new customers and sales. In early winter we have 250 snowboards and 40 boots here to test – this is what we are known for. We want to reach the people with our service and offer boot fitting, which is a common practice in the skiing section. This is very important to us, because you can't fit a boot in an online shop! Every one of our employees is a SUP instructor which ensures professional advice."
In neighbouring austria Peter Wagner came up with a brand new shop concept for his Betaboards that also attracts people beyond just boardsports enthusiasts. The goal for Betaboards in Linz is to find the right snowboard, binding and boots for everyone – "making you ride better." He specializes in Burton, Anon and Analog. Another unique feature is that you need an appointment for Betaboards. Why? "We want to take enough time for every customer and give them the right advice. The only way this works is in a calm environment with a lot of time. Social media channels like Facebook, WhatsApp and Skype are very important for our advice. 24/7/365. This way we can serve people from all over Europe in a short period of time."
The range covers everything a snowboarder's heart desires – from the 70cm kids board to exotic boards, second hand and test material, rental stuff, splitboards, vintage editions to the 170cm freeride board. "If Betaboards doesn't have it, it doesn't exist!," says Peter who worked in Burton's field crew for years. He is mainly focused on beginners, girls and kids with their parents, because this is the next generation. Used boards, beginner setups or kids boards ensure a good and easy start for them. All boards, bindings and boots get individually adjusted for every customer. Some of our competitors still make a lot of mistakes, which can take away the fun in shredding and make people stop snowboarding.
For next year the federal government estimates an economic growth of 1.9% for Germany, whereas the EU-committee calculates even better with their +2.1% prediction. These are the numbers for the gross domestic product in theory. In practice business will not be easy due to digitalisation in retail and its transparency of prices on the Internet. Fortunately winter came early this year and has provided white alps since November. The ski resorts were able to open their gates on time, which is always very positive!