French Market Intel: Early Season 17/18
Editor's Note: This market intelligence report was written mid-late November for Issue 89, released late December. Stay tuned for our annual market intelligence report from each region.
The French economy has been doing decidedly well lately. For the fourth quarter in a row, the gross domestic product has increased significantly. After 0.6% between April and June, it grew another 0.5% between July and September according to INSEE estimates. It's a figure that is in line with estimates of independent observers who are predicting growth of 1.8% for 2017. By Benoit Brecq.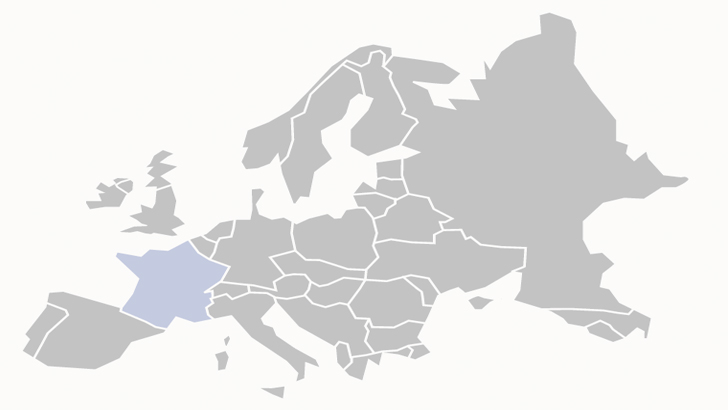 After 8 years of financial crisis, industry and services have benefitted from the tax credit for employment competitiveness and the responsibility pact to increase margins; and tourism is finally on the rise again, after two year affected by the fear of terrorist attacks.
But if the economic recovery is taking place, it's also because the global economic environment is getting better, with the recovery of emerging markets added to the better economic health of the Old Continent.
Another positive point: the household expenditures are on the increase as we approach the end of the year. Boosted by purchases of clothes and other household items, they are increasing by 0.5% in spite of a slight 1% rise in inflation. The falling level of confidence of families for the last four months – especially concerning their on-going financial situation – could be unsettling, but that is offset by positive results on the employment front. The unemployment rate went down in September farther than it has in any month since 2001.
We don't yet know what the short-term impact of measures taken by the executive branch in France on labour regulations and budgetary adjustments will have. Any eventual positive effects won't be felt before 2019. All economic indicators in France seem to be positive at the end of 2017. What effect has all of that had on the frequentation and in-store sales as far as shops are concerned?
As seems logical, for shops located on the coast or that deal mainly in aquatic sports, the number of client visits at the beginning of winter is rather low, and frankly on a downswing compared to last year. Jean-Michel Zecchi from the Tamtam shop in Bonifacio, Corsica tells us that: " There are still quite a few late-season tourists on the island, but the level of traffic in the store is down considerably at the end of autumn and the beginning of winter." The same feeling has been felt back on the continent at the Hot Spot shop in Merignac, although Cédric Amiel tries to put things in perspective: "The sales figure for this time of year is actually rather encouraging because we've compensated the lack of foot traffic with sales of technical products like neoprene which have been selling well at the start of winter". Even if the surfboard aisle has been relatively calm, Cédric notes that, "certain brands like Torq have blown up in the last few months by filling a demand for quality products at a reasonable price," adding that "sales of accessories, especially booties, gloves, ponchos and changing bags have been good sellers at the start of winter." As far as trends are concerned Jean-Michel adds: "We've noticed a small but increasing demand for foil products. More and more people are intrigued and starting to ask for information. Likely something to keep an eye on in 2018."
It's the same story in urban locations as well. Laetitia Cressent at Chattanooga, a store with more than 40 years of history in the French capital of Paris says: "September and October were rather alright, although we did slightly less business than the same period last year", while adding that "November is traditionally calm before a significant uptick in December for the end of year holidays." Aurèle Daubargues at Skate 'n' Roll in Besançon notes that, "traffic has generally been better in 2017, with quite a few clients in September, with a slight slowdown in October followed by an increase in customer numbers in November. That's encouraging for the Christmas holidays." She also said that, " in general, tourism seems to be improving and even if people's buying power is still limited, the nice weather helped skateboard sales." She remarked that, "brands like Magenta, Antiz and Dark Seas were selling rather well." At least one thing is sure, street skating is definitely back in favour. At Skate 'n' Roll the outlook is: "More and more kids are starting to skate street or are getting back into it, which has meant solid sell through figures on complete setups from brands like Cartel and Tricks." It's the same feeling in Paris: "There's been a real comeback of street skating since spring. After selling lots of cruisers and longboards, our clients are rediscovering and are coming back to this much richer style of skating." But at the same time she adds, "nevertheless, we've seen a true demand for all kinds of street surf and electric mobility products, which seem to be growing market segments." Another trend that seems to be confirming itself is the slowdown in the fashion phenomenon around the Thrasher brand. Still, Laetitia adds a bit of nuance: "After all the craziness for the brand these last few months, things seem to be running out of steam a bit, which is making all those who knew and wore the brand before it became trendy very happy because they'll finally be able to dig their old tees and sweatshirts out of the closet."
As for the shops in mountain resorts or specialized in winter sports, the early season has shown promise. Norbert Bernigaud at Atmosphere in Gap is rather optimistic: "We've actually had a true start to winter, which is really good for our activity. Last year was rather mild at the same period, but now the weather has been sunny and cold, with early season snowfalls that have been good for foot traffic and for sales." The early start to the season seems to have encouraged customers to replace old gear with new, which hadn't been the case for the last few years. Martin Green at Zero G in Chamonix adds a bit of contrast: "Traffic is rather stable compared to last year at the start of the season, but we've noticed a nice upswing in e-commerce sales, which is rather welcome so early in the season." As far as hardgoods are concerned the most-talked-about brands have been the usual suspects: Burton, Nitro, Jones and Lib-Tech. Martin explained: "They're the ones that have managed to understand and work with shops' sales schedules. Brands that impose 30-day payment terms in winter with deliveries in October are really not helping shops to grow." Talking about softgoods, Norbert from Atmosphere says: "Picture seems to have a good connection with the riding community, but brands with excellent price-to-quality ratios like Protest are gaining market share little by little." Concerning accessories, Zero G's Martin says: "Once again this year, this is where the largest part of sales are to be found. Clients are more inclined to buy brands that sell the dream, and not get the impression they're breaking the bank."
One thing is certain: clients come into a store first and foremost to feel welcome and to get advice. And all storeowners agree, that is their strongest asset and the one that generates the most sales. The clients, the storeowners and the staff are all passionate about these sports, and above all that feeling of sharing something special is what customers are looking for when they come into a shop. Shops remain a place where people like to stop by, cruise around, daydream and have a chat. It's sharing this common passion that as always will make the difference when it comes time to make a sell in shops this winter.