Young Riders From The FWT Learn Avalanche Safety From The Pros
In an effort to maximise riders' safety, Freeride World Tour (FWT) has chosen RECCO rescue technology as mandatory safety equipment at all levels and ages. Recently the technology was introduced to the junior Freeride World Tour riders in Chamonix, France in a bid to highlight the importance of avalanche awareness.  
Press Release: RECCO rescue reflector is mandatory safety equipment for all riders on the Freeride World Tour (FWT), including qualifier and junior level. Added this winter is the new junior category of 10-14 years young riders. This offers the organisers a great opportunity to spread avalanche awareness among the uprising generation of freeriders.
The junior level has been under the FWT umbrella for several years and has created a league of up-and-coming superstars as well as a place for education were young riders learn about safety on the mountains. This winter the Junior FWT has been divided into two age groups: 14-18 year, as before, and the new with 10-14 year old riders. Competitions for the youngest riders will be held in Switzerland, France and Austria.
RECCO Advanced Rescue System's partnership with FWT was initiated last winter and involves more than 5,000 competitors. "It's very exciting for us to be safety partner with FWT and mandatory rescue equipment for all riders. It's particularly pleasing that we, through FWT, reach young riders in our effort to create a broader awareness about risk and safety in the mountains and the importance of being electronically searchable to both companions and professional rescuers in the event of an avalanche," says Johan Sauer, VP RECCO AB.
The FWT stars are important role models for the younger riders, according to Nicolas Hale-Woods, founder and CEO of the Freeride World Tour. "Young riders are very influenced by pro riders. Not only when they ski together but also when they share safety experiences and join workshops together. Those are moments that these kids will remember for rest of their lives."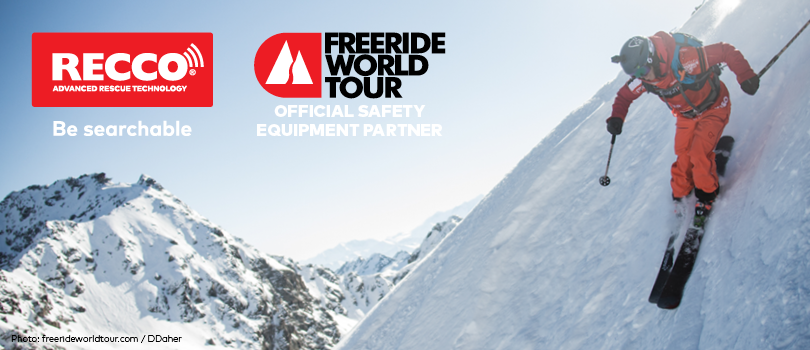 Over the years FWT has encouraged and developed responsible safety practices for athletes, competitors, spectators, and the entire freeride community. In addition to the mandatory equipment of transceiver, RECCO reflector and ABS Avalanche Airbag, FWT is also arranging training and education sessions during the contest season. Last winter a safety-training day was held in Chamonix, with workshops focused on safety for all the riders (Watch the video). Similar workshops are planned for the coming winter. Also two animated videos about mountain safety have recently been released in collaboration between FWT and RECCO: Powder Rush Syndrome – The Proper Gear and Be Prepared and have a Plan. New for this season is also Peak Performance film Gearing up with Elisabeth, in association with RECCO and FWT. In the film Pro rider Elisabeth Gerritzen and Anjan Truffer, head of mountain rescue in Zermatt, are talking about safety and practicing avalanche rescue.