Swiss Market Intel: Early Season 17/18
Editor's Note: This market intelligence report was written mid-late November for Issue 89, released late December. Stay tuned for our annual market intelligence report from each region.
While winter knocks at the door, the weather in summer 2017 was so nice it was like being away on vacation in the tropics without leaving Switzerland. This pushed sales of nautical gear, beachwear and lighter streetwear up a bit. The slight rise of the Euro against our currency is equally positive for the Swiss retail business because it diminishes the attraction of shopping tourism, which as we know has become a real problem the last few years. By Fabien Grisel.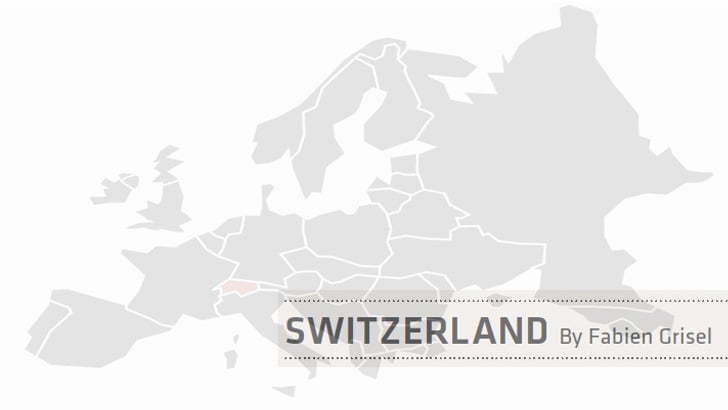 Simon Frei from the Cloud-9 store and distribution company in Winterthur, which specializes in hiking and telemarking, but especially surfing gave us his opinion on the surf market in our little country without waves. According to Simon certain board shops sell as many surfboards in a year as they do snowboards in winter. A significant part of the sales figure in this sector is thanks to accessories like fins, leashes and boardbags. The sales volume of this type of product has risen strongly the last few years, while wetsuit sales have only risen slightly. Astonishingly, according to Simon, these articles sell all year long, which makes them particularly interesting for stores. The most sought-after brands that he distributes are Hayden Shapes (especially the Hypto Crypto model, which has been a best-seller for three years), along with Aloha and Chilli. Softech surfboards are also doing well for a few reasons including paddle training on the lake, surfing on artificial waves and of course in the ocean, with certain models selling out quickly. As far as accessories are concerned, FCS is number one in sales, followed by Gorilla. Wetsuit sales are primarily Rip Curl and not only at Simon's shop. As a general rule in Switzerland this brand represents the majority of neoprene sold for surfing. For surfboards as well as wetsuits the online market, including foreign sites doesn't yet represent a fierce source of competition. It seems as if clients are still attached to getting advice and being able to hold the product in their hands before buying it. However, this is not true for accessories where the competition from online sales is intense.
In skateboarding, the online market is well established and is making things difficult for the stores. Real skate shops are becoming increasingly rare, because margins are small and as a general rule volumes are decreasing. Nonetheless, stores who still have faith in skateboarding are being rewarded lately as it is still holding its own and representing a non-negligible level of sales. Claude Ticon from the Manly Shop in Morges told me that in September skateboarding represented 30% of his sales, something that hadn't been the case for any month in at least a decade.
As for the Transport store in Geneva, it decided at the beginning of the year to rethink its business model, opting for a partnership with Volcom with the intention of putting a flagship store into place, or something similar at least since half of the surface area is now dedicated to Volcom. According to the owner Romain Loosli it was a question of change mandated by these times of crisis for skate shops and other specialty stores, which he sees as a new beginning. Although it is still too soon to tell for sure, after a little more than six months his initial results and feelings about the change are positive since levels of traffic and sales have increased, which has allowed him access to a new client base that didn't come into the store before. It seems as if for the moment the refined boutique look he's put into place is paying off, and we hope for him things continue that way.