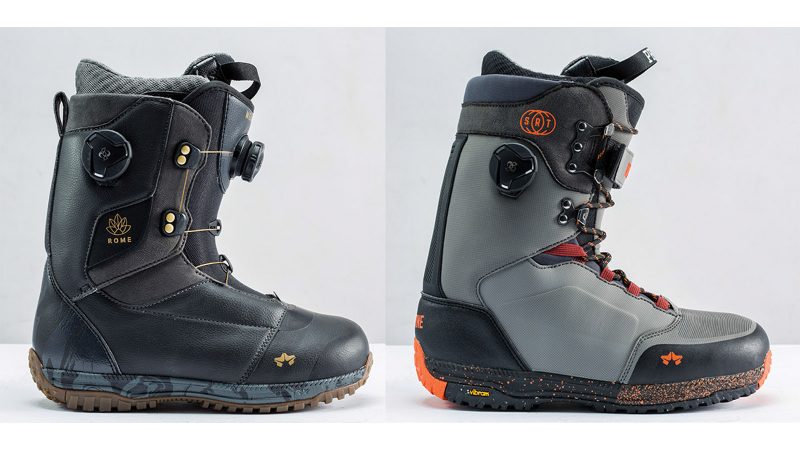 Rome Snowboard Boots FW18/19 Preview
Retail Buyers Guide: Staff Sales Handbook: Snowboard Boots 2018/19
CATEGORY: SNOWBOARD BOOTS
BRAND: ROME

KEY PRODUCT FOCUS: What are the three  most important products of next year's boot line? Why?
We're launching our new Inferno SRT (Support, Response, Traction) for the new season. In this boot, we combine our SRT features—our BOA AnkleLock, our unique PowerStay strap, and our GripLight Vibram outsole—in a pure BOA construction.  These features are built into a shell constructed with engineered fabrics.
Another key piece in our line is the Guide SRT. Adding our SRT features to this model, we inject high foot-control and comfort performance into our leather-built, climbing-influenced boot that is ideal for long seasons exploring the Alps.
We also remain dedicated to pure lace boots for those riders who demand that performance.  In our redesigned Libertine, we offer a mid-high priced lace boot with our advanced GripLight outsole for riders who like the feel and performance of traditional lacing.
Materials: using any previously unseen materials (in build, cushioning, support or grip) or construction methods?
We use D30 for unmatched shock-absorption in our highest-end models and in the Inferno SRT we are integrating engineered fabrics for lightness and durability.
What's new in lacing – trad, Boa, something different? What do people want?
In the lacing arena we have models in both traditional lace and pure BOA because there are many riders who like both.
Beyond these two common platforms, we merge BOA and traditional lacing in two of our SRT models – the Libertine SRT and the Guide SRT. In these models, we use our ankle-focused BOA AnkleLock feature that lets riders dial-in their heel hold, while still having a traditional lacing shell for the flex and feel that those riders prefer. Then we top-off this traditional lace-BOA combo with our unique PowerStay strap to increase control over toeside performance.
Imagine the overview section of your boot catalogue next year. What's the defining aesthetic? Talk to us about the colorways/prints/patterns/influences/textures you're using?
Our defining aesthetic is the merger of technical, skate and climbing influences. In our line, you'll see engineered fabrics, you'll see full-grain leather, and you'll see things like white midsoles on black boots. Depending on the model, we emphasize one or two of these aesthetic influences to create a boot model that fits that type of rider.
Splitboarding is performing well in a tough market. Are you going in this direction?
We've been riding and making split boards for the better part of the last decade. While we don't have a boot that is specifically made for splitboarding (whatever that would be), our Guide boot is featured exactly for the type of rider who builds 20+ days of splitboarding into his well-rounded season. It has climbing rubber in the toe and heel for superior grip, and the BOA AnkleLock feature lets riders release ankle tightness for the skin up if they want a looser fit.
Which part of your range are you investing in the most? Freestyle, freeride, do-it-all, beginner…? Why?
We don't really see boots in the freestyle-freeride spectrum. Some freeriders like softer boots and some freeriders like more supportive boots.  And the same with freestyle riders—some like soft boots and some like supportive boots.
Regardless of this point, we are investing in both traditional "freeride"-styled boots and "freestyle"-styled boots. In the high-end, our Inferno SRT and our Libertine SRT are two examples of a boots with a lot of tech and a lot of design time that could be perceived as a "freeride" boot and a "freestyle" boot.  But to us, riders might pick either boot to do either type of riding.
What trends in other footwear sectors have made an impression on your line?
Our boot design team is heavily tuned in to all sectors of the footwear world, but technical athletic footwear is certainly an area of focus.  While this might influence aesthetic trends somewhat at times, it is much more informative on the technical construction side of things.  Athletic footwear is where technical constructions in footwear are seeing the most innovation.
What are your top marketing stories for next season? This will help us to put some focus in the right place.
We will put most of our boot marketing emphasis on our SRT (Support Response Traction) boots and the feature package that defines the SRT concept.  We three boots at the top of our line that are SRT boots and they all share the important features of our BOA AnkleLock system for bomber heel hold, our PowerStay Strap that uniquely pulls the eyestays closed, and our Vibram-powered GripLight outsole.