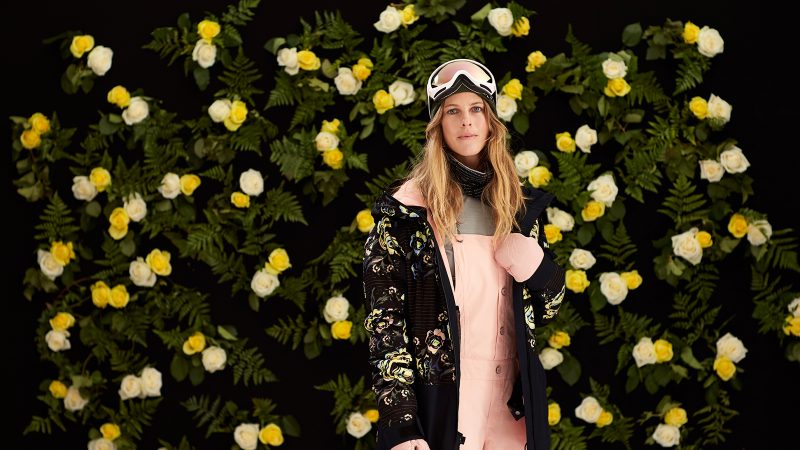 Roxy Women's Outerwear FW18/19 Preview
Retail Buyers Guide: Staff Sales Handbook: Women's Outerwear 2018/19
Catagory: Women's Outerwear
Brand: Roxy
Interviewee: Marion Bertrand – Product manager, ROXY Snow Outerwear
What's the overall theme behind next year's outerwear?
This year we celebrate the alliance of femininity, technicity and comfort offering new high-performance products combined with new vibrant colour stories.
From which big trends do you take your inspiration? And which other brands, designers, artists or influencers do you follow who shape the style of your brand?
Our main inspiration comes from our riders. By sharing their experiences and tastes, their feedback allows us to constantly move forward, upgrading our products and prints to the next level. Moreover, our designers take inspiration from a worldwide perspective and from a large variety of textile sectors: from lifestyle/street to mountain trends. They also get inspired by global fashion, catwalks and street-style and through online blogs or trend forecasting websites such as wgsn.com. We try our best to keep open-minded in order to offer products will satisfy and excite our customers; from active look to mountain chic and from street inspired to feminine look.
What are the three most important products in next year's range? Why? Please tell us about them.
A new Roxy Snow product that we are proud to present this year is the BREEZE jacket. It combines the best comfort, a stylish fit and the highest technical features: Down and PrimaLoft® mix of insulation, exposed waterproof zip, made out of a 20K/15K mechanical stretch polyester fabric and ultra-lightweight recycled polyester taffeta lining, this jacket is extremely lightweight and mega stretch thanks also to its strategic stretch lining panels. The jacket also has the Hydro smart skincare technology integrated into the collar that protects you from the cold condition. That jacket is finally very feminine with its slim fit and cosy & warm faux-fur hood.
Two other new products that we are excited to launch this year are the ROXY SNOW PREMIERE jacket and pants which allies an impeccable styling, the most advanced all-weather technology and a constant eye for intricate design. Boasting the highest possible protection, waterproof zippers and strategic breathability, integrated neoprene waistbands and stretch fabric make for a perfect fit and provide ideal comfort. Roxy recaptures the Premium capsule with a relevant colour for Roxy consumer: soft, on-trend, millennial.
What percentage of your outerwear is sold online vs instore, both by yourselves and your retailers? What's the best way to connect with customers who buy via these different channels?
Going towards digital sales is one of our strategies; therefore, we focus on delivering quality and complete information and visual of our products on our e-commerce channel. Moreover, we offer a larger range of products online than in stores.
Social networks are key to promoting and engaging our consumers; we activate our fan pages on a daily basis with a snow presence all year round. Also, our athletes and events play a crucial role to connect with customers.
Are your price points going up or down? Where does this pressure come from?
We try our best to maintain the same price over the years. When prices increase it is always justified by improvements and added value such as new technicity or sustainability.
What new fits/silhouettes are coming next year?
The Bright Edition silhouette is the combination of eco-responsibility, high performance, and a unique style with more colour, pop and punk. It is aligned with current fashion trend and offers endless fun on the slopes.
The POP Snow silhouette offers fresh prints intermingled with top-tier tech. Roxy DryFlight / WarmFlight and Thinsulate insulation allow the rider to keep comfortable and perform, while the recycled fabrics ensure sustainability. This silhouette fuses fashion and function.
Down The Line is the new eco-friendly silhouette created in partnership with the Swedish company We Are SpinDye. This silhouette is available in two colourways and has been created via a waterless dying technique allowing Roxy to compete on the sustainable outerwear market.
What's new in colours/prints?
This year we extended our colour palette from vivid to pastel and romantic colour, we ensure to address all tastes to match a large, varied clientele. Roxy's products offer a large variety of prints such as floral, photo prints, gradient and ethnic stamps. We provide dynamic, mature and urban styles with fresh, balanced brights, contemporary and unexpected colourways. Prints and colour easily cross-merchandise from one segmentation to another and every detail is considered to provide the best in comfort, fit, style and performance.
Here's the place to talk about fabrics, features and technical innovations. Here we're principally interested in *NEW* technical stories that you haven't offered to retailers previously.
We are very proud to introduce the Down The Line silhouette which is the result of the collaboration with an innovative company: We are SpinDye, an ingredient brand that offers a technically innovative colour system. They deliver a clean, traceable and sustainable method of fabric dying, resulting in less environmental impact and long-term wearability. Our silhouette is monochrome and displays a feminine and stylish look while endorsing eco-friendly attributes.
This year we offer the improvement in our skincare wearables ranges with our Hydro smart technology. A 100% and nontoxic skincare collection embedded directly into our fabrics, made of an organic and eco-certified formula. We extended the technology to a wider product and introduce this tech innovation to our cold weather jackets. In order to ensure the best comfort to our rider, we use super stretch materials to create functional and performance ready products.
Any has-been trends that your brand is moving away from?
Our collection covers a large range of styles and tastes, from active look to mountain chic & feminine and streetwear-inspired products. We continue to develop trend-right products that fit our consumers' needs from freeride to freestyle.
What are your top marketing stories for next season? This will help us to put some focus in the right place.
The first marketing story is about performance and how Roxy Snow always focuses on comfort through the proposal of a variety of fit options, new constructions and features, as well as offering the right level of waterproofing and warmth.
Moreover, we are very excited to announce the advancement in the wearables in our skincare technology line, now made with "ROXY Hydro smart technology". We are proud to introduce a new formula that allows us to be 100% eco-certified and all-natural. The goals keep being the same but with a better formula and better benefits that our consumers are seeking such as anti-redness and restorative properties. The ROXY Hydro smart formula is made of four main ingredients which are calendula extract, sunflower oil, pomegranate oil, shea butter and vitamin E.
Our Down The Line story celebrates our sustainability efforts. Over 50% of the Roxy outerwear collection is made with eco-friendly products and processes. Through the use of recycled polyester with our partner Repreve, PFC FREE water repellent finishing that is durable partnering with Teflon Ecolite, and by introducing SpinDye to the collection – offering a technically innovative and sustainable dying technique.
Finally, we will strongly promote our product capsules such as our high-end Roxy Premiere Snow capsule, our laboratory for newness and chic mountain style performing at its best. ROXY Bright Edition, a unique rider collection designed closely with our Olympic Gold Medalist and Roxy ambassador, Torah Bright – a stunning balance of contrasts – beautiful yet badass. And lastly, the POP Snow capsule where fashion meets function. Sure to turn heads.
Do you do baselayers?
What's happening here, what's your base layer strategy next year? Please let us know your tech innovations, materials, colours and pricepoints.
We focused strongly on layers to offer a wide range of products, from insulator jacket to underwear; and from polar fleece to après-ski tech apparel as well as Water-Repellent hoodies and wool knitted layers.
The layers display a variety of functions and feminine details to be matched with our consumers' needs. Regarding tech innovations, we worked with natural lightweight wool yarn; introduced the PrimaLoft® Gold insulator Neve jacket. We still apply our WarmFlight and DryFlight technologies and offer not only technical products but there are also stylish and girly. The price point of the polar fleece, which is embossed fabric and half-zip entry, is 49.99€.