Sessions Announces Addition Of Quebec Heavy Hitter Frank Bourgeois To The Team
Power charger Frank Bourgeois has joined the Sessions global team and will feature in the brand's upcoming 'Sessions Sessions' team project.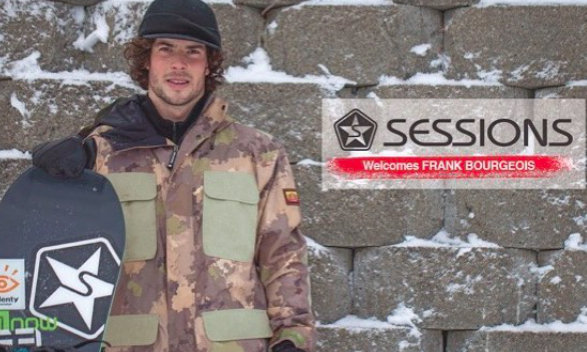 Press Release: Portland, OR,– Sessions has announced the addition of Quebec's Frank Bourgeois to the global team. A native of Trois-Rivieres, Quebec, Frank is a longtime street snowboarding standout and was the 2017 X-Games Real Snow champ. We are happy to have him on the team!
The addition of Frank includes him finalizing his entry into the 2018 X-Games Real Snow once again, as filmed by the Brothers Factory. We are looking forward to having Frank as part of the solid Sessions team, following decades of legacy teamriders. His other sponsors include Lobster Snowboards, Now Bindings and S3brdshp.
For this season, Frank is continuing to film with the Brothers Factory crew, Lobster Snowboards and will be featured in a couple installments for our "Sessions Sessions" team projects. The "Sessions Sessions" are team-based trips focused on street riding and progression and distributed through all snowboard media and our Sessions social platforms.
Frank joins the existing riders of Jesse Paul, Ryan Paul and Nick Geisen on the Sessions team.
To shop the line and check out the Sessions team, go to sessionsmfg.com. Follow Sessions @sessionsmfg #sessionsmfg #alwayshavealwayswill