ThirtyTwo Welcomes Nicolas Müller To The Team
Adding to an already impressive roster of riders, it has been announced that Nicolas Müller is to join the ThirtyTwo® global team. Müller will be releasing his own signature kit with the brand going forward which will include pants, jackets and boots.
Press Release: Jan. 25, 2018 (Lake Forest, CA) – Today, ThirtyTwo® welcomed backcountry and all-terrain legend Nicolas Müller to the crew. Notably one of the most distinct smooth styles with a natural ability to shred all terrain, Nicolas' distinguished video parts and long list of accolades makes him a legend of his own right. Voted as rider of the year on three occasions, Nicolas has left his mark with timeless parts in movies like Futureproof, Neverland, The Art Of Flight, and of course his documentary Fruition.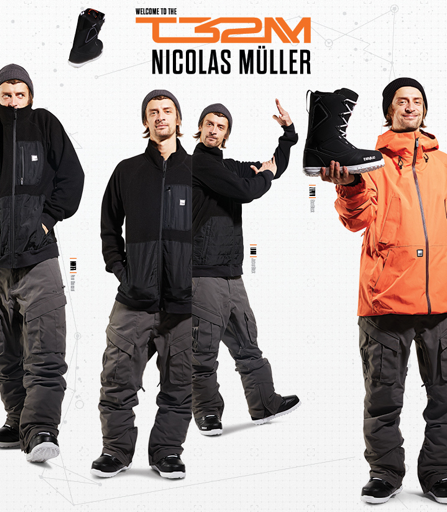 "Nicolas is every snowboarders' favorite snowboarder, we're so hyped to have him on the T32M," said Brian Cook, 32 Global Brand Director. "He's ridden the rest, now it's time to ride the best! Ha!"
"I am very glad to be welcomed to the ThirtyTwo crew.  From Jeremy Jones to JP Walker the ThirtyTwo team is stacked with elite riders and its motivating to be part of it,"said Nicolas Müller. "I've ridden so many boots over the years, and the fit and features of the ThirtyTwo boots and outerwear are on point!"
This year, Nicolas will be running his own signature series kit which includes the TM jacket, Mantra pant, Logan Polar Fleece Bomber and the Zephyr boot for an easy flexing surf like feel. Check out Nicolas' signature series now on thirtytwo.com.