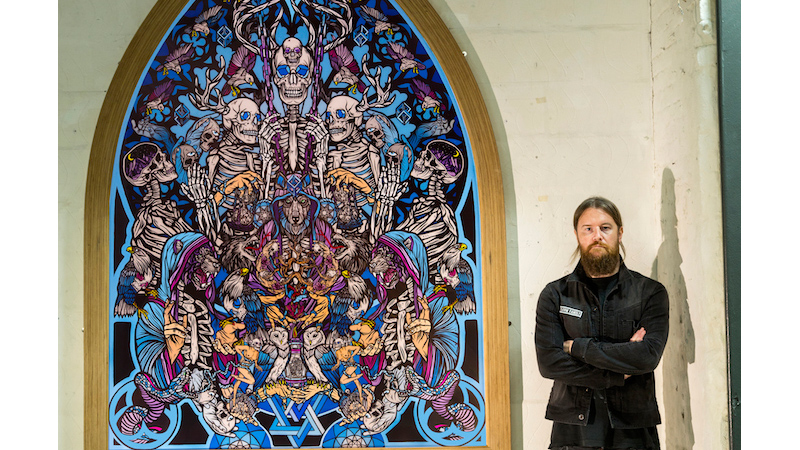 British Artist Schoph On Collaborations & Snowboarding
British artist Schoph has seen a meteoric rise to success in recent years with his vibrant, graphic style of art that now adorns snowboards, goggles, sunglasses, boots, skate shoes and more. We caught up with Schoph at his snowboard art show HMNNTR in London, where he was also launching his Dragon X Asymbol collection, to talk snowboarding, art and collaborations. By Harry Mitchell Thompson.

Tell us about your roots in snowboarding.
I began snowboarding aged 12 at Sheffield dryslope, which was when I got hooked by it. One thing led to another and I ended up out in the Alps. I began doing seasons in Alp d'Huez and I also learnt how to drink there! When I left Alp d'Huez, the first stop was Saas Fee and I learnt how to ride pipe a little bit, which I got into during the summer. From that I ended up in Tignes for a good period of time doing seasons and managed to get hooked up with a few brands including Holden, Capita and Electric. I ended up changing sponsors and hook-ups and finally, to cut a long story short, I ended up sponsored by Dragon, Lib-Tech, Volcom and the brands I'm working with now as an artist. So it's gone round in a massive circle to me now working with brands I want to work with and be supported by.
So that's my snowboarding background, with around 10 seasons in Tignes at the end there. I was fortunate in that there was a good crew in Tignes through those years; Nelson Pratt, Josh Wolf, Ryan Davis, Will Hughes and just a good few of us all pushing each other in a good way. A very productive time.
And at what point did art come into your life?
Art was always there before snowboarding. I didn't speak until I was four years old, so my parents thought I was a mute, but apparently during that period of time I was just drawing the whole time with and on anything I could find.
And then I got thrown out of art class during high school for not doing what I was told, and got told I'd never be an artist. Whether that pushed me to want to be an artist, I don't know, but I carried on going from there.
What part of art were you interested in during high school and how did this progress over the years into while you were snowboarding?
I was interested in doing my own thing, but the teacher wanted me to shade in an apple and a banana, but I just ended up doing my own thing, which she screwed up and threw in the bin and told me to leave. On the way out, I picked it up out of the bin and I still have it now in one of my sketchbooks.
What was it of?
You know Friesian cows? Well, it's not Friesian cows, but Friesian rabbits and then there were fisherman in the clouds with hooks coming down fishing for these rabbits.
Anyway, years later while I was snowboarding I was filling sketchbooks full of art and I just got to a point where I needed to do something else. I loved snowboarding and I always will, but I wasn't progressing as much and I was actually swaying towards putting my all into being an artist.
The mad thing was when I stopped doing seasons and left Tignes, I moved back to Yorkshire and got a studio and bumped into Si Forster who I knew from doing Electric. He introduced me to a gallery he knew and said he'd managed to get me into a show. I asked him what I needed to do and he just said paint some pictures and put them on a wall. So I did that and my first show I exhibited alongside Banksy, Shepard Fairey and Blek le Rat – basically all the heavy hitters from that time. So I was properly in at the deep end, but 10 minutes before the show had even started I got a phone call saying that I'd sold all my art before the doors even opened. This first show was a real kickstarter for me and I got good attention from a lot of people. Within a month I was showing at Red Bull for a collective show and then after that for Travis Rice's Art of Flight. It just spread like wildfire and within a year I'd had six gallery shows.
What do you put your early popularity down to – was it your connections, snowboarding, a certain style of art, or just a perfect storm?
I think a lot of it has to do with being in the right place at the right time. And if I want something I give it 100% of my attention and I really wanted to do this art thing, and I was fortunate that it got under the noses of some really influential people. A big one for me was when Lib-Tech picked me up. I met Pete [Saari, Lib-Tech founder] for the first time and he told me he'd had my art as his screensaver for a year and he had no idea who I was.
Because I'd already met Jimbo [Jamie Lynn] five years before doing the Shithouse Tour [music tour organised by Schoph across European Alps], we had that connection and then bumped into each other at ISPO, where Jimbo introduced me to Pete, and what better person to introduce me to the owner of the company, than Jamie Lynn? Pete asked me if I was interested in putting art on one of their snowboards. So I said, "yeah alright, go on then."
I'd been wanting to do artwork for Lib-Tech for years and after this happened things just escalated. Dragon were also keen to do some work and Volcom and Vans were keen too. It really did just spread like wildfire.
Talk us through your Asymbol collection with Dragon.
My last signature line with Dragon went really well, so I put forward the idea of an Asymbol X Dragon collection and they were all over it. Dragon wanted to do something with all the other artists (Jamie Lynn, Bryan Iguchi and Iuna Tinta), so it all aligned pretty well. All of our art works really well together, so it's a no brainer. And so was launching it here at HMNNTR in London (link to event recap and gallery) – it was the only time all four of us were going to be in the same place at the same time and it meant we could have the prints on the wall, the artwork on the goggles and it all tied in really well.
And how far back does your relationship with Dragon go?
About 15 years now. I left Electric and bumped into Craig [Smith, EMEA Sales & Marketing Manager Dragon] who was working for Oakley at the time, but doing Dragon on the side and he got involved with the Shithouse Tours we were doing and helped fund those. As I got older I realized I wanted to do the art thing and Dragon wanted to get on board with that as well and they've basically supported me the whole way through.
Tell us about your new Vans collaboration?
Matt Patti, the Global Category Manager for Vans Snow contacted me when he was over on the Vans Snowboarding Days (link for Matt Patti Vans interview on new collection) in Les Arcs last January asking if I could make it over for the day because he wanted to talk to me about some stuff. He'd been into my artwork for years and he said he wanted to work with me for Vans. He said the five pillars of Vans were skate, snow, surf, music and art and that they weren't doing loads in art at the moment, so did I want to do a signature line. So they gave me a full signature line (A Sk8-Hi, a Slip-on, a long sleeve, a snow sock and a Hi-Standard snow boot), which was a trip because I've always worn Vans and to think that someone from Doncaster would make some art to go on a Vans shoe is mad.
Away from snowboarding, do you do commission pieces?
Yeah I've been working with some different projects recently. I work with a gallery in Harrogate and I work with a guy called Michael O'Hare [English celebrity chef] who has all these mad restaurants and he's given me two of his restaurants to paint with more projects in the pipeline. He's gone into business with Ryan Giggs and Gary Neville and so I've been knocking around a bit with them, which even though I don't like football is a bit of a trip. So that side of things is totally different to the snowboard industry, which has opened up some really interesting new doors.
Who have been your biggest inspirations in art?
With my work I do everything for me. I do everything for how I want to see it. I know a lot of my stuff probably won't be everyone's taste, but it's what I want to see. Inspiration-wise there's a lot of people around me that I work with and really inspire me. I split it into different things in my head; so if I want inspiration for detail I'd look at Danny [Larsen]'s work and if I was looking at the shading side of things I'd look at shallowtree's work. Everyone I work with inspires me somehow.
In the bigger picture, while I was younger, I'd look up to people like Jamie [Lynn] and Guch [Bryan Iguchi], but the thing with that is that now we're really close and we've done a hell of a lot together and it's a weird one because now they're coming to do the shows that I'm putting on and the amount of collaborations me and Jamie have done over the past year is nuts. I do pull inspiration from people, but I like to keep things on my own level.
And are you an art fan in general?
Yeah, guys like Jackson Pollock blow me away. I do like that kind of art, but after getting thrown out of art in school I didn't ever study anything to with art after that. I always thought art teachers were just artists that were scared to be artists. I don't get the whole artistic procrastination thing. Where I'm from that's called bone idol! Getting up in the morning and getting to paint a picture is much better than having to get on the cave train in London and sit at an office desk for a living.
But yeah, I do appreciate art, but really I just do what I want to see.
Where do you see your art progressing in the future?
I can't switch off, so say for example when we're doing HMNNTR, I'm already thinking about the next thing. I'm always thinking about what I can do better, and I'm constantly pushing myself on a personal level. I just want to establish what we're doing with the HMNNTR thing a bit more, because we're the only people doing that. And the group of guys I'm doing it with, we've all become really close. I've got some interesting projects I want to do with Danny Larsen and shallowtree, which is away from the snowboard industry.
I don't want to plan too far ahead, but I just want to keep on top of the momentum.