Nike SB And SKATEDELUXE Present Le Garage Paris Skate Park
Nike SB & skatedeluxe present a joint indoor skatepark & pop-up shop in Paris for 18 days until mid-March. The space will celebrated all things to do with the Parisian skate scene and will be the home of movie premieres, product reveals and of course some incredible skate sessions.
Press Release: During the harsh and rainy days of this winter, Nike SB & skatedeluxe will have Paris' skaters sheltered. A free-to-skate indoor skatepark will be open for 18 days at L'Aérosol Paris.
Le Garage Paris is not only a skatepark, it pays tribute to the Parisian skateboard scene and culture.
This site is dedicated to all skateboarders and the programming is centred on serving and embracing the community; skate sessions, premieres of Nyjah Huston's and JB Gillet's new video parts, screening of the Tampa Pro contest, skate lessons are just a few highlights, not to mention some major surprises…
Additionally, the first-ever Nike SB Pro Shoe from Nyjah Huston will be released at this spot. The "Nyjah Free" as well as a fine assortment of Nike SB products, top-qua- lity hardgoods, and SK8DLX products, will be available at the skatedeluxe pop-up shop in Le Garage Paris.
Le Garage Paris will be open for eighteen days from 11AM to 11PM, beginning Thursday 22nd of February 2018.
All obstacles will be built by the renowned crew of Amsterdam Skateparks.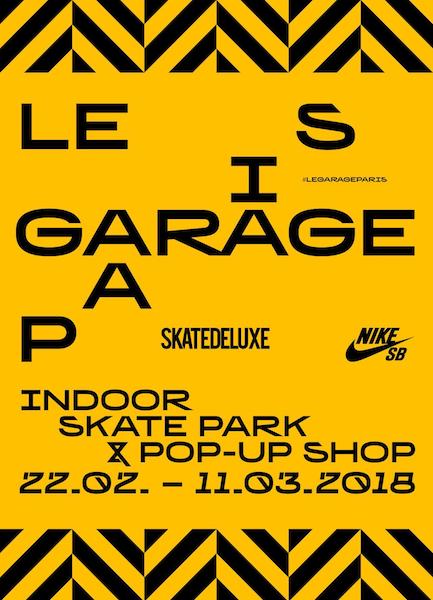 Save the dates:
22nd of February — 11th of March 2018.
Le Garage Paris
54, rue de l'évangile, 75018 Paris
—
Find the complete schedule
& more info about Le Garage Paris and book your session at: www.skatedeluxe.com/le-garage
About skatedeluxe:
Whether it's decks, trucks, or skate shoes – since 2004, skatedeluxe has been doing it like no other European skate shop in the game. Skater-owned and with more than 10 years of experience, skatedeluxe is the number one destination when it comes to skateboarding.
www.skatedeluxe.com/about-skatedeluxe
About Nike SB:
Nike Skateboarding, also known as Nike SB, launched
in 2002 and since then has created products, services, equipment and experiences dedicated to skateboarding and its culture.
NIKE, Inc. based near Beaverton, Oregon, USA, is the world's leading designer, marketer and distributor of authentic athletic footwear, apparel, equipment and accessories for a wide variety of sports and fitness activities. NIKE, Inc. fosters a culture of invention. We create products, services and experiences for today's athlete while solving problems for the next generation.