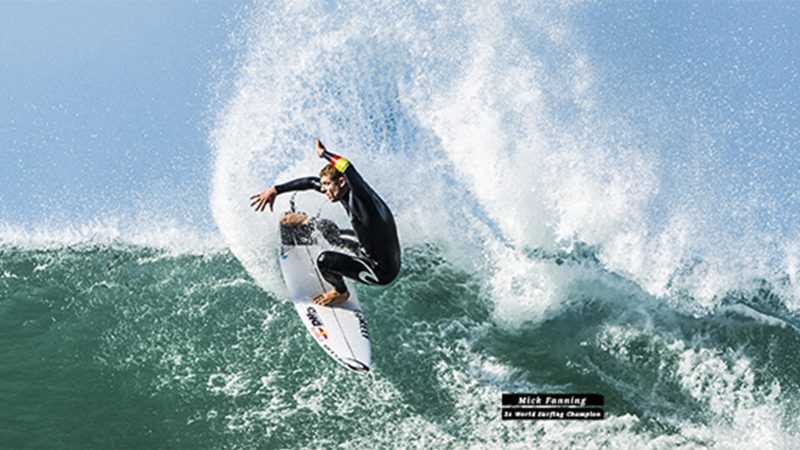 Rip Curl Wetsuits FW18/19 Preview
Retail Buyers Guide: Wetsuits FW18/19
CATEGORY: WETSUITS
BRAND: RIP CURL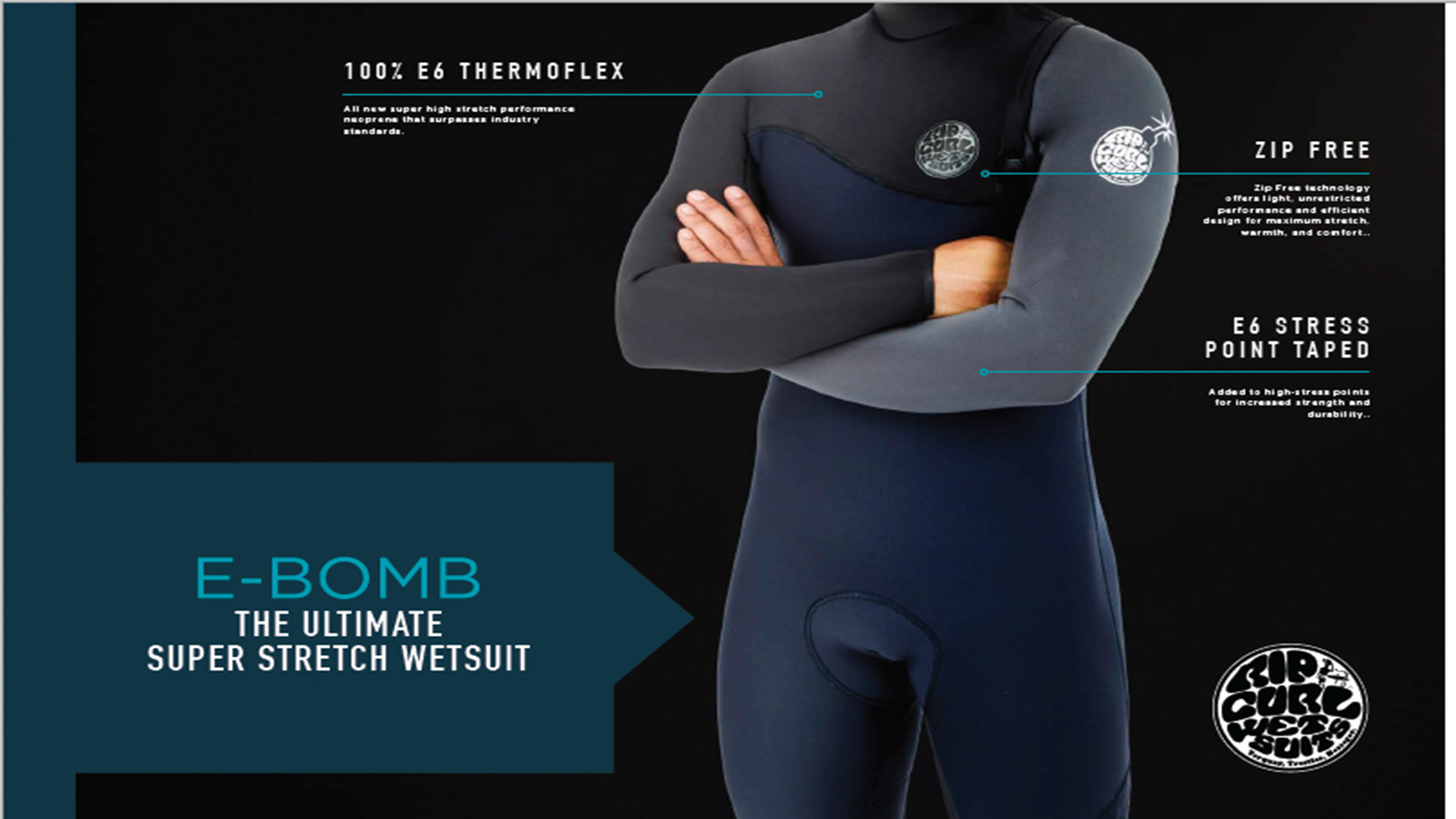 How has your winter wetsuits segment evolved since last winter? What are major changes in terms of products, categories and SKU?
RIPCURL is known for a clear segmentation of our products, so we always try to simplify our range for both our retailers and consumers.
This year we have merged our two best sellers EBomb Chest Zip and EBomb Pro Zip Free into one, to create a  brand new wetsuit that is both warmer and stretchier than last year wetsuits. The stretchiest wetsuit on the market, becoming a natural choice for everyone.
Is the demand for frigid waters' wetsuits still growing?
Correct. Our ultimate cold water wetsuits became incredibly stretchy last year with our E5 Flashlining, even matching last year Ebomb's stretch, it made surfing our thicker neoprenes too easy.
It certainly helps our cold area customer being more keen on surfing longer and more often, and consequently buying more wetsuits.
Which new trends do you see on the 2018/19 wetsuits market?
As explained before, wetsuits used to be split between warm wetsuits and stretchy wetsuits, they now are slowly merging into one segment, as warm lined wetsuits are now matching the stretch of more basic suits. That's why we are introducing this year our new stretchiest neoprene on the market the E6 Thermoflex.
In order to create a segment for our performance customer who is looking for unmatched stretch, but in addition, we also give them added warmth with our royal blue thermoflex lining.
We are introducing the E6 Thermoflex in 100% of our new EBomb Pro Zip Free, creating both the stretchiest and warmest wetsuit on this segment.
With more and more brands on the market, we also see that consumers need a clear choice and then choosing the leader on quality, innovation and service.
By owning our own R&D centre, own manufacturing facilities and service & repair centre, we are the only choice.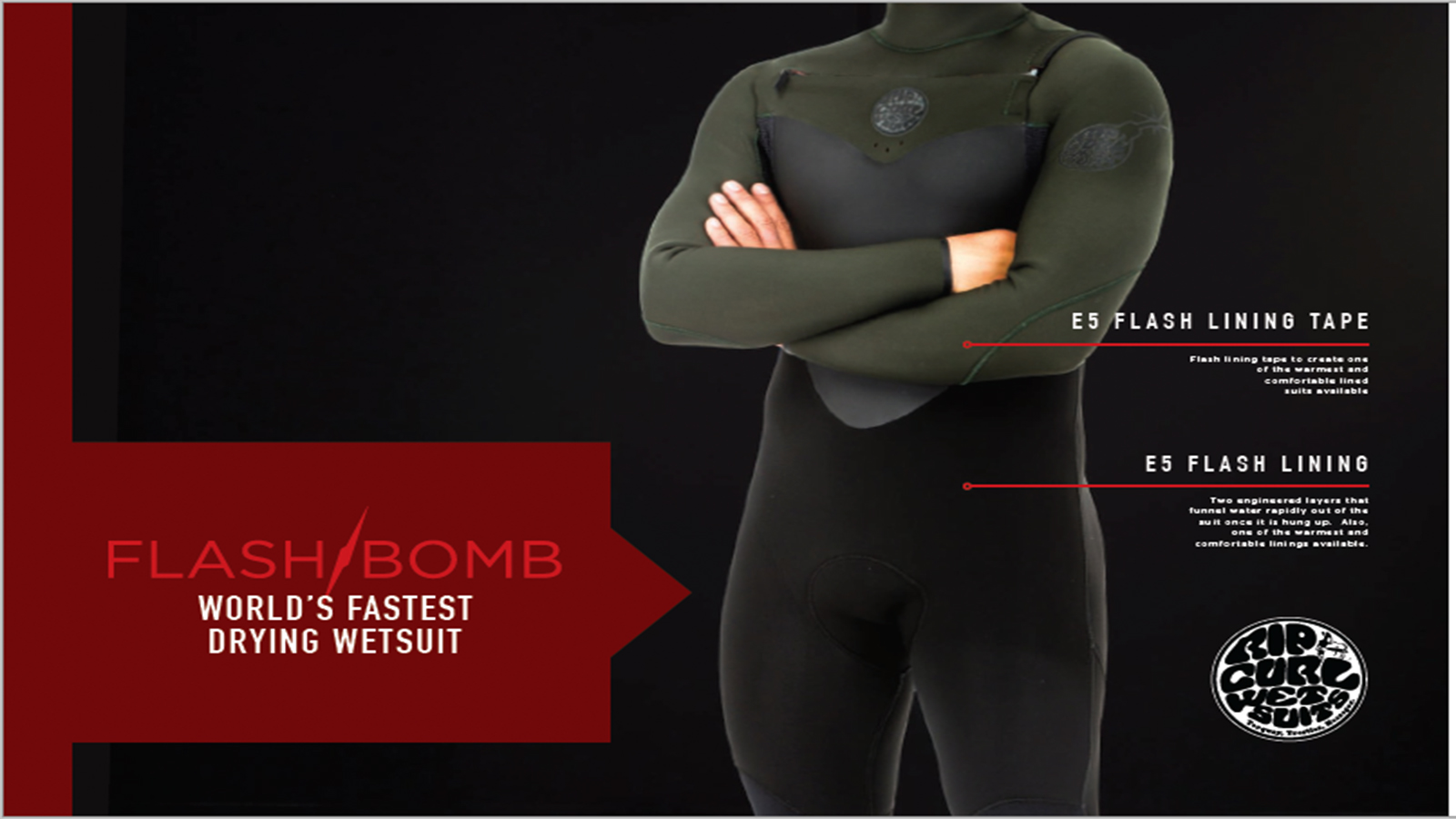 How have price points evolved and what are the main price hot spots?
RIPCURL has had its own segmentation and edit point for years, and we are proud to sell more high-end products than any other brand on the market. But we want to be the best in each of these segments, and we are constantly working on bettering our range on each of them, by working on neoprenes, patterns and processes evolution at our own wetsuit factory.
But a sweet price still is and will remain a sweet price (199€, 299€, 399€, 499€), and our segmentation is adapted to each of the needs of our customers, we are just constantly bettering each of this wetsuits on each of this prices.
Regarding the rubber specifically (neoprene or not) any major improvements? 
Rip Curl has introduced more developments in surfing wetsuits than all other surfing brands or manufacturers combined. Because it is our DNA and because we are the only brand owning both our R&D centre and manufacturing facilities.
That's why this year we are able to release two major neoprene innovations on the market: Our new exclusive E6 Thermoflex; Stretchiest neoprene on the market lined with our warm Royal Blue Thermoflex. 30% Stretchier than E5 and still our unmatched and exclusive Liquid Mesh; Stretchiest and most UV resistant Mesh neoprene on the market, that we offer only in our pinnacle wetsuit the FlashBomb Heat Seeker.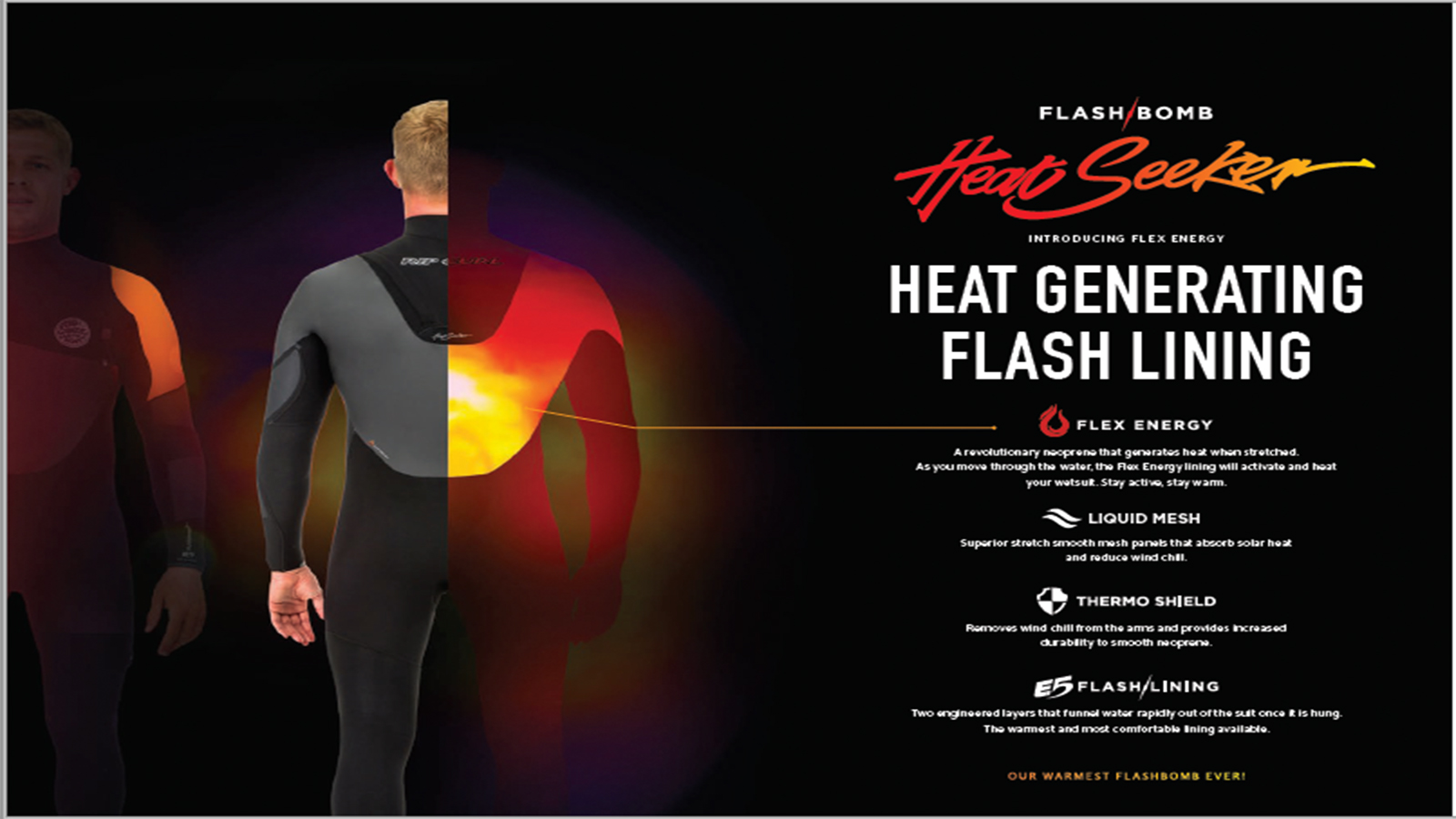 Tell us a bit more about the linings' benefits of your wetsuits?
Next to our new neoprene innovations this year, we also introduce the Flex Energy: our new Heat Generating FlashLining.
A revolutionary lining that creates heat when stretched. As you move through the water, the Flex Energy lining will activate and heat your wetsuit. Stay Active, Stay Warm.
This exclusive RC development will be only available in our FlashBomb Heat Seeker, in our action panel where you stretch your wetsuit the most while paddling.
There is now 4 different linings in our range:
The Flex Energy: Heat Generating Flash Lining – Invented by RipCurl
The E5 Flash Lining: The first quick drying lining on the market created by RipCurl, still unmatched. The Flashlining gives you both the ability to dry your wetsuit quicker than any other wetsuit, but also increases the proportion of air against your skin by draining the water out while surfing, and consequently increases the insulation and warmth of your wetsuit.
The Thermoflex: Our warm and comfortable lining, without the quick-drying properties and the added warmth that Flashlining procures.
The Thermo Shield: An external lining, protecting against the wind with the most durable smooth neoprene on strategic panels.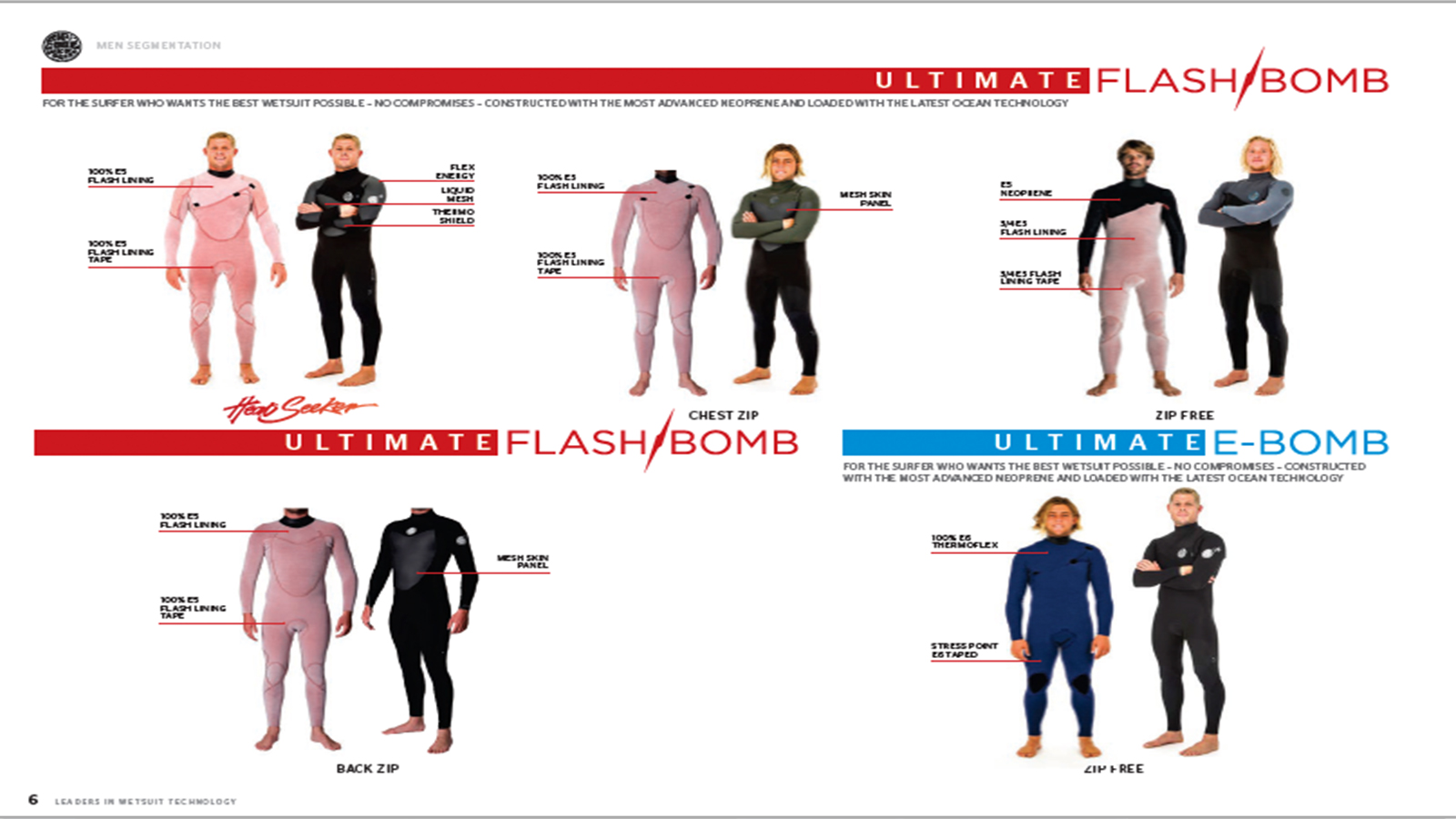 What's new in terms of fit and panel construction?
Our new FlashBomb Heat Seeker as a stand-alone pattern, that allows us to increase the proportion of Liquid mesh and Flex Energy on the action panel.
Please list some of the best selling arguments for a wetsuit?
Without any hierarchy, because it will depend on each customer from each of our segments:
Quality
Durability
Service
Ecology
Warmth
Stretch
Price
Please take us through three key products that retailers should put on their order sheets.
The FLASHBOMB Heat Seeker introducing Flex Energy: our new Heat Generating Flash Lining. Our pinnacle wetsuit with the 4 best innovations on the market:
Flex Energy: A revolutionary lining that creates heat when stretched. As you move through the water, the Flex Energy lining will activate and heat your wetsuit. Stay Active, Stay Warm.
Liquid Mesh: Superior stretch smooth mesh panels that absorb solar heat and reduce windshield.
Thermo Shield: Our new protection against the wind with the most durable smooth neoprene on strategic panels.
E5 FlashLining: Two engineered layers that funnel water rapidly out of the suit once it is hung. The warmest and most comfortable lining available.
The FLASHBOMB ZIP FREE: Our performance wetsuit for cold areas with our E5 Flashlining both stretchiest and warmest lining available and our best zip free pattern allowing an easy entry and exit while taking away the fuss, hassle, and bulkiness of the traditional chest zip.
The new EBOMB PRO ZIP FREE Wetsuit – Now with E6 Thermoflex. This is the wetsuit that Mick Fanning has been wearing on tour this year – The Ultimate super stretch wetsuit. The E Bomb zip free is inspired by high-performance surfing with the least restriction possible.
This year we've introduced two innovations in one.  All new super high stretch E6 Thermoflex performance neoprene that surpasses industry standards topped with our warm royal blue Thermoflex.
Finally, our best zip free pattern allows easy entry and exit while taking away the fuss, hassle, and bulkiness of the traditional chest zip.
Is eco-friendliness an issue for you and how do you approach it?
Eco-Friendliness is not an issue, but certainly a challenge.
RipCurl has always led the way in eco-friendly products, with our resurrection program, recycling used wetsuits and offcuts from our productions, started more than 10 years ago.
We also launched the first eco-friendly wetsuit 6 years ago with Mick at Bells, but at the time and still now, eco-friendly materials have not matched the durability and performance of our actual neoprenes.
That's why we have focused our efforts on recycling used products and production offcuts, rather than pushing less durable and not fully ready eco solutions.
We are still investing a lot in both substitutions of neoprene and recycling used products. Stay tuned.