Get Ready For The 2018 Volcom Banked Slalom In Kitzsteinhorn
The fifth annual Volcom Banked Slalom will be returning to Kitzsteinhorn in April 2018 for those wanting to show off their carve steez and race on the packed course of banked curves. Becoming known as much for its race as for its apres-ski activities, t he concept of the event is simple; you shred all day and party all night in the medieval castle of Kaprun.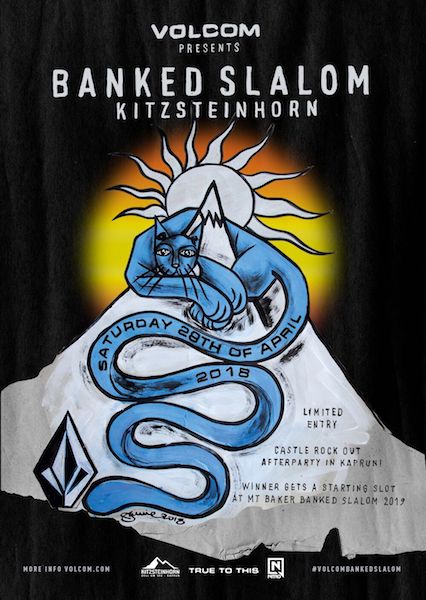 Press Release: Volcom celebrates its 5th annual Banked Slalom at Kitzsteinhorn on the weekend of April 28th 2018, in Austria! Don't miss this one to celebrate the end of the season the best way possible together with the Volcom family and team.
The overall winner gets a starting spot at the legendary Mt Baker Banked Slalom 2019 and there will be tons of prizes from Volcom and Nitro, for each division: Pro Women/Men, Open Women/Men, also age groups 50+, 30-40, 20-30, 10-20…and best costume. Carve yourself into history on the hill and then party at the Volcom Castle Rock Out on Saturday night in the medieval castle of Kaprun.
This year will be groovy, with Leopard Ale opening up the party and then King Khan and the Shrines taking over the throne of the castle. The King is known to drive his loyal subjects into a sweaty orgy with his psychedelic soul. Get ready for a night you'll remember! The party will be free for all as always (16+), more info coming shortly. Kitzsteinhorn is also home of 3 snowboard parks and one of the best half pipes in the Alps.
Contest info: 
On top of the good times there is free food and drinks for all competitors on the hill. Lift passes are 10€ only for competitors on the day of the event (cash only). There will be a 2€ deposit for the tickets.
Check in is between 8am and 9am at the lower lift Ground station (KITZ 900).
Contest Registration is free but limited to 200 riders max, on a first requested, first served basis. Sign up for the Kitzsteinhorn Banked Slalom by sending your name and division(s)
to: [email protected]