The SHRED DOWN Rocks Bänked Slalom Event Celebrates 20 Years!
Firmly cementing itself as an unmissable event of the snow calendar, the SHRED DOWN Rocks will celebrate its birthday in 2018 in Westendorf Austria. Starting back in 1998, the event has always been seen as a fun event of riding and music and it has recently been included in the WSF Banked Slalom Tour.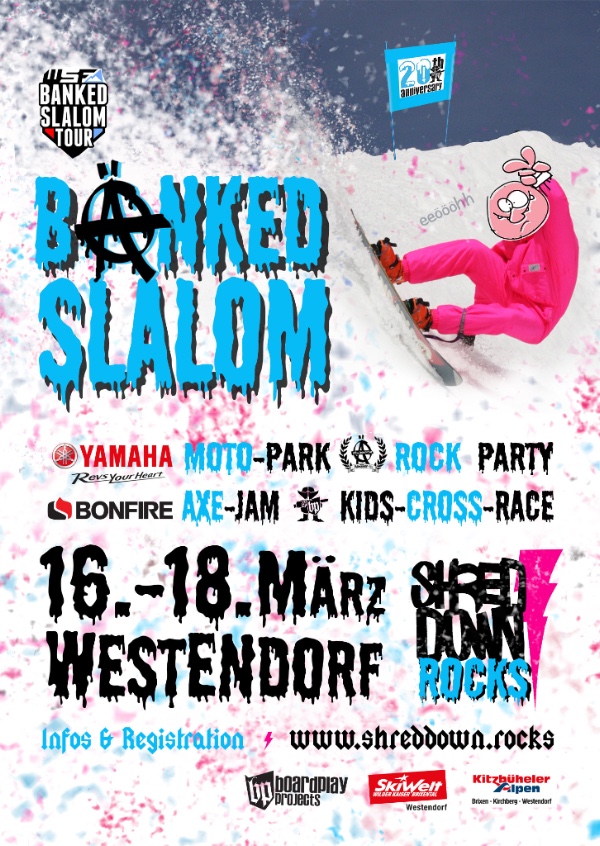 Press Release: The long-awaited SHRED DOWN Rocks will take place as a unique fun event and music festival to celebrate its 20th birthday. For the first time, the slopestyle competition will leave the place to a Banked Slalom (by Ästhetiker), which is included in the WSF Banked Slalom Tour. Adults, youngster and kids will be on the spotlight for the entire weekend thanks to the various side events.
* BÄNKED SLALOM – Saturday 17.03.2018 – for everybody!
(Masters (40+ J.) Open (adults) Youth (13-16 J.) Kids (10-13 J.) Groms (<10 J.)
* BONFIRE AXE-JAM – Saturday 17.03.2018
Team of 2-3 Riders can perform free-stylish-moves at the Bowl – Jump Feature. Team registration will be on site
* YAMAHA MINI-MOTO Parcour – daily @ Freerider Schrimbar
a kids dream come true – they can ride a real Mini- Sled -it´s free !!
* SHRED DOWN – 20Y ROCK PARTY
live on stage: FIRE MOUNTAIN / DAVE & the PUSSIES / & SURPRISE ACT! on the Decks: DJ ZUZEE & EMODEE
Saturday night – Start 20:00 Alpenrosensaal (free entry!!!)
ALL Infos and resgistration on www.shreddown.rocks
SPECIAL: BONFIRE NAILING STATION
There will be a Nailing station at the Boardplay Bar. You have to hit the nail with a BONFIRE axe and the winner of the nailing round will get some super cool BONFIRE goodies