DC's Final Stop On The UK Skate Tour
For DC's final stop of their UK tour they will be setting up a one off black-cab-gap skate session, in partnership with the Yours For The Taking Campaign, at Ely's Yard in Shoreditch, London. The event will be open all day with demos from the DC team, a cash for tricks competition, an exclusive exhibition on DCs' fashion heritage and finally wrapping it up with the after party at Juju's Bar and an exclusive gig from Levelz.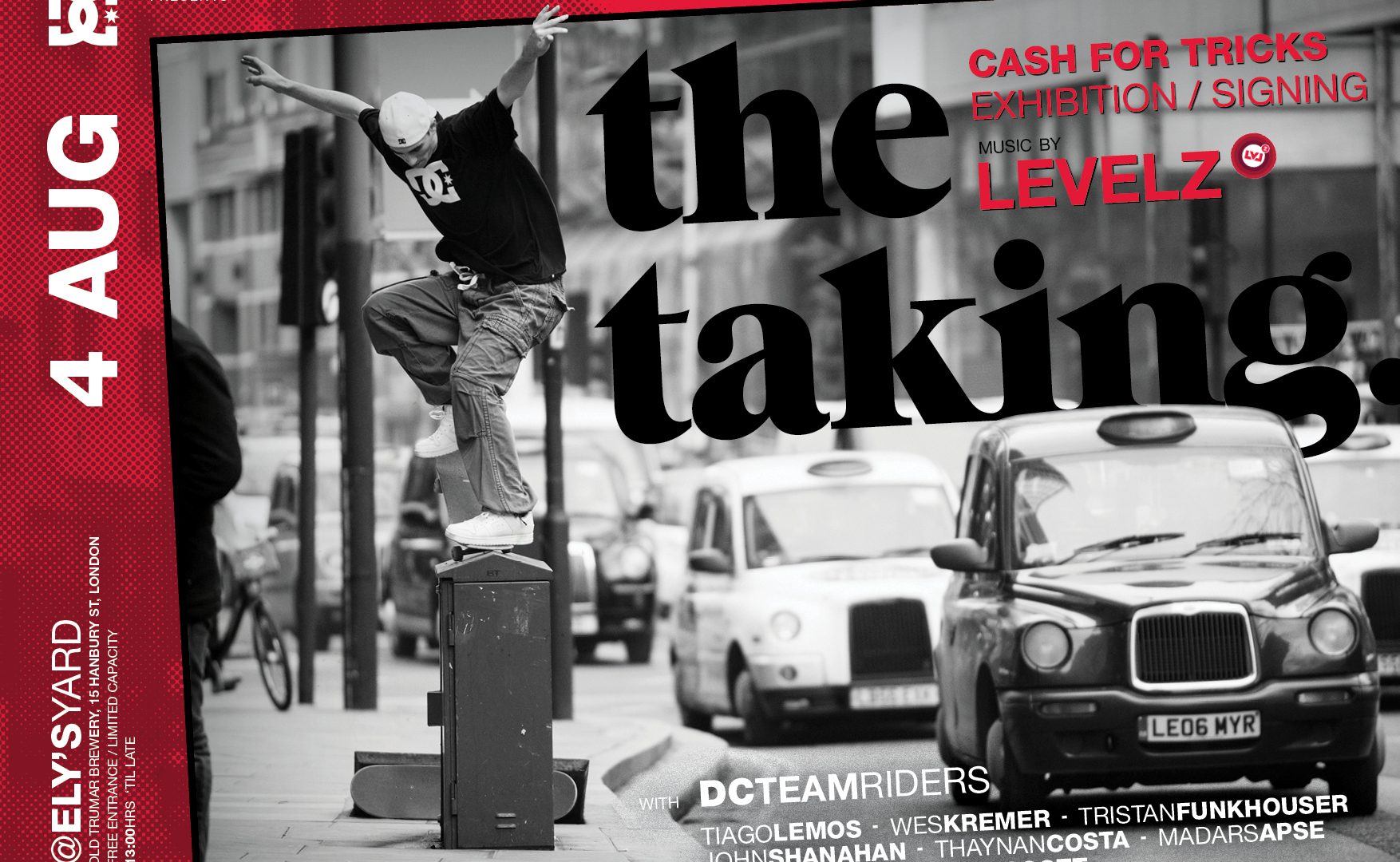 Press Release: DC THE TAKING LONDON
SHOREDITCH, LONDON, Saturday 4th August 2018
DC's awesome ten day UK skate tour will culminate on Saturday, 4th August with a full on invasion of the Old Truman Brewery for THE TAKING, London. In conjunction with the Yours for the Taking campaign, DC will be creating a one-off park setup focused around a massive black-cab-gap which will be open all day to local skaters, with demos from the pros and a classic skate jam plus Cash for Tricks comp. DC will also have a unique exhibition at Unit G4, Dray Walk which will explore the history of the brand's skate and streetwear fashion heritage – back to the days of Droors Clothing and the OG Lynx.
All the action will conclude in an epic DC Afterparty at Juju's Bar, with the chance to grab a drink with the DC Pros and catch an exclusive gig from Mancunian hip hop artists, Levelz!
DC's own skaters will be joined by Wes Kremer, Tiago Lemos, Tristan Funkhouser, Thaynan Costa, Madars Apse, John Shanahan, Jaakko Ojanen and Josef Scott, as well as renowned photographer and videographer, Mike Blabac and Chris Ray.
RSVP for DC TAKING LONDON & Levelz Gig – http://bit.ly/DC-TAKING-LONDON DC SHOE PRESENTS – THE TAKING
LONDON, 4 AUGUST
THE TAKING – 4 AUGUST – 1PM til LATE
ELY'S YARD – OLD TRUMAN BREWERY
LONDON – E1 6QL
EXCLUSIVE Early Global Release of New LYNX OG SLAM CITY EAST – 11.30AM to 12.30PM
+
DC Exhibition – Unit G4, Dray Walk – 1PM to 8P4 +
DC Team Skate Demo – 2PM to 3PM
Skate Jam – 3PM to 4PM
Cash For Tricks – 4.30PM to 5.30PM
Team Signing – 6PM to 7PM
+
DC Taking Afterparty – Juju's Bar – 7PM to Late Performance by Levelz – Juju's Bar – 8PM
#DCTakingLondon #DCTakesUK #YoursForTheTaking @DC_Skateboarding