Burnside Win 10th Vans Shop Riot Championships
Vans Shop Riot celebrated their 10th anniversary with two days of fierce competition held in Milan, Italy. Burnside took the title for the 2018 Vans Shop Riot Finals and Best Video Edit followed by Rob Maatman (Burnside), Eric Hedberg (Hollywood) and Simon Deprez (Skate Boutique) all taking spots in the best trick for cash competition. 
Press Release: Vans Shop Riot Finals celebrated its 10th anniversary with a blast this past weekend displaying incredible skateboarding across two days of competition. Set in the iconic city of Milan, Italy, it was Burnside (NL) who overcame fierce competition from 14 of the best skate shop teams in Europe to be crowned Vans Shop Riot 2018 champions.
"Vans Shop Riot is one of the greatest events in the calendar, not only does it give skate shops a platform to show the strength of their local scene; it also creates a context where the many disparate groups of people who keep skateboarding in Europe alive and kicking can come together and have a massive session as a collective entity. It's this aspect of Vans Shop Riot that gives the event its energy and cultural significance, and it's the reason why so many come to witness it and get involved every year," asserts Ben Powell.
Kicking off the weekend festivities, Bastard Bowl played host to the very first Vans Shop Riot Bowl Jam, which didn't disappoint. Highlights included Fabio Martin (Skate.CH) attacking every inch of the bowl, blasting huge airs over the hip and back smithing the love seat. Itamar Kessler of Gilis (IL) quickly won over the partisan crowd with his high stoke levels and ambitious trick selection including an enormous front blunt slide. Skateboarding legend and DJ John Cardiel closed the night with a compilation of reggae tracks from the archives.
With spirits high, finals day saw the skatepark format of the Vans Shop Riot ensue at a packed out Pinbowl Skatepark. The rounds preceding the final proved that every team was hungry for victory. Demonstrating once again the inclusive nature of the Vans Shop Riot event, Black Sheep (UK), who were a rider down due to injury from the night before called upon Italian ripper Jacopo Carozzi, who in kind, wowed his home crowd with an onslaught of memorable tricks. Skate Deluxe (DE) came out firing, skating in synchronization and hitting every obstacle. Burnside (NL) stunned the crowd with a barrage of technical tricks up and down the euro gap.
After a ferociously fought battle it was Skate.CH, Burnside (NL), Gilis (IL) and Traektoria (RU) that made it through to the final, with €5,000 and the coveted Vans Shop Riot Champions title to play for all the teams were fired up. Gilis (IL) were a pleasure to watch, with all riders looking like they were having a fun time, Doron Arad showed great creativity by climbing up to a nearby roof, before acid dropping into the quarter pipe. The team from Russia, Traektoria had been skating with unbelievable consistency all day, nothing changed going into the finals, with hammer after hammer being laid down. However, is wasn't enough to stop the might of Burnside, Rob Maatman stole the show focusing his efforts on the big section of the park, perfectly executing a selection of difficult tricks including nollie FS feeble on the big rail and a stylish BS 360 down the big set.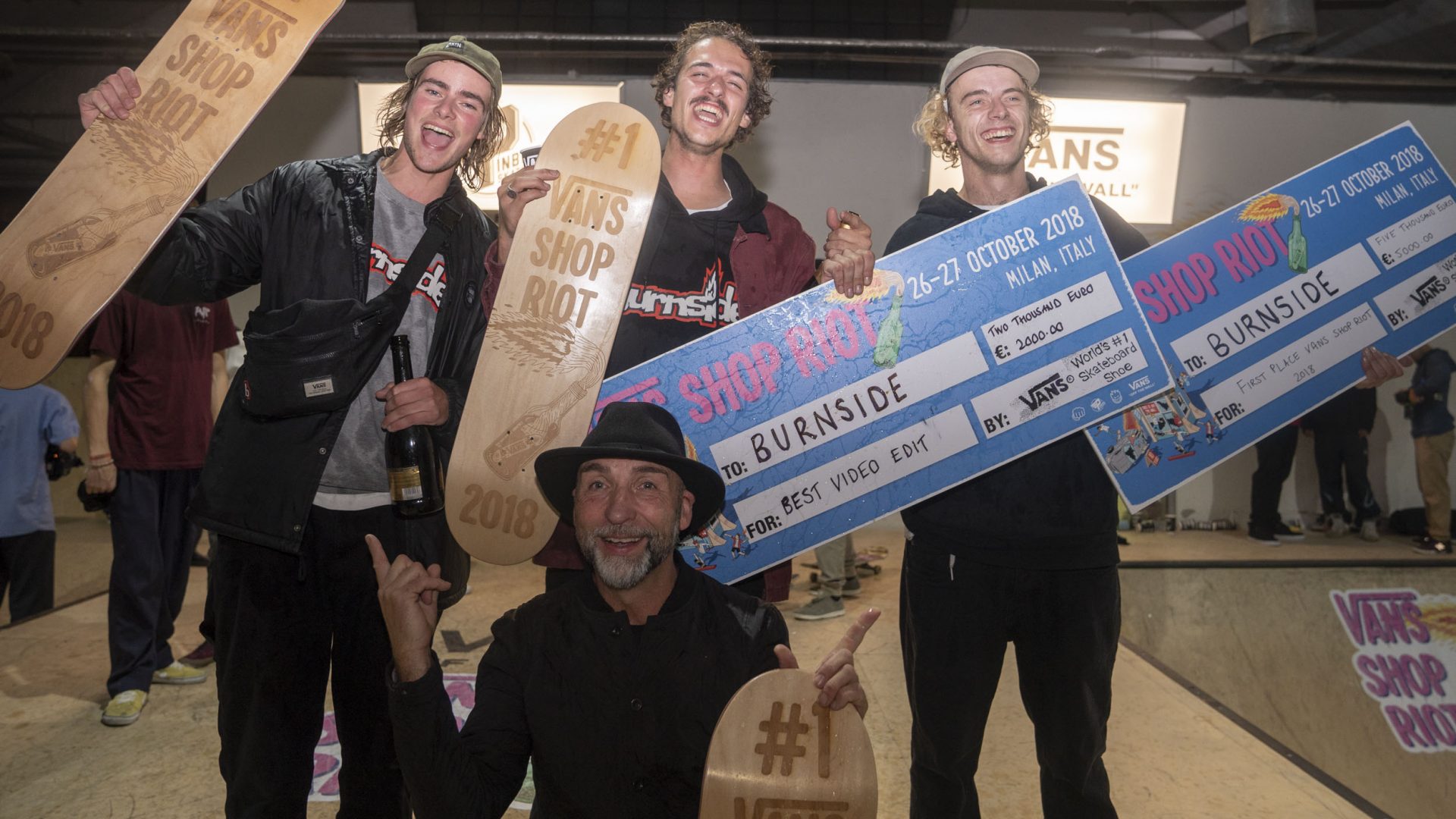 "It feels pretty special to win the Vans Shop Riot 2018, it's even more significant being the tenth anniversary and the very first was hosted at our skatepark," exclaims Rob Maatman of Burnside skate shop.
Big thanks to Phil Hackett, the 2018 series artist, and all the competing skate shops who were involved in the 2018 Vans Shop Riot, we look forward to seeing you all again next year!
#VansShopRiot
Results
2018 Vans Shop Riot Finals
Burnside (Netherlands)
Traektoria (Russia)
Skate.CH (Switzerland)
Gilis (Israel)
Best Video Edit
Burnside (Netherlands)
Best Trick Competition (Cash for tricks sponsored by Spitfire)
Rob Maatman (Burnside), stylish kickflip from bank to bank over the steps
Eric Hedberg (Hollywood), BS smith FS 180 off the top step
Simon Deprez (Skate Boutique), hardflip BS boardslide to fakie on the big rail