Nitro Snowboards And SWISS Air Announce Marketing Partnership
Nitro Snowboards have announced their latest partnership with SWISS International Air Lines for the coming winter season 18/19. SWISS not only supported the Nitro team while they travel across Europe to produce their latest upcoming full length movie but will also be hosting a sweepstake, along side Nitro, for two people to win the trip of a lifetime to Laax.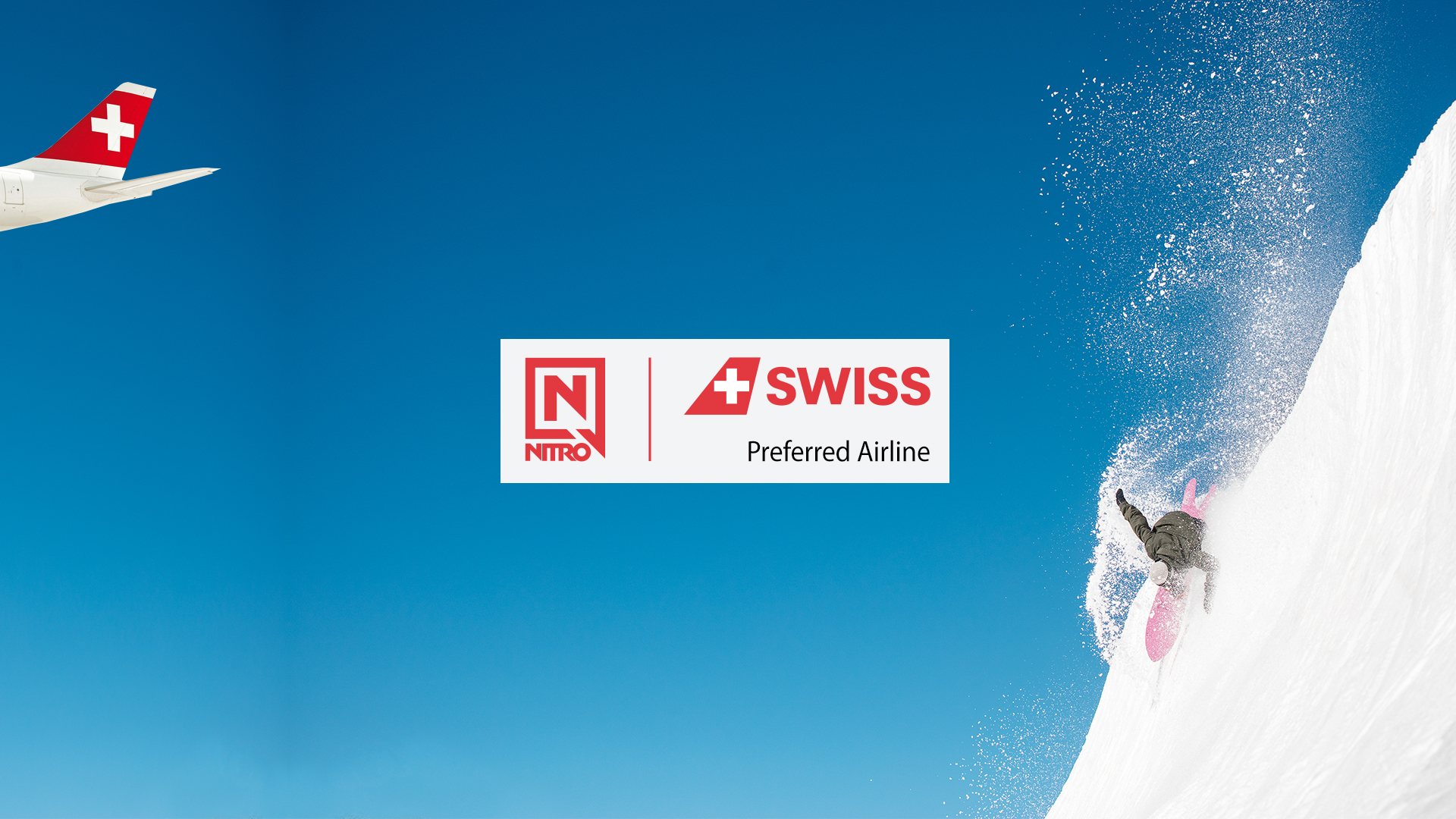 Press Release: Nov 16, 2018
Salt Lake City, UT (Nov, 16 2018) – Nitro NA (North America) is proud to announce a marketing partnership with Swiss International Air Lines (SWISS) for the upcoming 2018/19 winter. The cooperation began this October together with Nitro´s "Run To The Hills" campaign and European Snowboard Trip Sweepstakes.
As the preferred airline in the U.S., SWISS will support the Nitro Snowboard Team as they travel to locations around the world in search of powder, groomers, laughs, and adventures, while filming for their new upcoming full-length snowboard film. On a consumer and retail level, Nitro and SWISS will be hosting a winter sweepstakes.  Through the NITRO x SWISS EUROPEAN SNOWBOARD TRIP, two people will have the chance to win the trip of a lifetime to Laax, Switzerland to visit a Nitro Camp for a week of snowboarding. The winners will travel on SWISS to Zurich and live like royalty thanks to the support of LAAX and Riders Hotel. For more information visit a local snowboard retailer. The partnership between the two will provide a larger multi-platform reach of social, digital, and events for both brands to continue to inspire more people to get up and "Run To The Hills".
SWISS has been long been providing transportation service to snowboard destinations around the world, while Nitro Snowboards has been creating some of the world´s best snowboarding equipment to be used in these same mountains for almost 30 years. The partnership between the two is a great fit, because of their mutual objective for inspiring alpine travel, particularly in winter sports.
"We are proud to partner with SWISS, because of our shared interest of motivating people to get out and go do something worth remembering, and love for what we do and how we do it," said Andi Aurhammer, Nitro´s Marketing Director. "We feel very fortunate to be able to offer the opportunity to give a couple of lucky snowboarders the trip of a lifetime through our partnership, and provide our team riders an opportunity to fly in comfort, while filming for our upcoming full-length team movie."