Sooruz Announce First Eco Friendly Rental Wetsuit Design
French wetsuit brand Soöruz have announced the launch of The Blue Line, an eco friendly wetsuit line created for surf schools, sailing schools, cable wakeparks & all types of watersports offering a durable, environmentally friendly and cost effective option for rental suits.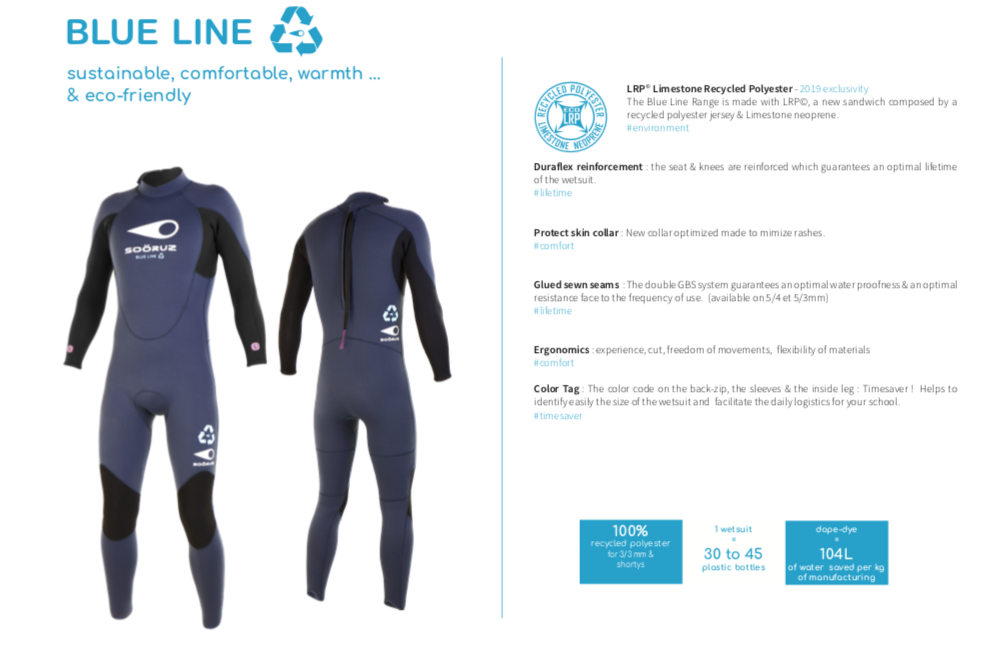 Press Release: With the Blue Line, the french brand Soöruz signs a great first : equiped surf schools, sailling schools, cable wakeparks & all types of watersports with an eco-friendly wetsuit is a must. Innovative materials, recycled materials, longer life cycle… In 2019, the school wetsuit offers an eco-conception approach offering an excellent quality/ price/environment ratio.
Blue Line Range: THE ECO-FRIENDLY SCHOOL WETSUIT
Manufactured with high quality materials, the new generation wetsuit is resolutely eco-responsible. Neoprene, fabrics, prints, glue… all materials and processes are analysed and developed to minimise the environmental impact throughout the product's life cycle.
2019 INNOVATION BY SOÖRUZ
Leader on the school & rental market , Soöruz has chosen to include a high performance and environmental range for 2019. With LNR©, a new material co-developed with suppliers, the composition of the Blue Line reach a new record rate of recycled polyester : between 80% and 100% 
THE IDEAL WETSUIT FOR WATERSPORTS SCHOOlS & RENTALS
Eco-friendly, The Blue line responds to the outstanding requirements of riders concerned about protecting their health and the environ- ment. The Blue line is designed to last longer. The critical zones of the wetsuits are rein- forced at the seat area and knees. Each seam is made with a "stiched inside – glued – stiched outside" to guarantees robustness and maxi- mum waterproofness.
Blue Line : Beginner will love it !
Freedom of movement, flexibility, lightness, comfort… Easy to put on, the Blue Line wetsuit inte- grates eco-responsibility criteria while guaranteeing its primary function : to be warm !