Shops 1st Try Preview, January 20-22, 2019 – Still Time For Retailer Registration
With SHOPS1st Try just Around the corner and winter already off to a great start there is still a chance to for shops to register to get an early look at over 90 brands and the opportunity to test 60 of them out on the snow.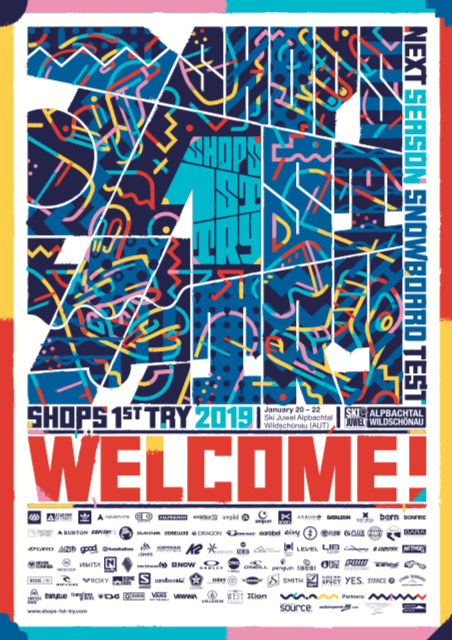 All signs promise a record winter for 2018/19 in Austria and SHOPS 1st TRY will break all records as well for its 10th anniversary this year. Snow and weather conditions are looking very promising for the upcoming weekend and so nothing stands in the way of some happy testing days in Alpbach/ AUT.
More than 240 Shops from 17 European countries have already registered for the event and together with media and industry SHOPS 1st TRY is getting ready to host more than 1000 people.
As a shop you get the exclusive chance to look at and touch more than 90 brands and test more than 60 of them before you start your order rounds. Click here for the
brandlist.
Next to the test area and the Highlight Exhibition Trade Show and Dinner at the Congress Centrum Alpbach (CCA), there will also be plenty of SHOPS 1st TRY entertainment in store as well.
The main side activities include the Throwback Quiz with awesome prices to be won, the Video World Vice Premiere of CONTRADICTION with Elias Elhardt and friends, the crowning of the Retailers Choice Best Board Design Award" and of course some nice Party and Pub evenings with a PAX Vapo/ METHOD Mag Party on Monday evening in the new location, Postalm.
There are also some big names who are on hand to act as your Shred Buddy at SHOPS 1ST TRY: Brian Iguchi, Mark Carter, Peter Bauer, Steve Gruber, JP Solberg, JF Pelchat, Alek Oestreng, Len Jorgensen, Fredrik Perry, Freddy Kalbermatten, Kevin Trammer, Markku Koski, Werni Stock, Frederik Austbo and more. And of course, nearly every brand has also their technicians and shapers on location for special requests and tech talk. On the list are Tommy Delago (Nitro), Nicola Thost (Nitro), Mike West & Brent Sandor (686 Founder & Marketing Director), Darius Heristchian (Giro), Xavier Nidecker (Nidecker), Thierry Kunz (Nidecker), David Pitschi (Salomon), Tom Recheis (Burton), Joni Makinen (Union), Jerry Niedermeier (Korua) and others are looking forward to a chat with you!
Shops can still register on the homepage but the free contingent for lift tickets and free dinner is long gone!