Oltco Joins Forces With UK Pro Surf's Clean Breaks Initiative
Oltco, the UK's leading floor specialist has recently joined forces with UKPSA's UK Pro Surf Tour's initiative – 'Clean Breaks' as a leading partner. The two year deal aims to instigate a positive change for the environment by cleaning up the UK's coast line, which will then be turned into resin bound driveways by Oltco.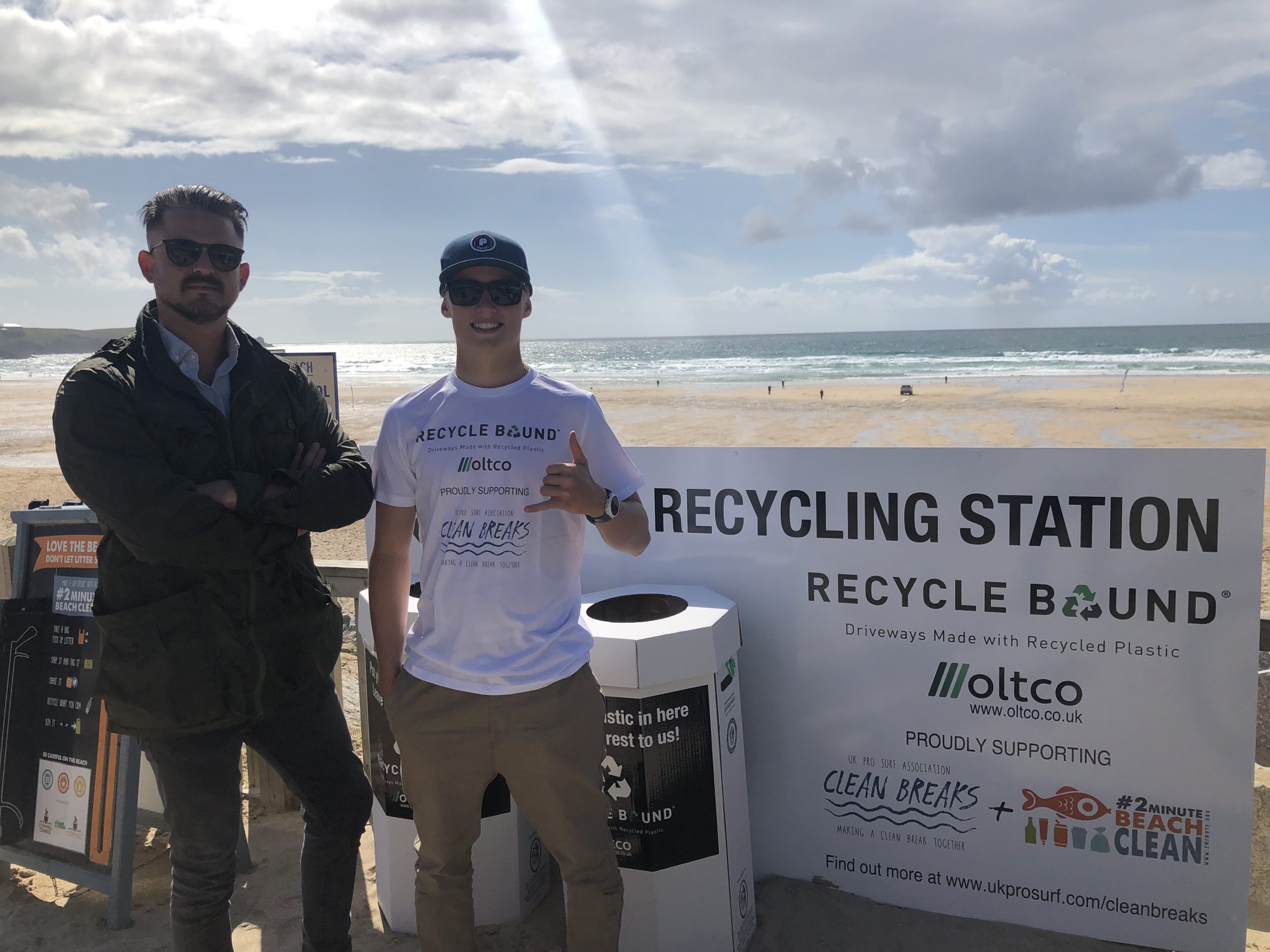 Press Release: Newquay based, Oltco has become the official environmental partner for the UKPSA's UK Pro Surf Tour's initiative – 'Clean Breaks'.  The two year deal will see both Oltco and The UK Pro Surf Association work towards instigating positive change for the environment by taking an active role in cleaning up the oceans and beaches around the UK's coastline.
Founded in 1998 by the UK Pro Surf Association (UKPSA), the UK Pro Surf Tour is the only series of pro surf events held across Britain. The tour has various divisions to choose from, these include Men's, Women's, Pro Junior's and a recently added longboard category. During the tour this year, the five events will take place in Cornwall, Wales and Scotland.
The UK's leading independent resin flooring specialist, Oltco, has partnered with the UK Pro Surf Tour, for its 'Clean Breaks' initiative. As a business based in Cornwall, Oltco Directors Tom Stringer and Johnny Pearce noticed the negative effect that plastic has on the UK's beaches and wildlife. This led Oltco to develop an industry first with its Recycle Bound product – a resin bound solution that is made using recycled plastic.
By using waste such as plastic drink bottles, plastic food packaging and straws, Oltco  is able to utilise these forms of plastic waste by converting them into resin bound driveways. Each square metre of Recycle Bound consists of the equivalent of 3,000 plastic straws. Therefore if Recycle Bound was laid on a standard 50 square metre drive, the equivalent of 150,000 plastic straws would be recycled in the process.
Committed to setting up a Pro Surf Tour that is more environmentally conscious, the UKPSA conceived the 'Clean Breaks' initiative in order to help clean up the UK's oceans and coastlines. Going forward the UK Pro Surf Tour will be removing and recycling single use plastic from its operations and undertaking a beach clean at each of its events.
Johnny Pearce, Co-Director of Oltco, comments: "The partnership between Oltco and The UK Pro Surf Association is an important one for both organisations. In the UK for example, we throw away 8.5 billion straws every year – the devastating impact of waste plastic is becoming an increasing concern. Becoming the official environmental partner is a powerful way of raising awareness about single use plastic in Cornwall and the rest of the UK."
Biff Lancaster, Operations-Director of The UK Pro Surf Tour, Said "We are stoked that Oltco has become our official environmental partner. The first tour event is in Newquay, and to have Oltco branded bins where those in attendance can dispose of single use waste plastic is a real step forward for the tour." 
To find out more about the 'Clean Breaks' initiative, visit: https://ukprosurf.com/cleanbreaks/
To find out more about Oltco's Recycle Bound, visit: https://www.oltco.co.uk/residential/services/recyclebound/