Volcom Garden Experience Tour Press Release
Exciting news coming out of Austin, Texas, as the Volcom Garden Experience is hitting the road. Volcom are taking their exploration into arts, music, and culture, and shipping it on a plane to Europe this summer.
France, Germany, and the Netherlands will play host to three free shows featuring live music, art, food and drink. Skateboarding will also feature at the mini festival events, along with live DJs.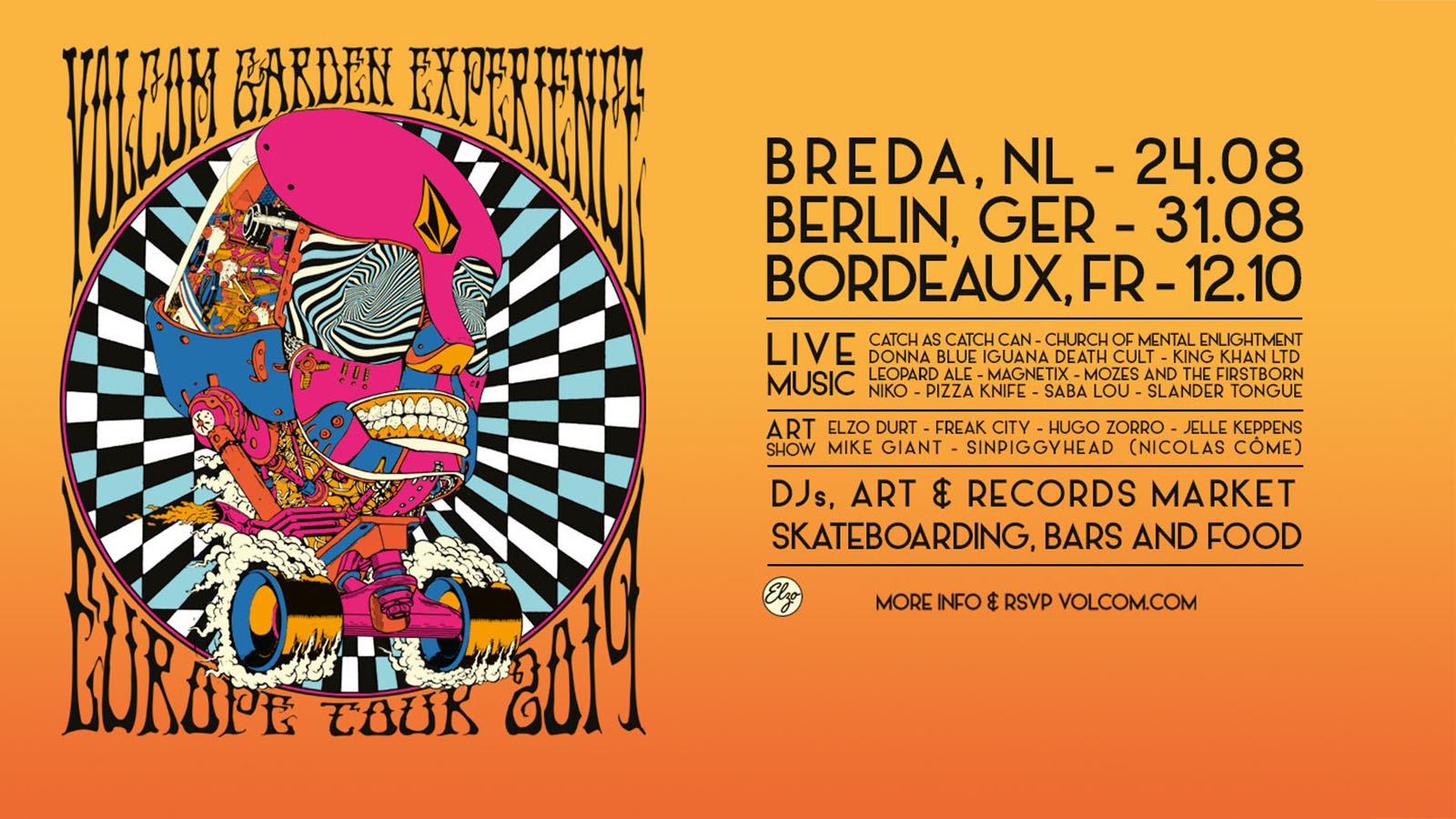 Press Release:  FROM NETHERLANDS TO FRANCE THROUGH GERMANY, VOLCOM IS BRINGING TO EUROPE A MINI FESTIVAL TOUR IMMERSING YOU INTO ITS AUSTIN VENUE CONCEPT – A ONE-OF-A-KIND RETAIL BOUTIQUE, A FULL-TIME ART GALLERY AND LIVE MUSIC VENUE WITH BACKLINE AND RECORDING CAPABILITIES.
The Volcom Garden in Austin, Texas, serves as the physical embodiment of Volcom's "True To This" mantra by providing a free creative hub for the local scene with an emphasis on both regional and global creators, makers, musicians, artists and anyone that needs an outlet to express their passion.
With three dates through Europe, Volcom spreads its Garden vibes to Breda, Berlin and Bordeaux with one-day events at cool venues.
Each date will feature live bands and art exhibitions, mixing local and international artists revolving around the Volcom universe, but also a records& art mini market, skateboarding, DJs, food and drinks.
The Artshow at the three dates will carry works of Mike Giant, Elzo Durt, Jelle Keppens, Freak City, Hugo Zorro and Sinpiggyhead, and local artists will be integrated in the market.
With all shows being free to enter, good vibes are guaranteed!
Make sure to visit www.volcom.com to sign up for show tickets and more info.