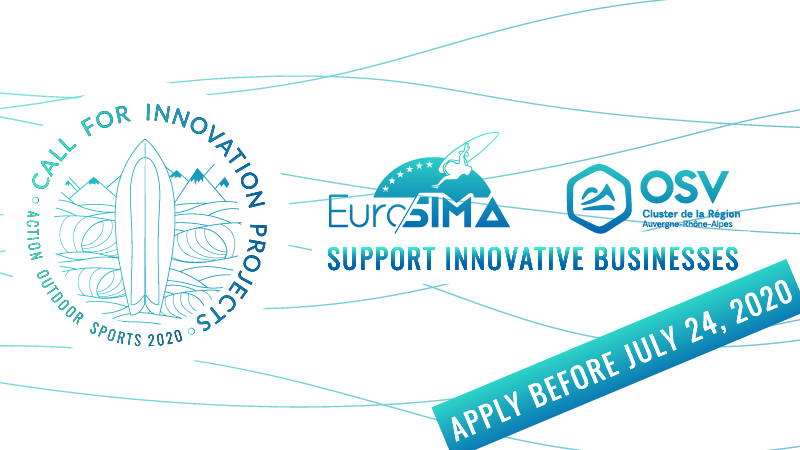 Applications For EuroSIMA & OSV's Call For Innovations Projects Still Open
Applications for EuroSIMA and OSV's Call for Innovations Projects are still open until July 24, 2020. Applications are open to any new idea, product or technology within the Action Outdoor Sports fields.
EuroSIMA & OSV Support Innovation
EUROSIMA and Outdoor Sports Valley have decided to renew the Call for Innovation Projects in the fields of Action Outdoor Sports.
Open to all members and future members of both clusters, this Call for Projects aims to support and showcase either a project for a product or a service, the creation of a business or the diversification of an existing activity in so far as the project is linked to innovation eco-design.
1 WINNER WILL BE REWARDED:
The 2020 winner will receive:
5000 € in financial aid/ funding
The possibility to pitch the project to the audience at the Surf Summit conference (Seignosse)
1 invitation to the Surf Summit conference (Seignosse)
1 invitation to the annual Waterman's Ball (Hossegor)
The opportunity to present the innovation in the Surfing Lounge exhibit (Seignosse)
How Do I Apply?
The 2020 Call for Innovation Projects is open to all EUROSIMA or Outdoor Sports Valley cluster members and future members, whether as existing businesses or project carriers.
All types of ideas, new products and technologies can be developed and considered in so far as they have an application within the field of Action Outdoor Sports.
The application form is to be downloaded, completed and returned by mail by July 24, 2020 at the latest. The jury will deliberate on September 16, 2020 and the final results will be announced on October 1, 2020 during the Surf Summit conference.