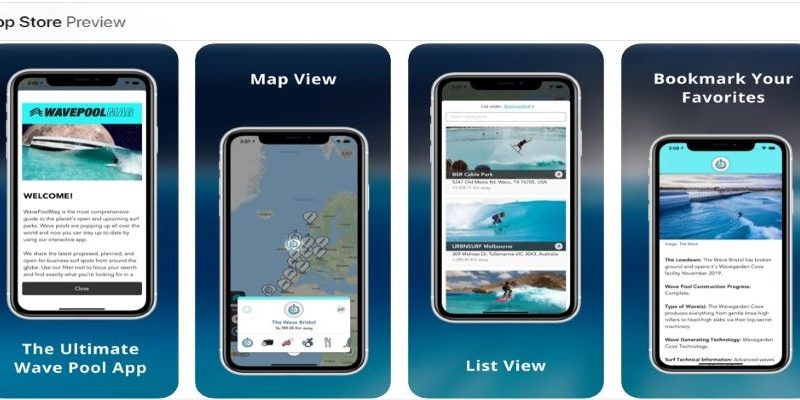 WavePoolMag Launches App
To follow up from their video tour of all the surfable wavepools in existence, WavePoolMag has launched an app with all the features of their website's 'Surf Planner' page. The app is available to download on iOS from the app store.
New WavePoolMag app offers complete information on the world's growing list of 76 wave pool projects
Based on WavePoolMag's accessible Surf Planner page, the new app lets iOS users get timely and comprehensive updates on an easy-to-use platform
Today, WavePoolMag launches their highly anticipated app, a customisable interactive global wave pool map with detailed information on every human-made surf venue on the planet.
The wave pool landscape is evolving quickly, and with the WavePoolMag app, users can keep up to date on the world's open, upcoming and planned wave pools without having to go to the WavePoolMag website. But the best thing is that it's customisable and available offline – something a website can't offer. It's fun too.
Use the filter tool to focus your search and discover what you're looking for in a wave pool. Beginner waves, advanced waves, photographers, surf shops, private sessions, lessons and more – it's all here. Then bookmark your stash of favourites and keep a close eye on them. You'll also find special notes and insights provided by a global crew of wave poolers. Internet problems? After downloading the app, head into the menu and enable Offline Mode to download the map for usage without a connection to the internet.
The Wave Pool Surf Planner is one of the most popular pages on WavePoolMag's website, so the company decided to turn it up a notch and offer an enhanced version of this page in a fast mobile-friendly app. WavePoolMag worked with renowned app developers Nown to apply the same dedication used in building our Surf Planner to make a program that's fun, unique and super informative. The WavePoolMag app is priced at $1.99 and will be continuously updated. Become a lifetime member of the wave pool community and a wave pool expert.
"The Surf Planner is super popular, and we wanted to offer this information in a fast, friendly and mobile environment," said Bryan Dickerson Editor and Publisher of WavePoolMag. "You can still access the free web version of our Surf Planner, and nothing will change in that regard – it's still free. The app is a way to have a personalised version of this information in your pocket while connecting with others in the wave pool community and sharing detailed information, things you can't do on the Surf Planner."
App developers Nown saw the potential in the WavePoolMag Surf Planner and thought it'd make a great app.
"We're really stoked to be working with WavePoolMag to create such a useful and unique product," said Sarah Beardmore, Cofounder of Nown. "Nown is proud to bring the latest wave pool information to a curious public. I have been a big fan of their Surf Planner for some time to keep updated on all the wave pool developments around the world. There are 76 wave pools on the map to explore, and this list is only growing. I love the fact that anyone can now go straight to the source for timely updates while supporting the digital wave pool community at ground zero."
You can purchase the WavePoolMag app for iOS devices at the cost of $1.99 US right here on iTunes.