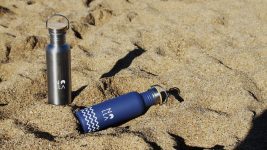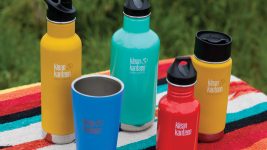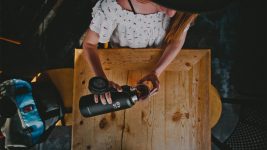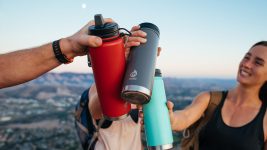 Our first-ever SOURCE retail buyer's guide on bottles and flasks provides a comprehensive overview of key 2018 trends and products in this dynamic category. Report by Natalia Maruniak.
A growing number of boardsports brand are taking responsibility for the environment by developing sustainable products. Reusable drinking water containers provide an opportunity to protect the oceans, mountains, and landscapes we all love and enjoy. Consumers are on the same page and welcome smart options for staying hydrated on their outdoor adventures, which help to reduce plastic waste on skate, surf, snowboard, and camping trips.
Aside from protecting the environment, reusable drinking containers also save real money. According to Hydro Flask, investing in a Hydro Flask coffee cup and taking it to your coffee shop every day can save £180 per year. So it's no surprise that reusable drinking bottles for sports are an active growth market: Market research agency Technavio expects the segment to grow at a 6 per cent rate until the year 2021.
Brand philosophy
A large number of drinking bottle brands are founded and operated by boardsports enthusiasts. "Nature is the playground for boardsports athletes. That's why they take a great interest in protecting the environment. Bottles by Squireme. help reduce plastic waste and save the mountains and oceans," said Roman at Swiss brand Squireme. Former pro snowboarder Jussi Oksanen founded the Mizu brand to "reduce the usage of disposable bottles in daily life, changing people's habits towards a more sustainable lifestyle to protect our planet and our future."
The 15 Day Challenge of the Mizu Reusable Revolution Program integrates the "Big Three" product categories – reusable water bottles, reusable coffee cups and reusable cutlery – to reduce everyday waste. Why 15 days? "Because it takes more or less 15 days to break or make habits!" The brand also provides companies with options to customize their own Mizu products at attractive rates.
Nolla takes a unique approach: "Our main goal is not selling our bottles but providing solutions for people to prefer a reusable product over a disposable one."
All brands questioned for this report want to reduce the amount of plastic rubbish as their main mission. Earthwell, Nolla and Klean Kanteen also support the 1% For the Planet initiative by donating part of their annual profits to environmental activism. This also offers value to retailers: "They are actively supporting products for a better future. We are mainly selling competitive products that create a clean conscience."
Materials & Features
Most brands offer a broad selection of drinking containers to cover all usage scenarios, from camping trips in the outdoors, to staying hydrated at work, and having an evening beer in the park. The most important mark of quality is the insulated lining in a bottle in order to maintain the desired temperature of their contents. "Hydro Flask's mission is to… keep your water icy cold on a sunny beach and to serve piping hot coffee on the chairlift ride."
The brand relies on double-walled, vacuum-insulated drinking bottles from stainless steel that keep drinks hot up to 12 hours and cold up to 24 hours. Mizu, Earthwell, Nolla, FLSK, Stanley and Klean Kanteen also use BPA-free 18/8 stainless steel as a safe and toxin-free alternative to plastic bottles.
Earthwell provides, "premium drink containers with a long lifespan in a wide number of sizes and capacities, featuring enclosures for all uses and maintaining the desired quality of their contents." The brand's must-have items for this season include the Earthwell Roaster Loop Bottle 473ml "for urban commuters". It keeps chai tea warm for 10 hours, cools ice coffee for 40 hours and beer up to 16 hours.
Klean Kanteen and Mizu also sell simple, single-walled and lightweight drinking containers for cold beverages. Lightweight is important for portability and affects material selection, with stainless steel as the top choice. The Ultralight bottle by Thermos lives up to its name at only 370 grams, "supplying athletes and outdoor enthusiasts with plenty of fluids, either hot or cold, on long outings."
Stainless steel also prevents the transfer of flavours, "so your morning coffee will not taste like last night's beer," said Hydro Flask. Longevity is also a key factor. "A drinking bottle should last a lifetime. That's why we make them from 18/8 food-safe stainless steel, coated with corrosion resistant, long-lasting Klean Coat powder finish, which is three times more durable and scratch resistant," said Klean Kanteen. Stanley even extends a lifetime warranty on all their drink containers.
But there are also alternatives beyond stainless steel. Swiss brand Squireme. manufactures bottles from hand-made borosilicate glass "for a healthier, flavour-neutral drinking experience." A silicone sleeve protects the glass from scratches and breakage. The main advantage of glass is that it "assumes no odour" but as opposed to stainless steel bottles, is not suitable for carbonated beverages. Squireme. is mainly focused on urban commuters. "The 500ml capacity makes it perfect for carrying along… a trusty companion on your fixed gear or subway ride."
The new Go Series by Stanley explores new material combinations: The 0.7-litre STANLEY GO bottle with Ceramivac "has all of the same tough Stanley steel and famous thermal retention, but with a smooth and outrageously satisfying ceramic feel."
Design
Purists will be attracted to the clean stainless steel finish of Mizu, Klean Kanteen, Thermos, and Stanley bottles. Hydro Flask provides plenty of colour choices in their powder coated bottles. The selection of prints and patterns is not huge, but Nolla offers nice glass and Isotherm bottles adorned with weather forecast maps and floral patterns. The powder coated finish not only allows for playful colourways but also "long-lasting grip and protection from the elements," said Earthwell.
The Flsk brand is highly design-driven and has been recognized with the 2018 German Design Award. "We place special emphasis on timeless design. That's why we take great care in choosing our colours. Our mantra for launching colourful editions is always, Less is More!"
Caps and filtration systems
The enclosures of reusable drinking containers come in a large number of variations. Earthwell incorporates ThermaGrid technology in its insulated caps with an extra large mouth opening and a latch for easy portability. One of the highlights is the patented Kewler Bottle Opener Cap, "which helps open beer bottles in a flash." Mizu, Klean Kanteen and Hydro Flask manufacture simple loop caps as well as sports caps and tops with integrated drinking straws. Klean Kanteen, Nolla and Earthwell also have sophisticated bamboo tops. Nella's Isotherm bottle can be opened with one hand at the push of a button, much like Stanley's Classic Vacuum One Hand Mug.
The main focus of bottle top designs is to prevent contents from spilling out. Thermos integrates the Sports Flow drinking system in its Ultralight collection, which "provides a clean and convenient drinking experience in action. The safety lock system keeps the bottle 100 per cent leak-proof, so nothing spills into the backpack."
In June 2018, Mizu launches their 360 filter system with futuristic technology. "This nanotechnology was initially developed by NASA. It allows for filtering water on the go." Integrated into the bottle top, the filtration system is available in two versions: the Every Day and Adventure model. The first model improves water flavour and removes impurities that are common to tap water. The Adventure model is the perfect companion for outdoor adventures, allowing for filtering water from basically any water source. "People should have access to clean water everywhere, whether it's on the road, during exercise or at the office," said Jusi Oksanen.
Equipment for outdoor adventures
Most brands go beyond drinking bottles and stock a full range of outdoor-ready equipment. Mizu provides coffee and wine cups as well as shot glasses and rust-resistant cutlery from stainless steel to reduce plastic waste from disposable silverware. Hydro Flask includes the Soft Cooler tote and a backpack in their award-winning Unbound Series of cooling bags, "perfect for trips to the grocery store, the beach or outdoor adventures."
Thermos also sells food containers and cooler bags. Stanley sells small cooler cases and camping cookware sets. They also cater to high-percentage beverages with flasks and matching shot glasses from stainless steel. Beer growlers are also a budding trend: The Klean Kanteen beer growler is suited for carbonated beverages and keep beers icy cold. Hydro Flask also provides beer and wine cups, keeping wine cold with double-walled TempShield vacuum insulation.
Pricing & Collabs
Price points in this segment vary according to insulation levels and capacities. Insulated drinking bottles with a capacity between 500 and 600ml start at €25.00 (Hydro Flask, Squireme, Earthwell), followed by a mid-price range €31.95 (Mizu) and €34.75 (Flsk), while Klean Kanteen is in the upper price range with €44.95.
Almost all brands cater to companies with the option to customize their own drinking bottles. Klean Kanteen supports numerous enterprises and organizations in creating a plastic-free workplace. Their custom drinking bottles and cups can be designed to customer specifications via prints, laser engravings and specific colourways. For Mizu, "collabs are a key component of our label," with partner brands including boardsports mainstays such as Burton, Nixon, Volcom and Capita.
Future Visions
"Organic, green, eco, and fair trade," are Nolla's catchphrases for the future in a wide variety of markets, including boardsports. Hydro Flask also expects environment-friendly products and concepts to gain traction in the next few years. "Currently, there is a huge focus on cutting down on single-use plastic waste. Plastic bottles, straws, stirrers and coffee cups will soon be extinct and Hydro Flask provides reusable solutions to that from their Insulated Sports Cap to their Coffee Flip Flask."
Sustainability extends all the way into more environment-friendly production processes. Klean Kanteen is working on materials with "better thermal efficiency to keep drinks hot or cold for longer durations." Mizu's future focus lies with further improving their built-in filter technology, weight factor and versatility of their products to cover all use scenarios in daily life. And Squireme. sees a bright future for retailers: "Prices will increase as customers appreciate durable goods. Multiuse beverage containers are an interesting field for retailers."
HIGHLIGHTS
Eco-conscious consumers
Prices set to soar
Hot for a day, cold for longer
Odour-free materials