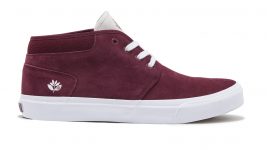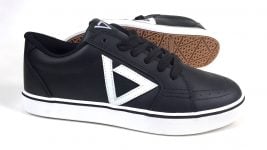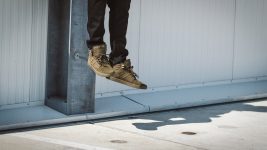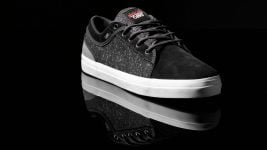 Weatherized, technical and back to the nineties: See all current trends in our Skateboard Footwear Retail Buyer's Guide for Fall/Winter 18/19 by SOURCE Skateboard Editor Dirk Vogel.
High fashion's love affair with skateboard style continues, and designers currently can't get enough of chunky, technical skate shoes from the mid-1990s. During Paris Fashion Week, DVS Shoes was approached by a major fashion house to supply some of their original teched-out shoes for a runway show and customer demand is trending the same way. "The '90s resurgence is coming. Our more heritage and chubby styles are already beginning to pick up," said Brent Phelps, DVS Product Director, adding: "We're seeing indicators from everything as aspirational as the new Yeezy Wave Runner to something as random as core sneaker head shops actively searching us out for our chunky styles."
In the bigger picture, the 1990s revival is shifting the focus to core brands who created the blueprint for modern-day technical skate shoes. "We're seeing mainstream brands creating shoes inspired by the classic éS silhouettes. It's funny as we have been tagged so may times with the new Yeezy 6 and its closeness to the éS Scheme," said Don Brown, Chief Brand Strategist at Sole Technology (éS, Etnies, Emerica), adding: "We're definitely hearing from the market that the bigger non-endemic athletic brands are slowing down in demand. Based on the cycle of trends we're seeing kids are looking for more authentic skate brands again."
As we move into winter season in Europe, authentic brands – not mainstream fashion houses – are also the ones actively supporting the skate scene with more than just products. "We recently re-designed the indoor skate park in House of Vans in rainy London and it is still always completely free. We will be opening more pop-up House of Vans spaces in different European cities as well," said David Atkinson, Vans Product Merchandising Manager, Pro Skate, EMEA.
SEASON TREND: WEATHERIZATION 2.0
Speaking of winter, this season's main trend sees weatherization move from "nice to have" to bedrock staple in FW18/19 collections. Brands implement their latest tech in outdoor-ready versions of fan favourites such as the Supra Vaider CW and Tom Penny "Bandit" model featuring synthetic fur and gunmetal hardware, and the éS "Accel Slim" low- and mid-tops with warm micro fleece liners, gusseted tongues, waxed lacing, and weather treated uppers. Lakai is keeping feet warm in the "Griffin Mid Weather Treated" model, C1RCA weather-proofs the "AL50" model, while Emerica introduces black sherpa lining in the "Indicator Hi" and "Romero Laced High", and tapped skate legend Heath Kirchart in a premium leather re-boot of the "Shifter High" boot. Etnies piles on tech like 3M Thinsulate, 3M Scotchgard and a Michelin outsole featuring "Ice Grip" traction in the Cyprus SCW model. Also trending this season: Weatherization is not just for after-skate shoes, but built into performance models. "The Jameson Mid has a completely skateable outsole and a weather-treated upper to accommodate the cold weather," said Rick Marmolijo, Design Director at Etnies.
SILHOUETTES: TECHED-OUT PERFORMANCE
Aside from the current surge in mid-top styles, the main silhouette that core skateboarders want next season remains unchanged: A tech-loaded, contour-fitted low top featuring a suede or synthetic upper with a seamless toe box, cushioned midsole, and extra-grip durable outsole. FW18/19 season standouts include the Emerica "Figgy Dose", éS "Accel Plus", DVS "Switch" and "Versa Fire", OSIRIS "Techniq VLC", C1RCA "Salix", ADE Shoes "Rever", Lakai "Bristol", Supra "Saint", Vans "Chima 2", "TNT Advanced Prototype" and "AVE Rapidweld" models. Justin Nicot, Retail Marketing Coordinator at SUPRA is stoked on "our special cupsole system with internal EVA crash pad for peak impact protection featured in the Shifter and Saint models." Fabio Di Molfetta, owner of European brand ADE Shoes is pushing, "Capsole technology outsole, with strategically placed cushioning to absorb impact and comfortable EVA materials with silicon gel inserts on the heel."
With that said, tech is also becoming a stronger focus in brand marketing, so watch out for FW18/19 foot beds featuring impact protection via Ultracush Lite 3D (Vans), AeroCush (C1RCA), PU Insole (State), . Soles are grippier thanks to Wafflegrip (Vans), FusionGrip (C1RCA), and Formula G (Emerica). Shoes fit more comfortably thanks to Vaporcell (DVS), SureFit sockliner and UltraFlex (C1RCA), and Deluxlite liner (Lakai). And finally, shoes last longer with Duracap (Vans), Duraflick and HT Drag (State), Para-mount outsole (Lakai), Everstitch (éS), and FusionGrip (C1RCA). Aside from technical shoes, the classic formula of a suede low-top on a natural gum rubber cup or vulcanized outsole is alive and well across the board. For an update on the formula, State Footwear head Kevin Furtado is stoked on the slip-on "Felton Walnut Suede" model, "a mid 'Chelsea Boot' style that is much lower, on a vulc sole and fully skateboard use in mind." Skateable slip-ons might be next season's sleeper trend, as Brent at DVS also points out the "lace optional" Walker Ryan "Switch" model.
COLOURS & STYLING: POPS OF COLOUR
Black will always be the skaters' go-to colourway, but Nick Pappas, Product Manager at New Balance Numeric sees movement. "Colour seems to be trending up, the days of skate shop shoe walls only having black and white vulcanized styles seems to be waning. Replacements for black, like Burgundies or shades of Navy or Military green has worked well." éS footwear Designer Rick Marmolijo "got a lot of his inspiration from vintage 90s hiking outerwear colours like washed-out forest greens and faded yellows." Also look forward to heather grey and next season's trending colourway, magenta, seen in several key pieces. "We have used the colour Magenta across the line as well as 'Cub', a military green colour and you will also see black and gum midsoles which are trending," said David Atkinson at Vans. In terms of stylistics, the season trends towards 1990s accents and prominent tech leads to an influx of generously placed brand logos. From rubber heel bumpers, outsoles, tongues, laces (hot, hot, hot in that OFF-White print style), nylon heel loops, and insoles – brand insignia loom large next season. "Prominent branding is continually gaining strength," said Scott Sentianin at Lakai while pointing out: "Kids shoes are on the rise!"
MATERIALS: RUGGED AND ECO-CONSCIOUS
As we shift gears into cold weather season, New Balance Numeric will be "using more suedes and leathers this season as opposed to the canvas and textiles we use during the warmer months, coated suedes which we call NDure," said Nick Papas. Overall, synthetic materials are on the rise, but Brian Reid at OSIRIS offers some perspective: "We love animals and try to not exploit the planet, but also understand that there is a need for synthetic and real materials. Skaters demand suede and its the best for skating, so all our skate specific models have suede version."
Speaking of loving the planet, David Atkinson at Vans points out: "Our shoe boxes are made from recycled materials, and we source all of our cotton using the Better Cotton Initiative (BCI). BCI works to reduce the environmental impact of cotton production. We also set our standard very high for our own facilities, our goal is to power all our owned and operated facilities globally with renewable energy by 2025." Etnies continue their partnership with Michelin – after the "world's toughest skate shoe" Marena Michelin sold out in retail – on some of the toughest outsoles skateboarding has seen to date.
HOT TREND: CLASSIC 1990s LOOKS
While last season brought non-bulky shoes with a 1990s aesthetic, FW18/19 is going full retro as "puffy" shoes return to shop walls: "There's also a lot of fashion brands such as Balenciaga that have inspiration from the puffier skate shoes that we pioneered. In general we're seeing taller cup soles with slightly larger silhouettes inspired by the late 90s and early 2000s. We have a lot of great éS heritage styles coming in 2018," said Don Brown at éS. Pointing to the "Comanche" model, Brent Phelps at DVS calls it "chub tech", marked by "forward construction trends becoming more stacked and billowy. Uppers are beefier. Chubby is back." OSIRIS is backing the trend with the "Peril", "PXL", and "D3 2001" models in 1990s-style colorways such as snow camo. "The D3 2001 is making some major strides here in the States. I have been tagged on Insta by sneaker freaker companies saying that they think that our shoe inspired the new Yeezy! That's a huge honour as that shoe was designed over 16 years ago and it's nice that people know their footwear history," said OSIRIS designer Brian Reid.