Midlife Crisis – The Skateboarding 'Rad Dads'

---
How skateboard retailers can cater to 'Rad Dads' and riders in their mid-to-late thirties
---
Forget the little kids. Grown men are skateboarding's growth market of the future. (And we're not just talking about expanding waistlines.) All over Europe, a generation raised on hardflips, Tom Penny and Wu-Tang Clan is getting back on board. "I have definitely noticed a resurgence of skaters in their mid-to-late thirties, especially since opening the store [in 2014]," says Tom, proprietor of Tom's Skate Shop in Stoke Newington, London. By Dirk Vogel. All pics courtesy of Vans.

---
For many of these riders, getting back on board goes hand-in-hand with fatherhood. "There does seem to be a good amount of skaters in their 30s and 40s, who are skating more again. Primarily it's the ones with young kids who are starting to skate – so Dad can now skate again as well!" said Chris Allen, Director at Shiner Distribution.
And make no mistake: This new wave of 'old' skateboarders in their Freaky Forties are not just 'life-styling' down the streets with salt and pepper in their beard and some fancy cruiser or trumped-up longboard under their feet. "Most of the people buying cruiser boards may also be in their mid-30s, but they have never skated before in their life," said Philipp Reimann, a partner at PINKHAUS Skate Shop in Neukölln, Berlin.
Instead of getting their cruise on, these mature riders want 'real' boards with regular street shapes to do some real tricks on these mean streets that raised them. Now holding down real jobs for real disposable income, this demographic presents a vital market. Distributor Chris Allen encourages retailers: "Stock more product that the older guys will buy as there is a good market out there. The shops doing most of the business in the UK at this time are the ones that sell it on their websites, because not enough of their local shops stock it!"
But what exactly is it that these skaters want – except getting their 19-year-old bodies back – and how can shops help them?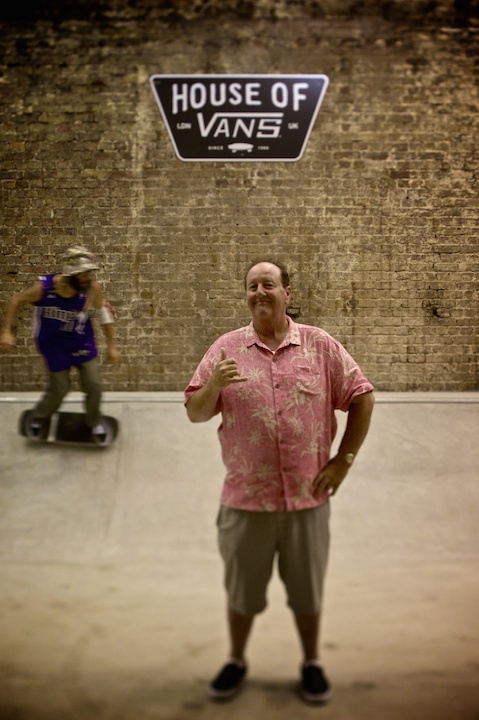 THE YOUNG AT HEART
Empowering the mid-life shredder movement is an increased public acceptance of skateboarding – now considered more of a 'real' sport thanks to X-Games and Street League – together with shifting age demographics in the pro ranks. Leaders of the 1990s New School such as Eric Koston, Bob Burnquist and Daewon Song are extending their pro careers close to the 40-year-dateline, while trailblazers such as Danny Way and Bucky Lasek are proving that 'over 40' is far from over the hill.
With pros leading the way, it's considered okay for Regular Joes to push wood later in life. "When I moved to Berlin ten years ago at the age of 27, I was already considered 'geriatric' in my skate crew in the town of Bremen" said Philipp at PINKHAUS, adding: "In Berlin it's incredible – there are 50 or 60 skaters over 35-years-old that skate on the regular. They never quit, so they don't have to start again. Berlin is unique – an El Dorado for the Young at Heart."
On that note, skateboarding holds tremendous potential as an activity for all ages – the young as much as the young at heart. "Don't forget skateboarding appeals to kids from six years old and up – even beyond to old guys like me in my late 40s. Just look how Lance Mountain still rips and he is 50!" said Chris Allen at Shiner.
REAL RECOGNIZE REAL
From a service perspective, mature skaters are probably the most low-maintenance customers at any shop. "Returning skaters who quit in the mid-90s often ask for brands that paved the way such as Zero and Toy Machine. And those who kept with it buy lots of Anti Hero," said Philipp at PINKHAUS, adding: "But all the new stuff like Polar, Palace, and Welcome has a similar approach to 1990s companies. That indescribable flavour. You can show a Palace deck or hoodie to any 90s-skater and he'll know intuitively it's cool shit!"
While their bodies may be a few cheeseburgers ahead of their 1990s selves, many riders hold on to their board shape preferences: Popsicle shapes reign supreme, maybe a bit wider around the middle (to accommodate for the cheeseburgers). "They are all riding reissue boards like they used to have and if not, modern decks with a real shape and good concave that are 8.5" to 9.5" size," says Chris Allen at Shiner. Asked about brands for the Bad Ass Dad set, Chris pointed out Anti Hero, Welcome, Santa Cruz, Tired, Krooked, Powell Peralta, and Black Label.
At Tom's Skate Shop in England, older customers are gravitating towards the classics: "They usually lean towards old school, wider decks as opposed to thinner and more 'trick' orientated decks. I think it's because their mentality of skateboarding is less about competition, tricks and pushing themselves, but enjoying cruising around.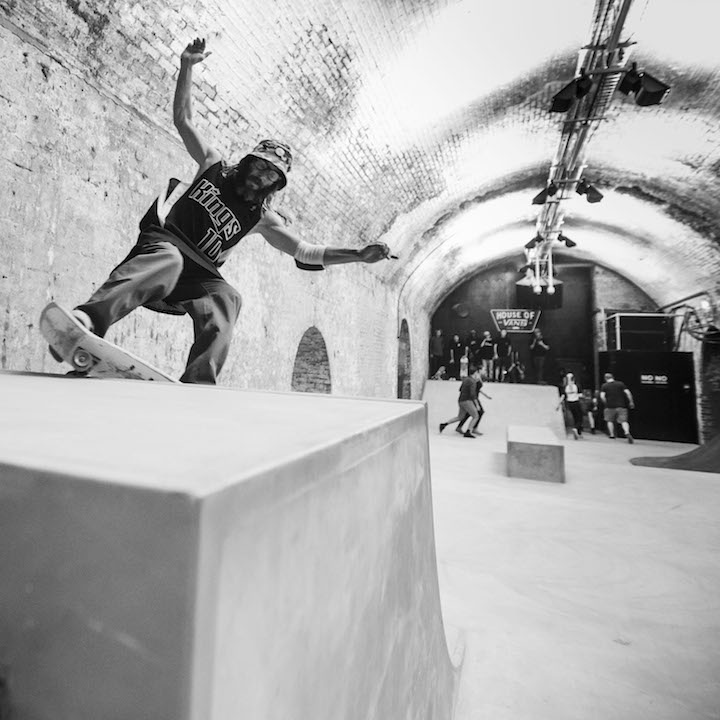 NOSTALGIA ULTRA
When it comes to Old School, non-popsicle shapes, Anti Hero offers the Jeff Grosso "Midlife Crisis" edition, while Welcome Skateboards builds its entire brand around going against the grain, shape-wise. Tom adds: "Over the last few years there have been lots of new, smaller and independent companies making more custom and old school shaped decks, like Tired. They have a great ethos and make lots of rad shaped decks, some of which have an old school shape, but a tail that's more rounded and similarly to more traditional trick oriented decks."
Other brands bound to get the 1990s stamp of approval include Jeremy Klein's anime-inspired Hook-Ups label, and the retro brand Dear Skateboarding – now available at Slam City – offering rare T-shirt gems such as the Mark Gonzales "Israel" tee from Video Days or Sean Sheffey's "Einstein" shirt.
PASSING THE TORCH
Most importantly, mature skaters are far from keeping to themselves, but an integral part of the skate scene. Tom observed: "A lot of them come down with their kids in the kids lessons I run. It's great to see both of them having a session, that's a great support for the younger generation." In Berlin, groups of skateboarding fathers use weekday mornings when the kids are in Kindergarten to get some shred time: "Lots of us who have kids meet up in the mornings at the local park for a 'rad dad' session, which is pretty cool!" says Philipp.
When it comes to passing the torch to younger generations, mid-life skaters can offer invaluable advice, for example wearing protective gear, says Chris at Shiner: "They don't worry about being geeks and the ones that are parents set an example for the kids. I always wear a helmet even when I skate on the street with my daughter and don't care if people look at me strangely."
On a cultural level, the interchange between older and younger skaters helps maintain fundamental values, says Philipp at PINKHAUS: "When every generation keeps to itself, there's no more education passed on. That's why there are so many dumb kids buying blank boards. I personally owe the way I turned out to the older skaters who showed me what's what. Nowadays, more and more kids are left to their own devices. And if you have to find orientation in the Internet Age all by yourself – then you're practically already lost!"
WORKING WITH MIDDLE-AGED SKATEBOARDERS
Five strategies for keeping the 'rad dads' stoked – and have them coming back to your store.
1. Skate and relate. Retailers who walk the walk are probably already dialled into the mid-to-late-30s set. "There's nothing I need to do differently. As a shop owner, I can always be seen out skating at the spots. So people come naturally," said Philipp at PINKHAUS.
2. Real men use protection. Older skateboarders are smarter about using protection than their adolescent counterparts. Shops should have helmets and elbow pads with adult-friendly designs ready (keep SpongeBob for the kids). "The older gen don't shy away from pads and protective gear as much compared to the 'teens' and younger gen skaters," says Tom in Stoke Newington.
3. Keep price-points on point. Not everyone in their late 30s has worked their way up to a Porsche and corner office. Offering essentials at affordable price levels is key to keep passionate skaters on a budget stoked in the long run. "You really don't need to have the latest gear in Berlin, especially boroughs like Neukölln or Kreuzberg. People want good wood and great boards without spending lots of money."
4. Proper brand selection. Even without having followed the brand landscape closely for a few years, mature skaters know intuitively whether a brand is authentic – or faking it. Shop owners can give nudges in the right direction, said Tom: "I advise them on the sort of stuff available and any new products and companies doing their style of things, like Tired."
5. That special something. Grown-ups want more out of their retail experience than a two-hour marathon of watching Pretty Sweet on the store tellie. "We have a great coffee machine, kind of the Lamborghini among coffee makers, that helps," said Philipp. And to soothe those sore, middle-aged muscles, Tom's Skate Shop offers yoga sessions for skaters every Thursday in the downstairs gallery space below the store.