Girl Skateboards CEO details partnership with Altamont Capital

Girl Skateboards CEO Megan Baltimore details partnership with Altamont Capital Partners
---
Founded in 1993, Girl Skateboards remains one of the most cherished and respected brands in our industry. Together with sister brands Chocolate Skateboards, Lakai Limited Footwear, Fourstar Clothing, and Royal Trucks – operated under the Girl Distribution Company umbrella – the Los Angeles-based company keeps driving the progression of skateboarding.
Right from the start, when an elite group of pro skaters led by Rick Howard and Mike Carroll left their big-ticket sponsors in order to start their own brand, Girl Skateboards represented authenticity. A rider-owned company – created by skateboarders, for skateboarders.
That's not about to change, as the Girl Distribution Company takes the next step in its evolution: The company announced today that it has entered into a partnership with private equity firm Altamont Capital Partners.
This news comes on the heels of Altamont's recent partnerships with boardsports mainstays HUF and Brixton, as well as acquisitions of Dakine from Billabong, and Mervin Manufacturing from Quiksilver.
What benefits will this latest partnership bring to the Girl Distribution Company and its brands – both on a retail and structural level?
Find the answers in this Boardsport SOURCE exclusive interview with Girl Skateboards CEO Megan Baltimore, who co-founded the company more than 20 years ago with Rick Howard, Mike Carroll and Spike Jonze. Here's the inside scoop from the woman behind Girl. Interview by Dirk Vogel.
---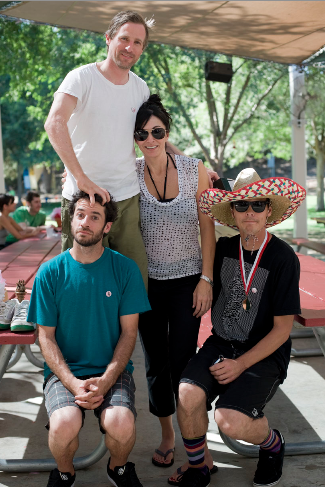 Girl team
How long has this deal been in the works? What started the conversation?
We started our discussion last year. Initially we just thought it made sense to learn more about their investments in Dakine and Mervin – but as we learned more we thought they could be really good partners for us and help us accelerate what we are trying to achieve with our brands – Girl, Chocolate, Fourstar, Lakai and Royal.
What are the specifics and benefits of the investment for Girl Skateboards and its brands?
We aren't commenting on the specifics of the deal – but in broad terms, we were able to restructure our balance sheet and now have more financial resources available to support our brands. That means more freedom in product development and more marketing support for our athletes and retailers.
Will marketing and creative direction remain unchanged?
We hope we are always evolving – but it's going to be the same teams running each of the brands and the same brand visions. We feel those are areas where we are strongest as a company.
What areas of Girl's business are you looking to strengthen through the investment?
First, we plan to be more visible in the market – more tours, marketing content, special projects and other things that we've wanted to do but haven't been able to in the past due to financial constraints. Second, we want to strengthen the execution side of our business and make sure that delivery and service levels to our retailers match what we are doing on the product creation and marketing side.
What will be the impact on Girl Skateboards and brands regarding their operations and distribution in Europe?
We think Europe is a great market for skate and we want to make sure we are present there. We have some great distribution partners and really appreciate what they have done for the brands in their markets. We also have areas where we need to improve our presence – in particular with retailers – and we'll be looking at the best ways to do that.
What are some immediate milestones/goals in the next 12 months?
We want to have a few seasons of strong marketing support, increased touring and good performance on delivery and service. In terms of milestones, that's top of mind from a business perspective.
On the product side, we don't want to give away all our surprises, but we have a few key initiatives including a totally reengineered truck from Royal, some great artist series for Girl and a great new Lakai line coming out for Fall.
Overall, we think we have a strong pipeline – we're excited to have new partners in the business, and we're back to being 100% focused on bringing creative and innovative products to the skate community.
Thank you very much for the interview, Megan.