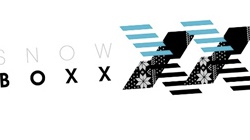 Snowboxx Festival 2017 Launch
After a successful first year in Avoriaz, Snowboxx Festival is returning for 2017. Snowboxx is quickly becoming one of Europe's best all round winter festivals, having sold out for the last four years. The festival kicks off in Avoriaz from March 18-25, 2017.

Press Release: Festival Location – Avoriaz, Portes du Soleil
Pricing – Accommodation & Festival Tickets From £229
Flight, Transfer, Accommodation, Lift Pass & Festival Tickets From £369 Website: www.snowboxx.com (New site launches Wednesday 3rd August 2016)
Tickets are on sale from the 4th August 2016 at 12pm. Please click here for assets and images.
THE ULTIMATE WEEK IN THE MOUNTAINS
Snowboxx Festival returns to the ski mecca of Avoriaz from the 18th – 25th March 2017. Nestled in the heart of the Port du Soleil region, the resort is the highest in the area and boasts a history of some of the best snowfall in the alps. The Snowboxx Village is also back with an increased 5 nights of live music in a stunning outdoor location in the heart of the resort.
Expect to see a series of unforgettable artists, off the wall festival features and a host of exciting new additions.
Snowboxx has sold out for the past 4 years and with the demand increasing year on year it's hard to see the event bucking this trend. 2016 saw the likes of Sigma, Stormzy, Grandmaster Flash and Blonde take to the incredible main stage setting. Anticipation for next year's announcements is already building with the first of many lineup announcements due to pop in September this year. The organisers have given some insight into some whopping new additions to the festival features including Mountainside Bottomless Brunches, Feast On The Piste and we have heard a few whispers about some surprise announcements to come. All this on top of the late night club shows, awesome apres and a resort with 650km of powder, we couldn't be any more excited to get stuck in.
Grab your tickets now at www.snowboxx.com with packages starting at £300.
AVORIAZ – HOME OF SNOWBOXX
Avoriaz is a winter wonderland resort. The town is completely pedestrianised allowing you to ski straight to your door in most accommodations, and the main forms of transport around the village is on foot or by horse drawn carriage. As a ski region Avoriaz is unrivalled, with access to nearly 650km of pistes in the Port Du Soleil region, customers will have a huge variety of runs to cruise! It also boasts 6 snow parks, including the world famous Burton Stash Park, which is built from all natural materials and where features are carved into art pieces.
THE SNOWBOXX VILLAGE RETURNS
The Snowboxx Village was the centerpiece of 2016. Next year The Village will be open all week with 5 nights of major artists performing in an idyllic location. The Festival Village will be almost double the size with a host more artists, bigger bars and of course a backdrop like no other festival in the world. The Village takes inspiration from the more traditional festival format of an open air arena complete with food stalls, bars, features and of course a cracking lineup.
FEATURES, FESTIVITIES AND OF COURSE – APRES
Snowboxx is known for its amazing list of festival features. The variety of different events and activities across the week is what makes the festival stand head and shoulders above the rest as the ultimate all round winter festival. With standout features including Karaoke ski cabins, Human Bowling, Ultimate Snowball Fights and the amazing Igloo Parties there is never a dull moment. New to the agenda is Mountainside Bottomless Brunches, Feast on the Piste and much more still to be announced.
Apres plans due to turn up the heat! Expect another level of cheesetastic incredibleness in your favourite apres location at Snowboxx 2017. It's too to share all the secrets, but keep an eye out for some awesome apres news soon.
TONS MORE PACKAGES TO CHOOSE FROM
With the festival now reaching 5,000 Snowboxxers, there are a whole host of additional accommodation options to choose from. With luxury chalet and apartments to pocket friendly pads there is something for everyone at Snowboxx 2017. Transfers, equipment hire and lessons can all be booked on the Snowboxx booking website, making it even easier to book an amazing and affordable experience with the ultimate winter festival. Tickets for Snowboxx start from £300 with accommodation, lift pass and festival wristband for six nights and are available from the Snowboxx website. Flights packages are available now, with transfers an easy 1 hour 30 minutes from Geneva, an airport offering a great variety of flight options and low cost fares, with full packages from as little as £369.
Please click here for assets and images.
About Mainstage Travel.
Mainstage Travel is a travel company with a difference. We deliver unforgettable experiences, day in, day out. We completely blur the lines between holiday and festival. Over the last five years Mainstage Travel has curated some of the best loved products in the clubbing holiday scene. In addition to this, our technology side, Hotel2020, supplies flight technology and booking systems to the biggest and best festivals in Europe. Clients include Outlook and Dimensions festivals.