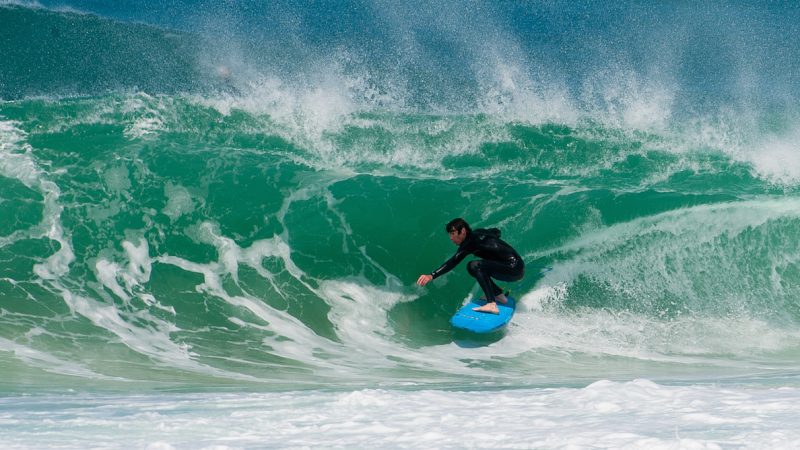 Euroglass' Darren Broadbridge Talks Surfboard Business
The Euroglass surfboard factory in Hossegor is Stephen 'Belly' Bell's brainchild – the Ferrari of surfboard factories, and anyone lucky enough to have seen it in action will know she's an absolute beaut. I've had the pleasure of a couple of tours now and seeing shapers Christiaan Bradley and Phil Grace practising their craft is a fine thing to behold.
Darren Broadbridge is an Australian who's been camped up in Hossegor for the best part of a couple of decades and after a seven-year stint at Quiksilver, Darren has now been heading up the office at Euroglass for just shy of a decade. For this issue's Big Wig Interview, Darren gives us some primo surfboard manufacturing and industry insight. Interview by SOURCE Editor, Harry Mitchell Thompson.
Darren, please can you give us a brief history of your career in the surf industry?
I accidently ended up in the surf industry by marrying into France and Hossegor. I needed work and Daniel the manager at Quiksilver Capbreton (he still is!), told me to go to the stock building in St Jean de Luz and see if they needed work. Greg Taylor who was the boss of the stock building at the time took me under his wing and it snowballed from there. After a year of unloading trucks in winter with my ski jacket, I got the call to go up the street to the commercial building, or The Campus, as it was called. It was the end of the golden era. Money was floating around at the parties; Champagne and three or four trips a year despite the fact I had only just started in the Client Service department.
That's where I got to know Belly (Stephen Bell, Euroglass Owner) and the rest of the Australian expats, shapers included. After seven years at Quiksilver I was getting the itch to do something different and coincidently my old boss Greg had left to manage Euroglass two years earlier when Belly left the factory to travel the globe. I was telling him I was going to open a pie shop and he told me to knock that on the head as he was about to take over the family pine tree business and with Belly they were interested in getting me in the office. I was already living in Hossegor and Euroglass was two minutes down the road. Belly was actually more keen to get a French person in, but he needed someone who knew Quiksilver backwards and spoke English and knew what the front end of a surfboard looked like. I ticked all the boxes and Belly invited me around for a glass of wine and that was that.
We had the Channel Islands licence at the time and they wanted it back as it was kicking off. They wanted Belly to jump ship from Quiksilver, but he'd never do that. Instead we dug our feet in and pushed forward. It was a real game changer for us. Five years later we moved into the cleanest custom-built surf factory in the world. Belly is quite single minded when he gets an idea in his head and this one was to be the Ferrari factory for surfboards and it certainly turned out that way. We just want people to appreciate where the cost comes from when they spend €650 on a new board. After a tour around the factory it makes a lot more sense to them.
Who are the key players in management, shapers etc at the HQ?
Belly is the final voice in everything. It's his business and his sweat and tears are ingrained into the floor and walls. We have transformed over the last five years though as we no longer just make surfboards. We run the surf technical accessories and skateboard division for Quiksilver and Matteo Fioravanti (Global Business Development Manager) made it possible for us to get that up and running. In a small business like ours everyone is a key player and often the last buck ends with Paul Hyde, our sander, as he is the last link in the manufacturing process. Brandon Sanchez runs our ever-growing order book and Manu runs our AKU machine while simultaneously juggling duties with the international Quiksilver computer programs setting up all our articles for export. The Shaping team consists of Phil Grace and Mark Phipps who have been here since the Stone Age and Christiaan Bradley who came onto the scene 15 years ago as a sander-cum-CI shaper. We also have the shaping license for Simon Anderson, Mark Richards and Brett Warner. Sometimes we have some guest shapers come past like Dick Brewer did 18 months ago (20 boards in three days!)
Are you sub-contracting for any other players in the business?
Yes we sub contract our glassing and shaping facilities for Pukas when they can't fit their orders through in time. It's been a life partnership with Pukas, Belly and Ignacio are best mates and as and when we have the capacity to get boards through for them, we do it. It helps pay the rent.
Hybrid, short, easy-paddlers are very much en vogue at the moment – what will be next?
If only we knew! I think the easy paddlers are here to stay. It's no surprise that they are in vogue, there was 15 years where your average surfer couldn't catch waves but that is gone. It's good news and bad news depending on how you look at it; there are certainly less waves to go around but it keeps the sport healthy and people happy. It's the best sport in the world and it's soul destroying when you can't get waves.
Surfboard manufacturing has health implications on its employees – what can the industry as a whole do to improve standards across the board?
That's a hard one. Belly has been trying to find out what he can do to make our factory achieve an authorized standard but there isn't one! We have had so many proposals on what we could do for the fumes or the dust but even if we follow these proposals through they haven't guaranteed him that it would actually achieve the purpose. One thing is for sure though and that is to wear a mask while working. Wear the mask and make sure it's changed and keep the factory clean. The cleaner the environment the less chance you have of bad habits growing. Surfboards will never be 100% green – that doesn't exist. Neither will our cars and even more importantly at the moment neither will our food. But the industry could really help by not trying to get us to cut prices for higher margins all the time. We would much rather higher prices so that would valorise quality work in an environmentally challenging industry.
In your opinion, what are the basic responsibilities/obligations a surf brand owes to the core industry?
I'm not sure I'm qualified to answer that one! As a business, every brand makes their own decisions. At the end of the month the bills have to be paid and to do that the business needs money in the bank to pay them and their employees. What is the core industry anyway? If they aren't true to the sport people will see thought that and won't buy their product and that will harm them. The bigger guys have the bigger problem of how to stay core but please the stockholder. It's a never-ending juggling act for them. If they don't perform they are gone and the employees with them. I've seen so many people lose jobs within 500 metres of our building that it's a bit heart breaking sometimes.
Surfers going through 150-odd PU surfboards each year can't be good for the environment. Discuss…
Oi la la – 150 boards that really is a lot! I'm not sure who would get that many! BUT you know what, it's not as bad as it seems really, as most of those boards end up in the hands of the average punter who wants to have a crack at surfing a Formula 1 craft. I do however think surfing an ultra-light board in overhead waves is slightly irresponsible for sure. Saying that I'm a passionate traveller and so is my family. I'm morally obliged to take my boys back to Australia every two years to see their grandparents and that's not good for the environment either. Guys like Fergal Smith are so gnarly – I really admire that but I so couldn't do it. I get all my fruit and veggies on my bike though! I love surfing a new board nearly more than anything! As long as it keeps getting surfed and then finds another home, that's not bad. We all want to see the top pro's progressing (that seems to be a key phrase these days; progression) and it's not going to happen on five boards a year.
The retail industry has changed massively due to the internet; hardgoods such as surfboards haven't been affected as much as apparel, but what are you doing to embrace technology in distribution while still working with core retailers?
That's an even harder one! The internet is changing hardgoods too, don't be fooled on that one. I've seen more of those carbon railed boys on the beach than ever before. It's McDonalds out there – you can get the same board anywhere in the world and the big internet boys can offer free shipping. That's heavy for a small retailer, so he or she has to offer better service and friendship. When I was a kid I was so in awe of Brian Weir who ran the local surf shop – I just wanted to get my board from him. He sponsored my friends and I wanted to be there in that scene. You can't get that off the Internet; we try and get all our key retailers to have the best possible knowledge of our boards so they know them better than we do. So at the end of the day if someone sees the board on an internet site he can still have that experience where there is no pressure while learning about a model but still embrace the surf culture scene. The local surf shops is where the guys that love surfing will always end up so we really want to protect their interests.
What size would you estimate the European surfboard industry is compared to the rest of the world (in numbers if you could?)?
The problem with this is there aren't any accurate statistics to get a proper reading on that. Australia who has a tiny population compared to Europe sell a TRUCK LOAD of boards but I'm betting the majority of those are tourists. And there are so many boards out there that aren't quantified – cash boards, back yard boards. China first and daylight and USA second, Australia and Indonesia then Europe would be our guestimate – Phil Grace and Christiaan Bradley just fed me their opinions on this! And heritage-wise it would be USA then Australia.
What are the benefits of manufacturing in Europe?
Employing Europeans is the best benefit, don't you reckon? Belly's dream has always been to take on apprentices and give them a trade and give ourselves a tradesman. Obviously we can react to market trends immediately, if some shape works we can go that direction. For example, Longboards take off and we can make them – we have just put 40 in production.
And regardless of the currency market with the USD our boards stay stable in cost. Our boards have gone up less than €100 in 15 years! That's less than 20%! Check the same for petrol!
Finally, the WSL has been struggling to attract the sponsors it needs to generate a healthy balance sheet. What suggestions/advice would/do you give to them to improve and grow their model?
Christiaan Bradley and Phil Grace are mad moto GP heads, (maybe even more passionate about that than they are about surfing!) and they both pay annually to watch the comps online. I wouldn't kick up a stink for paying a membership to watch this if it kept the sport alive and in good waves. Why should these guys have to surf 15 ft Pipeline for minimum wage? I know a lot of people cry out about free viewing etc but if you really care about watching these comps, why not pay a bit and get a better coverage. I've been watching these comps since they came out. I remember watching Fanning win at Jbay where you could only see the scores. With little dots on the screen that showed the priority. We used to hammer Belly for all the info when he would get back from the comps. Now it's really, really, really good coverage! So if we lose all that because the machine is bankrupt it's the guys that stay up till 3 in the morning to watch a comp that will be the losers too. The people that only tune in because it's free will just watch a tennis match on tele instead.