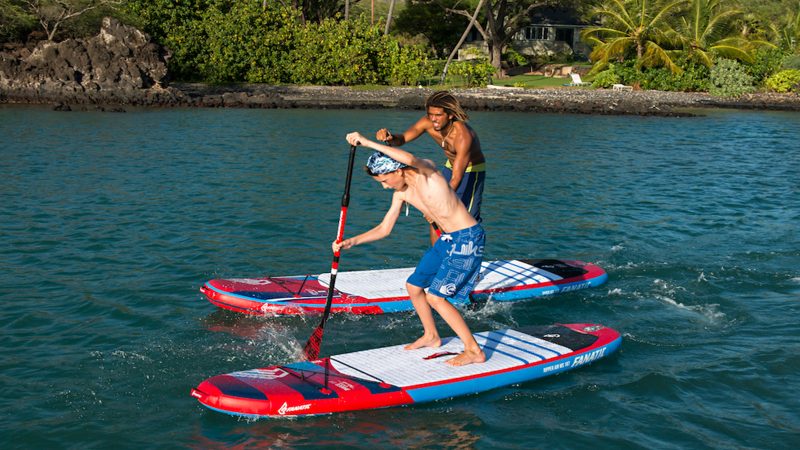 Fanatic SUP SS17 Preview
Retail Buyers Guide: Stand Up Paddle SS17 Trend Report
CATEGORY: SUP
BRAND: Fanatic
INTERVIEWEE: Karin Gertenbach Head of Int. Marketing Fanatic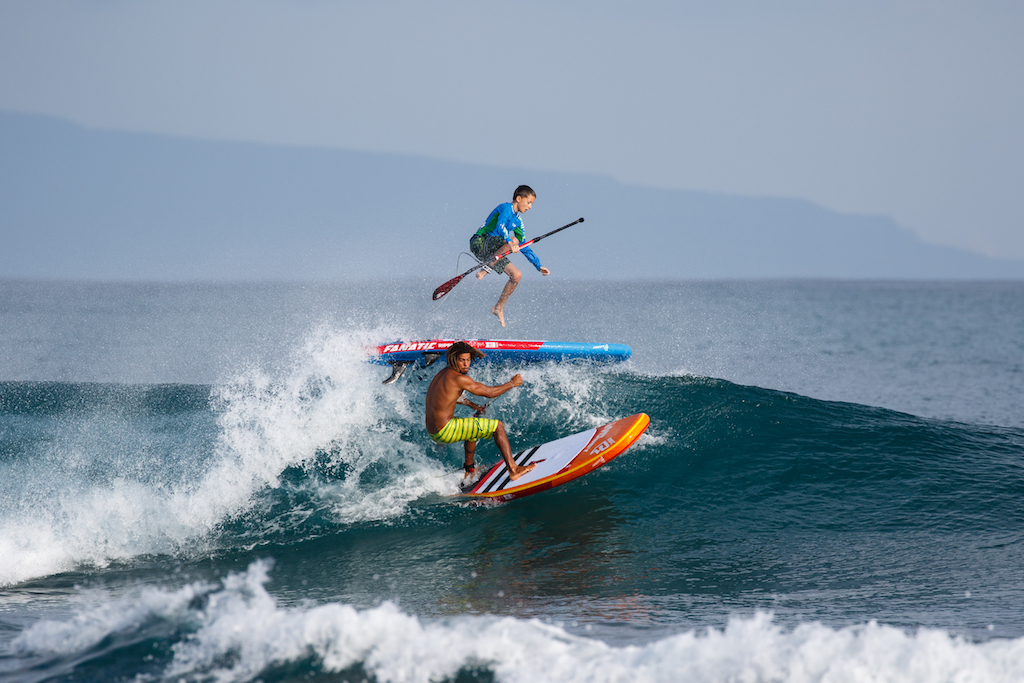 How has the European SUP business been over the past 12 months (in %)?
There has been good growth in most markets in iSup, of between 10-20%. For the Composite boards, as in US/Australia, it would appear the market has peaked/is over-supplied at the moment.
What are the main 2017 trends in Stand Up Paddleboards in terms of sizes, shapes and features?
I do not see any major new groups of boards, but each niche is certainly developing itself, whether wave, race, touring or river boards. The last category is gaining some good PR and followers.
What's new with your inflatable board construction? And where do you see inflatable sales heading?
We have introduced our double layer light technology in 2016, which sees a major weight savings and stiffness improvement, as well as less PSI needed to keep the boards stiff, i-sup sales remain strong but the number of brands has grown dramatically, with many online/direct sales/manufacturers going straight to shops etc. so a quite competitive marketplace.
Which sector of the market are you focusing most energy on? (iSUP, Race, Touring, Surf) and why ?
We are focused on all parts of the sport and not only the sales. We need to develop the sport so that it is sustainable for the future. That is why we still produce a compact yet complete range of composite boards, marketing and team riders, proper brochures and photoshoots, to keep pushing the image of the sport. Simply producing a range of isups and offering them for cheap prices does not help the SUP sport, although it might help some tiny brands to make a quick profit – but it is not sustainable or long term thinking unfortunately.
Please tell us about your new technologies or product breakthroughs for 2017?
We have a completely new LTD construction, where through some smart engineering we could raise stiffness, lower weight and in fact lower the retail price by up to 20% per board. On our entry level Pure Light range, we have also managed to upgrade the construction to be lighter, added new quality footpads and prints, for similar pricing. Other boards in the line have also got great technology upgrades, we have some new fun boards like a Tandem and Fly L, a River Touring board, a Ladies Touring iSup – lots of interesting stuff.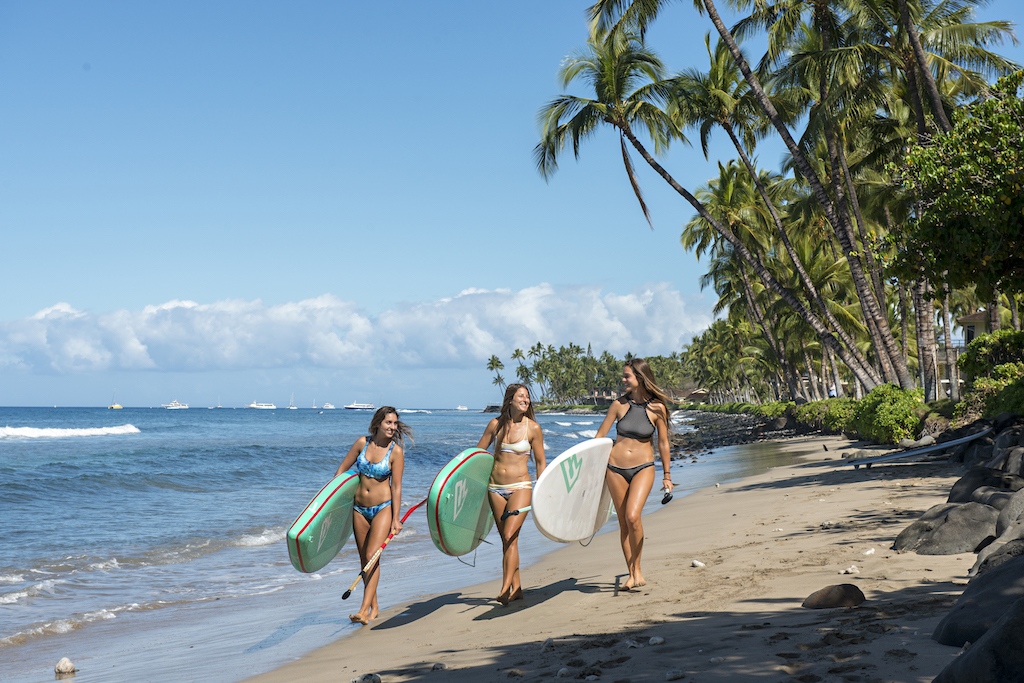 Which country market has been the most interesting for you and why so far this year ?
Generally as a European based brand, we are obviously in the strongest position of any brand with our EU warehouse and very efficient agent system, to hold stock, deliver and offer the best service/support the sport with demos, events, riders. Our agency system in Australia is also doing very well and from 1 August onwards we will have our own subsidiary in the US, with own warehousing, reps and service levels, to gain leverage into the US Market.
What opportunities do you look to capitalize on for 2017?
We are not that interested in growth at all costs. Fanatic has always been the leader in quality and technology, we want to continue that tradition and believe there is very much a place in our sport for quality products and services. This will be our focus across all segments.
How have prices evolved for the hardboard / inflatable categories and what are the main price hot spots?Pricing on Hardboards seem fairly stable, at least in EU, iSups as mentioned have many tiny brands/one man shows trying to get a foot in the door with mainly poor quality/service, so there is some price pressure – but generally as a SUP it is not the most expensive product (vs mountain bike/windsurfing/kiting), we find that customers are ready to pay the extra $ to get a Premium product. Also those who have gone for a lower priced/lower quality product, are immediately confronted with the performance/warranty issues, as you can't escape the reality of a too thin/too narrow iSup in terms of performance.
Take us through your two key products for 2017
For 2017 we updated our ProWave line, using feedback from our World Tour competitors Kai Bates, Arthur Arutkin and Airton Cozolino, with a majority of the testing taking place at our shaper's home spot, Guincho, Portugal. We were also able to integrate a number of top national and local riders, to make sure the boards are accessible enough for the advanced wave customers these models are aimed at. New thinner rails, redefined rockers, outlines and deck shapes, there are a lot of details that went into the new shapes and no shortage of prototypes or testing. The final result is a pure waveriding board, with surfboard like rails that can carve and turn with the best of them. And to top it off, the new construction has kept the boards light and crispy, whilst actually lowering the price by almost 20%.
Additionally to support the Premium image of the Fanatic brand, we updated our red rockets, the Falcon and Strike racing lines. We have always had some of the fastest shapes in SUP racing, having been there right since the beginning of the biggest race events. One thing we felt we needed to improve was stability on both models. The majority of the testing was done using feedback from our top racers Jake Jensen, Arthur Arutkin and German Sprint  Champion, Kai-Nicolas Steimer, a qualified boat-builder, who basically organized the whole testing and follow up of design info to our shaper Sebastian Wenzel, which was a big help. So the main focus on stability was achieved by a straighter, drawn out outline, with a wider outline just forward of the tail. This was adjusted then per size, along with a flatter, less round bottom shape and slightly steeper, less tucked rails, to keep the same blistering top end speed, but with a lot more stability – which as we saw this year in many European races is key, with choppy water making it even harder to stay on board. Packed into a CNC and full Carbon sandwich, with our trademark red colour, we added some yellow fading spray paint to the deck and nose, to give it a nice fresh look too, look for those on the water at the front of the pack!