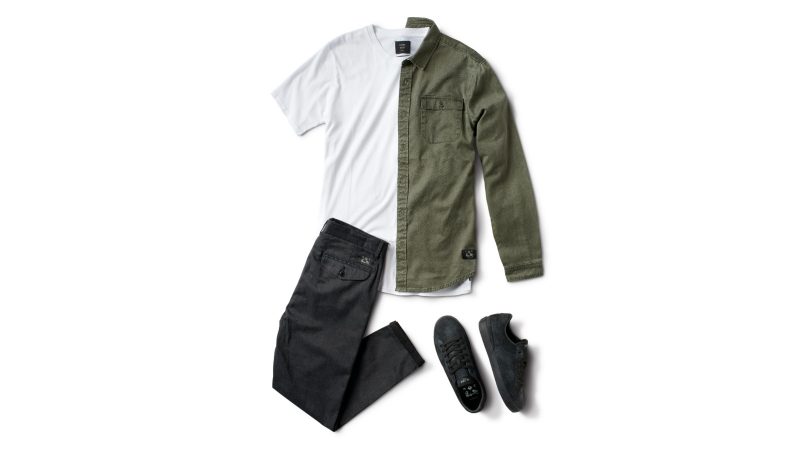 Globe Men's Streetwear FW17/18 Preview
Retail Buyers Guide: Men's Streetwear FW17/18
Category: Men's Streetwear FW17/18 Brand Preview
Brand: Globe
Interviewee: Dan Preston – Globe Design Manager
What is the HOT streetwear trend that customers want and retailers cannot afford to miss this season?
A cleaned-up workwear mood is prevailing in our market. Shorter relaxed canvas pants worn with canvas sneakers and dad hats/beanies bring in a youthful street/skate inspired edge. Our nod to this trend is our must have addition to the bottoms category, stay tuned for the 'Goodstock Worker Pant'.
How does streetwear from boardsports companies stand out from "regular" streetwear?
Globe's product is designed and influenced by people who are entrenched in the boardsport lifestyle. Our +/+ collection inspired by Dion Agius, is a example of how we directly involve our team riders in the development process to build authentic product around the core of the company that is born from board riding. Authentic marketing backs it all up.
Looking at bottoms, what are the trending cuts, colours and materials this season?
Crisper chinos get preference in slim straight fits worn rolled up or chopped short around ankle height. Cropped/Grazer lengths are also seen on worker fit inspired chinos. Various khaki tones and black are the staples, with dusty 90's brights making a comeback.
What are the cuts, colour's and materials for this season's tops?
We have incorporated the workwear theme into our tops. Our latest collab in jackets is with the iconic Australian company Drizabone, and is based on their original trucker jacket fit, with high spec fabrication and construction built to last. Other highlights include drop shoulder boxier silhouettes and pastel tones. Graphic placements also echo the 90′ era with smaller front centre prints and embroideries on tees and fleece.
Please take us through 3 key products/styles in your collection and tell their story.
To round out AW17 we have three solid collaborations that echo the sentiments of our main line. These include Monster Children, Dion's +/+ capsule, and the evolution of the iconic Globe x Drizabone jacket. Our key look is built around the cleaned-up workwear trend, And this is the overarching theme that ties the main range, seasonal key look, and colabs together