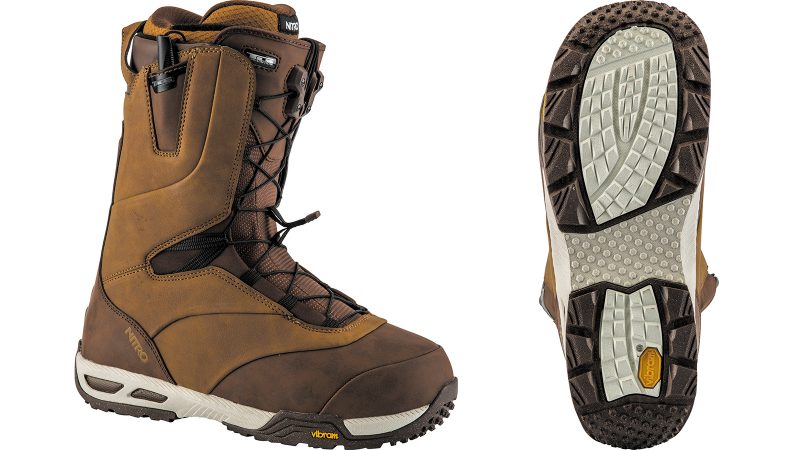 Nitro Boots FW17/18 Preview
Retail Buyers Guide: Snowboard Boots FW17/18
CATEGORY: SNOWBOARD BOOTS
BRAND: NITRO
INTERVIEWEE: TOMMY DELAGO (PRESIDENT)
KEY PRODUCT FOCUS: What are the three most important products of your 17/18 line? Why?
Our new VENTURE PRO TLS has developed from the Bryan Fox One-Off model of last season and is basically a Venture with key upgrades such as a Vibram® sole and Ortholite® footbeds. It's closing the price gap to the Team boot above it.
The TEAM TLS continues to be a backbone of our boot lineup. Constant development in styling, fit and features has made this upper mid-price boot a favourite among team and recreational riders. Fit and comfort matters, and the TEAM boot delivers.
On the women's side, the CROWN TLS has received a full make-over with new styling, materials and our exclusive RE/LACE system.
What's new in lacing – sticking with trad, working with Boa, or doing your own thing? Where is the demand?
Of course, we're offering our trusted dual-zone TLS lacing system and acceptance is growing worldwide. It's fast, easy and most of all – precise. Being able to adjust your upper and lower boot zones on all price levels of boots is a feature most other systems can't deliver. Great fit should be available for everyone, no matter what the budget.
But while everyone always talks about the OUTSIDE lacing, we should take a look at the INSIDE as well. Last season, we introduced a new liner lacing/locking system in our highend boots, which we are now making available to many more models in the line, The RE/LACE system. The combination of TLS on the outside and RE/LACE on the inside allows you to re-adjust your boots' fit on the go WITHOUT undoing any of the laces. Fast, easy and precise.
Splitboarding is performing well in a tough market. What's the best splitboard boot in your line?
Our Team, Select and El Mejor boots all feature 3D molded heel spines, which makes them more responsive towards the back but also laterally. A feature quite important on those long traverses. In addition, they have VIBRAM® soles for maximum grip and our THERMINATOR Shield against cold feet from below.
What colourways, prints, patterns, influences and textures will we see in your range aesthetic?
Nitro has embraced a quite utilitarian look for boots: earth-tone colours with the occasional contrast hit, combined with high quality materials and cool details. We stay away from being too flashy, as would like to encourage riders to spend a bit more on their boots, get a better fitting product that they don't get sick of looking at after a couple of months.
Which part of your range are you investing in the most? Freestyle, freeride, do-it-all, beginner…? Why?
There are essentially two areas of focus. First off, we are always pushing new materials and solutions in our high-end models from the Soles, liners, footbeds and of course, improvements in lacing. But we are also focusing on implementing as many of these innovations as possible in our mid-to lower end boots, so we can provide the best possible fit for the buck.
Are you doing anything in particular to make your boots go on easily when clients try them in the store?
Yep, we introduced our Bail-Out system several years ago. It allows you to loosen the outer TLS lacing of the boot with just one pull on the tab. Same for the liner lacing: just one pull on the tab here and the boot is loose and easy to put on.
Materials: using any new branded tech? Vibram, Sympatex, maple syrup?
We are using Vibram® ICETREK compounds for our outsoles. This special compound provides ultimate grip on slippers, wet and -of course- icy surfaces.
We also use Ortholite® footbeds on several boots for ultimate cushioning and comfort.
Finally, we use D30® materials to provide pressure distribution in neuralgic boot zones as the instep and the instep.
Anything new in cushioning/impact absorption?
Most of it is already mentioned above;Ortholite® and D30®, as well as proven airbag dampening technologies.
What trends in other footwear sectors have made an impression on your 17/18 line?
Utility and work boots, as well as biker footwear probably had the biggest influence on the style of our line. The skate shoe look has lost importance for us.