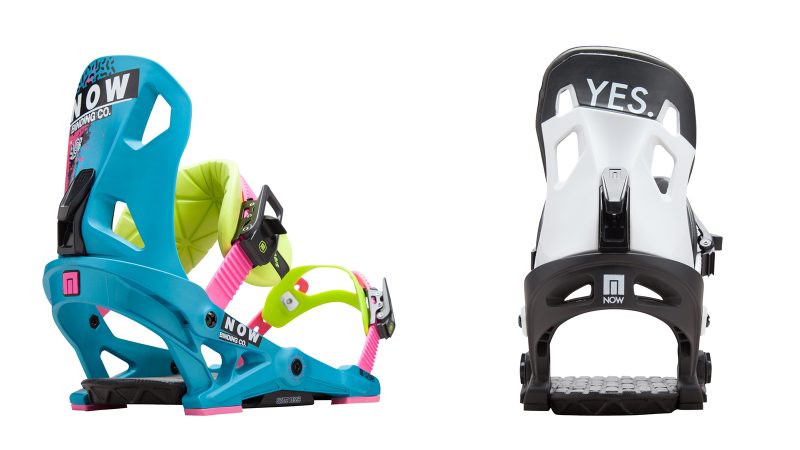 Now Bindings FW17/18 Preview
Retail Buyers Guide: Bindings FW17/18
CATEGORY: BINDINGS
BRAND: NOW
INTERVIEWEE: JF Pelchat (Owner) 
What are the most important products of your 17/18 line, and why? Please tell us about them, and what makes them the highlights.
I would have to say the new kingpin tool-less kit that we are selling separately. Let's say you have a pair of NOW and you have multiple board/quivers then you just want to buy this kit as it allows you to swap your bindings from board to board without losing your stance or angle settings. This is because the base (post) of the NOW binding and the hanger are two independent parts, the post dictates the angles and the stance stays fixed to the board all time. The hanger/ (binding) can be swapped from pow board to park board in an instant by just removing 4 kingpin tool-less.
The market is asking for more board feel at the same time as effective cushioning. How are you hitting the sweet spot?
The NOW bindings with its skate-tech and bushing system is the most advance binding system available on the market today. It screams response, dampening, cushioning and customization.
Which new materials are you using in your bindings?
Recyclable carbon fibre
Please tell us about the dominant colour themes for next year's bindings?
Black as it always sells. We also have a cool retro colour that is not to be missed.
Prices/margin: Where is your brand going? Higher? Lower?
Our brand is in the mid to high…..er range. 
Any new ideas in buckles, straps, highbacks, bases (or baseless)?
We have two new ankle straps that are made of injected EVA, the NEW ASYM SIEVA strap and the HYPERFUSE II strap, a technology that we were the first to introduce to straps and that you can see all around now
It's important the binding fits the snowboard boot correctly. What do you do to make sure the fit is OK?
We have two different types of hanger that have different width and shapes, plus we have three sizes
Which factory do you use for production? Any factors other than cost that led this decision?
Our partner in China are awesome to work with, they understand our goals and mentality and they are stoked to be working on a premium product
Doing a splitboard-specific binding next year?
Not in the pipe as of now
Finally, why should shops & consumers buy your bindings over the competitors'?
NOW is a leader in binding technology and performance, we offer a system that really makes a difference on your riding and helps you turn your board while considerably reducing foot fatigue. The NOW are like no other binding on the market while the rest of the pack are built on the same principals.