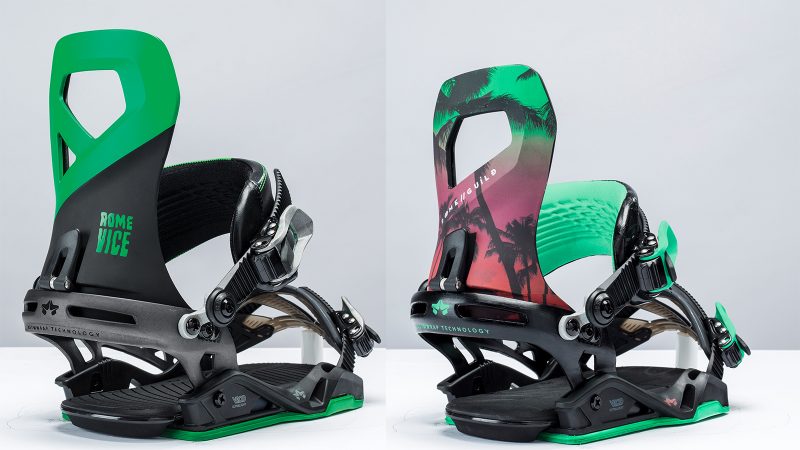 Rome Bindings FW17/18 Preview
Retail Buyers Guide: Bindings FW17/18
CATEGORY: BINDINGS
BRAND: ROME
INTERVIEWEE: PHILIPP KAMMERER (European Sales and Marketing Manager)
KEY PRODUCT FOCUS: What are the most important products of your 17/18 line, and why? Please tell us about them, and what makes them the highlights.
The Katana, Targa and D.O.D. are the most important models in our new collection.  These are the models where we load up our features to drive Customization, Flex-with-Pop and Connected Comfort. While the Katana is the apex of our binding tech innovation, each of these models delivers a different flex story. The Katana is the superlight, most flexible model, the Targa is the high-powered suspension system demanded by Stale Sandbeck and the D.O.D. is the do-it-all mid-flexing option that is armed with the features and feel that most of our team riders demand.
The Katana leads the charge with unique customization features like PivotMount that lets riders adjust strap response super quickly and unique flex features like our AsymWrap heel hoop that drives power, adds flex and reduces weight.
Designed for power and response, the Targa's feel is driven by the PowerChord highback, while including unique customization technologies like the PivotMount and the UltraAdjust Ankle Strap that lets riders adjust the stiffness rating of their ankle strap for control over how toeside response feels for them.
Positioned to kick ass for just about any snowboarder, the D.O.D.'s signature feature is the AntiShock 2.0 highback that provides dynamic shock absorption while also asymmetrically providing lateral power and medial tweak-ability.  Like it's higher-end cousin, the D.O.D. is loaded with customization features.
The market is asking for more board feel at the same time as effective cushioning. How are you hitting the sweet spot?
Our bindings have the least amount of baseplate plastic material in contact with the board.  While all our models have EVA in contact with the board, the Katana uses D30 to optimize dampening and cushioning.  This sub-base pad is kept thin to balance cushioning and board feel/quick response.  The InBase Pad (the pad that contacts your boot) in a Rome binding is full length and an optimal percentage of it does directly from boot to board.  The result of this is both cushioning and board feel.
Which new materials are you using in your bindings?
Given that different materials have unique benefits for the different needs of snowboarding, we use a family of materials to drive specific types of performance.  D30 has unmatched shock absorption—so we use it under our baseplates for unmatched cushioning.  Aluminum is light and stiff—so we use it in our UnderWrap heel hoops to drive power toe-to-heel.  Glass-filled injected nylons can be molded into distinct flex patterns—so we use them in our baseplates to give tweakability and power.  Injected EVAs are super light, super comfortable, and super flexible—so we use it in our ankle straps for comfort and control that weighs next to nothing.
Please tell us about the dominant colour themes for next year's bindings?
Black.  Black and variations of black will always be our dominant colour scheme.  For 2018, we're also working in bold black and white combos, pop colours, earth tones and subtle graphics like camo, smoke and wood grain.
Prices/margin: Where is your brand going? Higher? Lower?
We're mostly focused on the high and mid-high price points.  The core of our line is with the Katana, Targa and D.O.D.  We're firm believers that your interface with the board is super important and riders should strap into high-performance bindings with advanced functional features.  At the same time, we're introducing two new models this year in the mid-price range: the Vice for men and the Guild for women.  Both these bindings use the power platform of the flagship Katana and incorporate unique highbacks, dog-bone strap construction and simplified customization features.
Any new  ideas in buckles, straps, highbacks, bases (or baseless)?
Every year we evolve our features and innovate new features.  We're introducing two new mid-priced models based on our Katana's power platform.  In each of these models we've build highbacks with asymmetrical flex profiles specific to these smooth-flexing models.  Like with a lot of higher-end Rome highbacks, we create flex profiles that add support towards the tip and tail of your board, while letting you tweak a bit between the knees.
Our strap collection is constantly evolving and in the forefront of the industry's strap design.  The UltraAdjust ankle strap in the Targa is a Rome-specific evolution of the TPU molded strap direction.  By letting riders control the interface between the two molded components, we give riders three different flex profiles in one strap that are super easy to use.  In the Katana and D.O.D., the UltraLight ankle strap merges a supportive spine that snaps into an injected EVA tapering pad—the result is unmatched lightness and a mid level of support that is super comfortable.
It's important the binding fits the snowboard boot correctly. What do you do to make sure the fit is OK?
Since we also make boots, we design our bindings to work with the dimensions of our boots.  And we also create a database of measurements of other boot brands in snowboarding in order to optimize certain geometries of our bindings.  The obvious ones are strap lengths.  Both ankle and toe straps need to have the proper range to fit a variety of boots on the market because not all boots have the same volume in the ankle and the toe.  A less common way that we ensure a performance-enhancing fit is in the heel cup of the highback.  Using the data from our boots and other boots in the market, we make sure this key part of the binding fits and grips your boot for responsive toeside and heelside performance.
Which factory do you use for production? Any factors other than cost that led this decision?
We've partnered with the same two factories for over a decade to execute our designs: Playmaker and Pegasus.  Both factories have a strong history of manufacturing and during our time with them they have been important partners who have supported our design innovation on the production end of things.   When we create technologies like PivotMount or the UltraAdjust Ankle Strap, they have the manufacturing abilities and facilities to produce those things that have never been made before. 
Finally, why should shops & consumers buy your bindings over the competitors'?
Our bindings offer three keys to snowboard interface that others don't: customization, flex-with-pop, and connected comfort.   We don't try to force riders to all ride one type of binding.  Instead, through more customization than any other brand, we let riders decide where to place their power to match their style.  Riders aren't, and bindings shouldn't be, one-size-fits-all.   The second snowboarding-driven advantage of our bindings is flex-with-pop—this is the design direction where our bindings deliver flexibility side to side for tweak and flow, while also delivering power toe-to-heel.  No other binding has the combination of flexibility and power that we do.  Finally, we deliver a comfortable connection through our unmatched family of straps.  We have an advanced family of straps that we innovate every year.  We are the brand that invented the conformable toe strap, and the latest version of our ConformGrip Toe Strap takes self-adjusting fit to the toe of your boot to the lightest, most form-fitting level.  In the ankle strap arena, our UltraAdjust strap lets riders adjust flex and our UltraLight strap provides super comfortable, superlight, responsive performance.